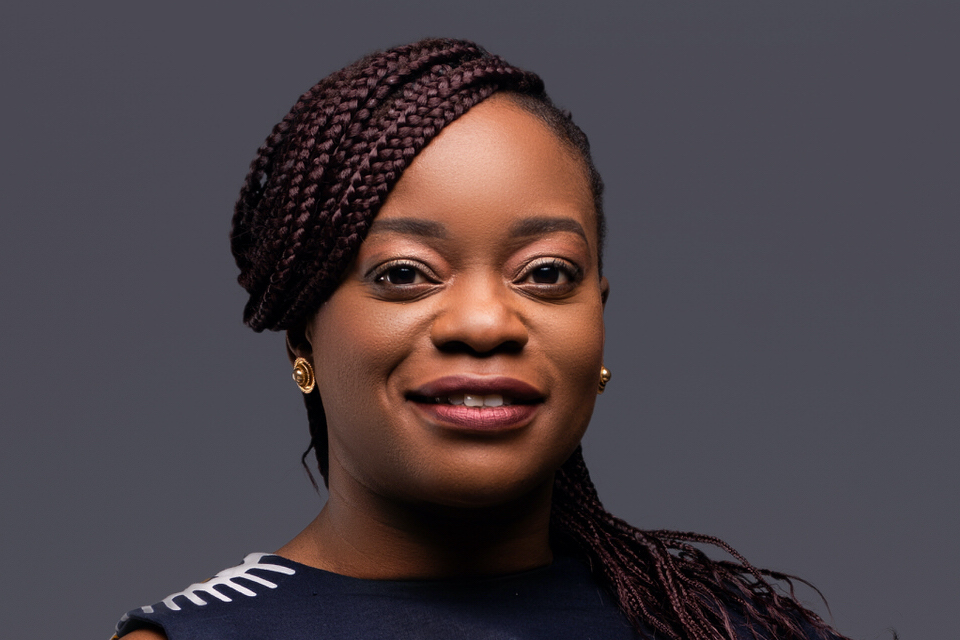 Black History Month is an opportunity to acknowledge the rich, expansive culture, accomplishments and contributions of African and Caribbean men and women in British society.
Earlier this year, the death of an African American man - George Floyd - sparked a wave of global protests and prompted widespread condemnation.
Here in the UK, it forced us to confront our own ideas about race, and more broadly, integration and social diversity.
In response, the Civil Service Race Forum asked NneNne Iwuji, British High Commissioner to the Republic of Mozambique to reflect on the evolution of black British identity.
Ms Iwuji offers a clear-eyed view of the many barriers she overcame growing up in the UK, the complexities of modern diplomacy and how she learned to be a leader in a room full of men.
'Exceeding expectations'
A willingness to uproot your family and travel at short notice is essential if you want to work as a career diplomat.
It is a coveted role. A big part of the job involves representing the British government at high-level meetings and functions flanked by foreign dignitaries.
A lesser-known fact about the Diplomatic Service is the requirement to be available, day or night, to support British citizens travelling or living abroad who are caught up in a crisis.
"The coronavirus pandemic tested our resolve. I commend the Mozambique government for its swift emergency response. I'm also proud of how the UK mission and consular staff scaled up our support offering. Many of us struggled with being separated from our families. I didn't see my son for five months," she said.
Ms Iwuji is the first black woman to take on the role of High Commissioner.  She heads up a team of 63 UK and locally engaged staff and combines intellectual acuity, steely determination and pragmatism in equal measure.
She grew up in a small, close-knit family in Nigeria.  The daughter of UN officials, whom she credits for her remarkable career ascent.
Fluent in French and Portuguese, due in part to the Foreign Office's immersive language training programme, Ms Iwuji had an unconventional upbringing.
"When I was 12 years old my parents were posted to Ethiopia, then Lesotho, next Geneva, followed by a stint in Niamey in Niger.  My brothers and I were sent to boarding school in the UK. We spent our school holidays travelling with our parents. So I was destined for an international career," she said.
Ms Iwuji studied economics at Manchester university and in time went on to work for the Department for Environment, Food and Rural Affairs before moving to the Foreign Office as an Economic Advisor for Africa. Keen to broaden her experience she left government to work for Royal Dutch Shell.
Ms Iwuji then made a pivotal decision. She rejoined the Foreign Office, working her way up through the ranks.  By 2012 she was appointed as Deputy Prosperity Consul and Head of Prosperity to Brazil before serving as High Commissioner to the Republic of Mozambique.
'Overcoming intransigence'
Reaching the top of the diplomatic profession requires resolute focus. Like many professionals from underrepresented groups Ms Iwuji encountered obstacles and setbacks resulting from the inextricable, intersecting experiences of race and gender.
In Nigeria, Ms Iwuji's teachers recognised her potential and looked for ways to nurture her talent.
"I was very visible and that visibility was respected and celebrated and never questioned." she said.
In the UK, a well-meaning career adviser challenged her academic credentials and career ambitions. She was told to "take a gap year and learn a trade" rather than apply for a place at an Oxbridge or Russell Group university.
On entering the workplace, some colleagues had low expectations of her and what she could achieve. Others were promoted ahead of her despite her having the same level of education and professional experience.
In a meeting it was assumed Ms Iwuji, who was the only woman present, was there as a translator.  Her 6ft tall, white, male deputy was mistaken for being the High Commissioner by a visiting dignitary, who promptly apologised for the blunder.
While these incidents are rare, they can be corrosive. Ms Iwuji believes investing in mentoring programmes (both traditional and reverse), coaching and sponsorship can help individuals build resilience and move forward in their careers.
"Mentoring provides guidance. Sponsorship grants access. Having a senior leader who believes in your abilities, provides actionable feedback, champions you and takes the time to share their knowledge helps immeasurably," she said.
'Development partners'
For a long time Africa has been relegated to the ranks of ineffectual governance, synonymous with autocrats, inefficient healthcare systems, corruption and crushing poverty.  Times have changed. Africa's story is much more complex.
"Our relationship with modern Africa is less aid-based and centred more on emerging economies, skill-building, trade, technology and innovation. We want to create a bilateral knowledge exchange. This is an exciting chapter in our shared history and lived experiences," Ms Iwuji said.
'Forgotten pioneers'
October is a time to reflect on the legacy of black pioneers in business, politics, media, science and so on. We are indebted to them.
As beneficiaries of their hard work we all have a role to play in teaching our children a complete version of history, one that predates the transatlantic slave trade and extends well beyond an annual celebration.
"I'm going to tell my son about the African, Caribbean and Asian soldiers who fought in the two World Wars so that he is imbued with a sense of pride. I was never taught that at school," Ms Iwuji said.