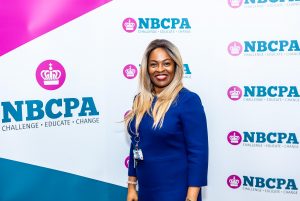 I joined the Crown Prosecution Service in 1988 and have had a variety of roles in the service. I became chair of the National Black Crown Prosecution Association in April 2019, and Deputy Chair of the Civil Service Race Forum (CSRF) in April 2020.
Black History Month provides all of us with an opportunity to pause, focus on and celebrate the contributions of peoples of Black African and Caribbean descent to society. 
For my blog I have been thinking about the past as well as the present (and future too). 
This year Black History Month has a special significance for me. We are living through a monumental time in human history brought about by the deadly COVID-19 pandemic, the death of George Floyd, global warming, and of course BREXIT for us in the U.K.
In thinking about the past I have reflected on numerous significant anniversaries in Black history:
It was the 75

th

anniversary of the end of World War 2 and the

National Black Crown Prosecution Service

network of which I am the Chair celebrated the contributions and sacrifices of an amazing veteran called Sidney McFarlane MBE who served in the RAF in 1955;

It was the 72

nd

anniversary of the Windrush anniversary of the arrival of the MV Empire Windrush at Tilbury Docks on 21 June 1948.  The CSRF celebrated the invaluable and lasting Contribution of the Windrush Generation to the NHS;

This year was the 57

th

anniversary of Martin Luther King's '

I have a dream

' speech. The part of his speech that is always repeats in my mind is

'I have a dream that my four little children will one day live in a nation where they will not be judged by the colour of their skin but the content of their character'
I also did some digging into British legal history and found some extraordinary Black African and Caribbean pioneers who faced some extreme challenges such as:
Stella Jane Thomas - The first African woman to be called to the British Bar in 1933.
Eric Irons OBE – Eric Irons OBE became the UK's first black justice of the peace (magistrate) in 1962. Irons was renowned for his devotion to social justice and equality.
Olatunji Sowande - Born in Nigeria in 1912 and, after starting a career in Pharmacy, came to the UK around 1948 to pursue a career in Law. He studied Law at King's College and passed the Bar at Lincoln's Inn. Despite facing incredible racism Olatunji Sowande practiced Criminal Law successfully and in 1968 became the head of 3 Kings Bench Walk, becoming the first black head of a major Barrister's Chambers set in the process. He went to become a Recorder of the Crown Court, becoming the first black judge in British history.

Coming back to the present day 2020 is the Civil Service Year of Inclusion. This is an opportunity for us to celebrate our achievements to date, and think about how we want to continue to make the Civil Service a great place to work. 
Success in its many forms often relies upon so many unsung hidden pioneers courageously and fearlessly pursued their dreams and purpose. These are the characteristics I bring into my professional practice, as a civil servant and as Deputy Chair of the Civil Service Race Forum (CSRF). 
I would like to encourage you to participate in the CSRF's Black History Month activities, and to join the Civil Service Race Forum, connect with us on LinkedIn and follow us on Twitter @csraceforum
With a theme of 'Black Visionaries and Pioneers', we aim to recognise, reflect on and celebrate the achievements of the Black community to British society. 
CSRF's Black History Month activities:
Inclusion is key to achieving a Brilliant Civil Service. Together we must work to ensure everyone feels welcome and their contributions are celebrated – regardless of their backgrounds.
We are all leaders in this cause.