https://civilservice.blog.gov.uk/civil-service-race-forum/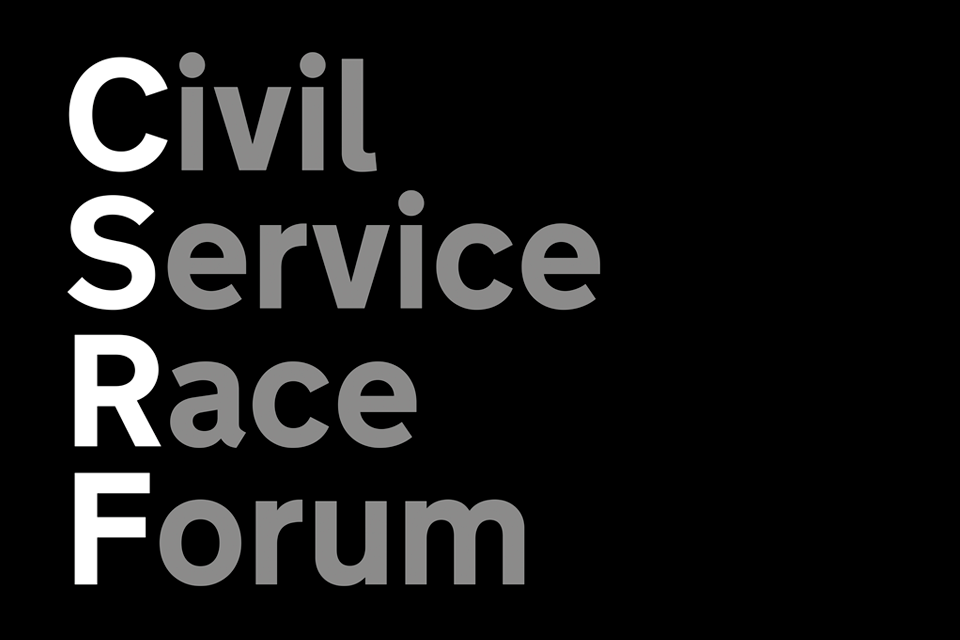 The Civil Service Race Forum (CS Race Forum) is a collaborative group of staff networks working towards advancing diversity and equality for Black, Asian & Minority Ethnic (BAME) minorities in the Civil Service and its agencies.
The CS Race Forum is open to all Civil Service diversity staff networks, as well as other staff networks from the public, private and third sectors that lead on race issues.
Our aims are to:
identify race equality issues that affect civil servants and promote the resolution of these issues
work collaboratively to test concepts, evidence and approaches that advance racial diversity and equality
be a source of information and expertise about leading diversity practices, materials, products and tools
liaise with stakeholders across sectors with a view to sharing resources and/or ideas regarding issues of race equality
develop and support capability across Whitehall departments' and agencies' Black, Asian & Minority Ethnic (BAME) staff networks and their champions and sponsors
provide support for each other's wellbeing in the workplace
support the delivery of Civil Service Reform, capabilities and other Civil Service-wide plans
act in an advisory role to the leadership of the Civil Service on issues and policies addressing racial diversity and equality
The five principles of Civil Service Race Forum
We will be honest with ourselves, with our sponsors and champions and with our stakeholders.
We will do things once, so our efforts can be shared widely for local adaption and adoption.
We will take an evidence-based approach and promote leading practice wherever it is found.
We will act and speak with one voice.
We will uphold the Civil Service standards.
Civil Service Race Forum Strategy
The CS Race Forum has developed a new strategy that takes account of 7 policy game-changers, which will be at the heart of our agreed vision. Read the strategy here.
Membership
The CS Race Forum is made up of an Executive and Secretariat team.
All joining networks will automatically be offered a place on the Executive as either a full member (for staff networks of central government departments, agencies or non-departmental public bodies with civil servants), or as an associate member (for all other public, private and third sector organisations). It is the expectation that the place on the Executive will be taken up by the Network Chair or their nominated representative. Both full member networks and associate members will share equal status and voting rights.
Following the outcome of the CS Race Forum 2016-17 elections on 23 September, Rob Neil (Ministry of Justice) was duly elected as the new Chair, and Harsha Savani (Department for Work and Pensions) as the new Deputy Chair, both to serve for a one-year term of office. A new Executive team will be selected and in place by 31 October.
Quarterly full members' meetings
CS Race Forum hold quarterly meetings open to all Steering Group and Executive members of staff networks, as well as Race Champions and/or Diversity Champions.
These meetings are an opportunity to share best practice, meet other members of the forum and hear from guest speakers.
You can read the minutes from the latest meeting, held on 22 September, here.
CSRF event to mark United Nations International Day for the Elimination of Racial Discrimination (IDERD), 21 March 2017
Sam Gyimah, Parliamentary Under Secretary of State at the Ministry of Justice, delivered the main address at the event arranged by the CSRF to mark the International Day for the Elimination of Racial Discrimination. You can read his speech here.
You can also read the statement delivered at the event by Rob Neil, Chair of the Civil Service Race Forum, on the forum's cross-government diversity and inclusion work, here.
Forthcoming events
CS Race Forum Executive Committee Meeting
Date and time: 3:30pm - 5:00pm, 4 October 2017.
Venue: Department for Work & Pensions, The Hub, Ground Floor, Caxton House, 12 Tothill Street, London SW1H 9NA.
For further information, please contact Harsha Savani: Harsha.Savani@dwp.gsi.gov.uk.
CS Race Forum Full Members' Meeting
Date and time: 3:00pm - 4:00pm, 25 October 2017.
Venue: Ministry of Defence, London.
Contact for further information: Ragib.Chowdhury2@justice.gov.uk
Contact for general enquiries