https://civilservice.blog.gov.uk/civil-service-race-forum/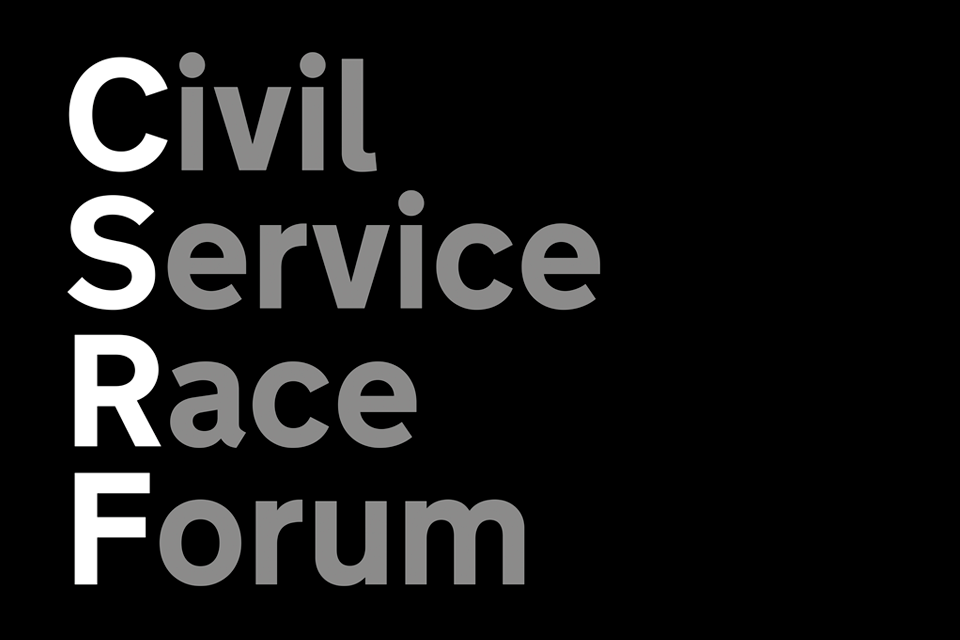 The Civil Service Race Forum (CS Race Forum) is a collaborative group of staff networks working towards advancing diversity and equality for ethnic minorities in the Civil Service and its agencies.
The CS Race Forum is open to all Civil Service diversity staff networks, as well as other staff networks from the public, private and third sectors that lead on race issues.
Our aims are to:
identify race equality issues that affect civil servants and promote the resolution of these issues
work collaboratively to test concepts, evidence and approaches that advance racial diversity and equality
be a source of information and expertise about leading diversity practices, materials, products and tools
liaise with stakeholders across sectors with a view to sharing resources and/or ideas regarding issues of race equality
develop and support capability across Whitehall departments' and agencies' ethnic minority staff networks and their champions and sponsors
provide support for each other's wellbeing in the workplace
support the delivery of Civil Service Reform, capabilities and other Civil Service-wide plans
act in an advisory role to the leadership of the Civil Service on issues and policies addressing racial diversity and equality
The five principles of Civil Service Race Forum
We will be honest with ourselves, with our sponsors and champions and with our stakeholders.
We will do things once, so our efforts can be shared widely for local adaption and adoption.
We will take an evidence-based approach and promote leading practice wherever it is found.
We will act and speak with one voice.
We will uphold the Civil Service standards.
Membership
The CS Race Forum is made up of an Executive and Secretariat team.
All joining networks will automatically be offered a place on the Executive as either a full member (for staff networks of central government departments, agencies or non-departmental public bodies with civil servants), or as an associate member (for all other public, private and third sector organisations). It is the expectation that the place on the Executive will be taken up by the Network Chair or their nominated representative. Both full member networks and associate members will share equal status and voting rights.
Following the outcome of the CS Race Forum elections, Hamid Motraghi (Home Office) was duly re-elected as the Chair and will serve for a one-year term of office until March 2020. 
Quarterly full members' meetings
CS Race Forum hold quarterly meetings open to all Steering Group and Executive members of staff networks, as well as Race Champions and/or Diversity Champions.
These meetings are an opportunity to share best practice, meet other members of the forum and hear from guest speakers.
Forthcoming events
CS Race Forum Quarterly Full Members' Meeting
The next meetings will take place in Westminster from 14:30 to 17:00 on 11 June, 6 August, 4 September and 6 November 2019. (These details may be subject to change.)
Blog post
You may be interested in the recent post entitled, 'Black History Month, unfinished business', a personal exploration of the meaning of Black History Month, in the form of a Q&A between longstanding friends and civil servants Rob Neil and Paul Downer.
Race Equality Network (REN) Conference
Shahid Khan shares the highlights from the second annual staff-led Race Equality Network (REN) conference held by the Scottish Government.
Having recently joined the Diversity & Inclusion Team it was a great opportunity to hear Uzma Khan, the co-chair of REN, and Paul Johnston, Director General Ally for Race, Religion and Belief, reflect on what the network has achieved over the last year and how it's providing a platform to achieve improvements such as contemplation rooms for all faiths and a space where everyone is welcomed.

We had two Scottish Government Ministers as keynote speakers. Christina McKelvie (Minister for Equalities and Older People) and Humza Yousaf (Minister for Justice) outlined the policies made by the Scottish Government to advance diversity and inclusion, but challenged us to continue to remove the barriers to employment for ethnic minorities so that equal opportunities becomes a reality for everyone in Scotland.

Highlights from the conference included drama and dance from members of Turn Flicks, the first production company in Scotland to make Nollywood films, which represent English-speaking Africa. The group contributed a colourful spectacle of Scottish diversity in Black History Month, and even got colleagues up and out of their seats to join in the dancing!

Insight and challenge

External speakers offered a range of perspectives, insight and challenge:

Bernadette Thompson, from the Cabinet Office, motivated the attendees with her inspirational talks on self-confidence and a 'can-do' attitude at work
Zandra Yeaman, from the Coalition for Racial Equality and Rights, provided insight into the contribution of ethnic minorities to the development of Scotland, which is often forgotten in the narrative about Scotland's history. She noted that equality of opportunity to flourish is paramount for any progressive society and challenged the Scottish Government to be an exemplar employer
delegates from the Young Scot's Fairer Future Panel shared their passion for young people's role in building a more diverse and inclusive Scotland and how they overcame race- and gender-stereotyped careers advice. They challenged the Scottish Government on the actions we should take to ensure diversity is at the heart of our approaches to attract young people.

Our Permanent Secretary highlighted the actions taken to improve race diversity in the Scottish Government's recruitment policies and cautioned against complacency, challenging us to consider how long it would be before we had a minority ethnic member of the Executive Team of all Director Generals in the Scottish Government.

The panel discussion explored the experiences of the intersection of race and gender and examined the evidence from the People's Survey 2017, which showed that female minority ethnic employees are more likely to experience bullying and harassment and less likely to report such incidents. We discussed actions needed at an organisational level and the possible role of REN to ensure every colleague is supported in a safe environment.

Finally, Ken Thomson discussed his personal experience of how mutual mentoring challenged him as a leader and gave him insight into experiences faced by colleagues.

Shahid Khan, Strategic Race Equality Network (REN) Development Officer, Diversity and Inclusion, People Directorate, Scottish Government 
Contact for general enquiries:
thenetwork@homeoffice.gov.uk  (please use 'CSRF' in the email subject line)