Today, Lord Dennis Stevenson and Paul Farmer, CEO of Mind, published their independent review, Thriving at Work, into how employers can better support all individuals currently in employment, including those with mental ill health or poor well-being, to thrive at work. This work was commissioned by the Prime Minister in January.
This is an important review and its implementation could provide significant benefits both to employee health and the economy. The key recommendation is that all employers, regardless of size or industry, should adopt six 'mental health core standards' that lay the basic foundations for an approach to workplace mental health. The review also recommends that large employers and the public sector go even further. Acknowledging our role as the third largest employer in the public sector, Thriving at Work makes specific recommendations for the Civil Service.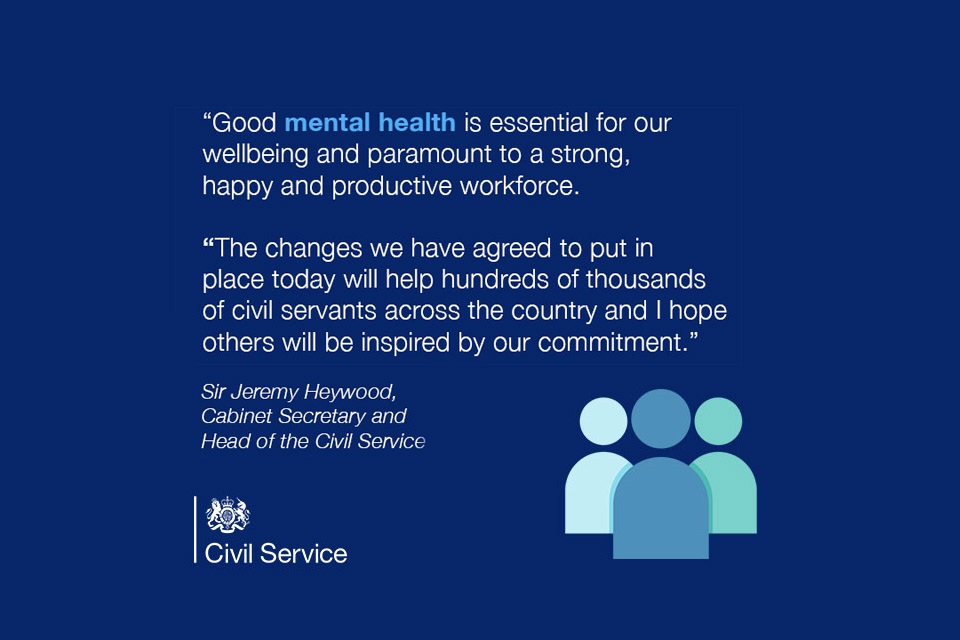 The mental health and wellbeing of all civil servants is a key priority for me and the Civil Service and the review acknowledges the progress we have already made on the Disability and Health and Wellbeing strategic priorities, superbly led by Philip Rutnam and Jonathan Jones, our respective Champions. However, the findings of the review mean that we can now benchmark our performance and identify those areas where we can go further.
We've already made a good start on raising awareness about and supporting the mental health of civil servants. Mental Health First Aiders are in place across the Civil Service, equipped with guidance on how best to support the mental health of other civil servants. This includes learning frameworks, examples of best practice and cross-government workshops. We've also launched a 'talking about mental health' role-model campaign for the Civil Service to encourage an open dialogue to reduce the stigma often associated with mental ill health. Posters around government buildings feature civil servants from across departments who volunteered to share candidly their own mental health stories.
We will also ensure appropriate adjustments are provided to our staff and that both visible and non-visible disabilities, such as mental health, are treated equally. With this in place, we will enhance the Workplace Adjustment Passport, which records agreed workplace adjustments to help employees move jobs within the Civil Service. Our Government Chief People Officer, Rupert McNeil, has shared stories of Ian, Lisa, Lynsey, and his own about how the Workplace Adjustment Passport has helped them. Additionally, we're developing a Wellbeing Confident Leaders Programme to equip leaders to manage their own wellbeing, that of their teams and their organisation overall, to embed culture change in strategic and organisational decision-making.
The Civil Service is committed to being a leading employer on mental health support, which is why we have already accepted the recommendations of today's review that apply to us. Providing effective mental health support is a critical part of meeting our ambition to be the UK's most inclusive employer by 2020, as set out in the Civil Service Diversity & Inclusion Strategy we published earlier this month.
Departments will therefore benchmark themselves to see how their support for employees currently measures up to the recommendations set out in the review. This will help departments to identify areas where they are performing well and those areas where they need to take additional action.
In the meantime, the Civil Service is making progress in relation to the following review recommendations:
Additional support for individuals at higher risk of stress or trauma
The breadth of job roles in the Civil Service is wide ranging and we recognise that some roles may be at higher risk of stress and trauma due to the nature of the work involved. Departments already provide additional support packages to anyone working in these roles, but they will be looking to see what more they can do as well as sharing best practice to create a framework that can be used across the Civil Service.
Review and enhance mental health training
Early next year we will launch a Mental Health and Wellbeing Confident leadership programme. If we are to achieve the cultural change needed, it's vital that leaders role model behaviours that reflect awareness of their own mental wellbeing, and that of their teams. Civil Service HR will also review and enhance the wider suite of mental health training and work with departments to ensure employees receive training appropriate to their roles.
We'll be updating on these actions in the months ahead. In the meantime, I encourage all civil servants to join the debate on mental health support that has been raised by the review. Through openness we can break the stigma that surrounds mental ill health and create a culture in which everyone feels able to talk and to access the support they need.
Follow Sir Jeremy on Twitter: @HeadUKCivServ.