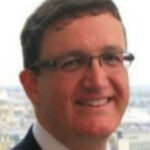 Inclusivity is closely linked to identity and, specifically, the ability for people to 'be themselves'.
I believe that one of the most profound social changes of recent decades has been a growing sense among many of us that we can be ourselves: at school, with old friends and with new friends. And it means feeling that you can be yourself – un-judged and included – at work. It is a sign of a civilised, effective workplace that it is inclusive, and that it celebrates individuals in all their diversity.
For me, an inclusive environment is one where everyone feels that it is safe and important to be able to say who they are and what might make them different. This can be measured by how many people 'declare' ('tick the relevant box') what their gender, ethnicity or sexual orientation is, or whether or not they have a disability.
I now realise that, since I was a teenager, I suffered from a particular mental condition (I hesitated to call it an 'illness'): a tendency to experience deep anxiety. It took several decades before, in 2014, it finally caught up with me in the workplace. Although I had been taking fluoxetine ('Prozac') daily since my mid-20s, a demanding time at work and bad habits (lack of sleep, lack of exercise, too much caffeine), meant my anxiety manifested itself in physical (pins and needles, chest pains) and mental symptoms. I took several months off work – I will always be grateful for a supportive employer and good colleagues – and I went off my Blackberry and phone.
I was lucky to be able to reshape my lifestyle (make new and better habits) and got a better understanding of my condition and myself: thanks to great professional support. I went back to work and resumed my role.
Shortly after I came back to work, I had to fill in my employer's equivalent of the People Survey. Some years before, I had started, initially tentatively, to tick the disability box. But now I did it with a new understanding. Declaring myself with this disability, as someone who had a mental health condition, I was saying something about who I am. I was being myself. And now I've done that I find myself doing it more often and more easily. I don't have any real difficulty talking about it.
And last month I had another important experience. I joined a group of colleagues at the Welsh Government in Cardiff who meet and support each other. All have mental health conditions, or close family members who do. We were meeting on the first day of the Welsh Government's Diversity Week, and for about an hour we talked about our experiences and issues. We talked about the importance of supportive line managers and colleagues. It made me very proud, again, to be a civil servant and it made me feel at home at work.
We also talked about the 'passport' for allowing a seamless transfer when colleagues with a disability get a new line manager or move between departments. I am fortunate in that I don't need any workplace adjustments for my condition: but I know this is just luck.
So, why am I completing my passport for my condition? I'm doing it for the same reason I 'tick the box' and declare myself as having a disability. It is a part of who I am. It doesn't define me. But it is part of me. As Chief People Officer of the Civil Service, I want us to work in inclusive workplaces where everyone declares what makes them different: whatever box they tick.
Follow Rupert McNeil on Twitter: @CivilServiceCPO