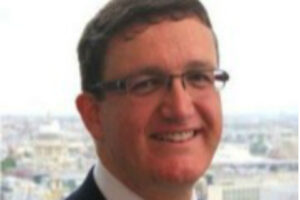 I am very pleased to be joining the Civil Service as Chief People Officer, and I'm looking forward to the challenge as we continue to build a smaller, more diverse, more efficient Civil Service.
My background is in financial services and consulting, having moved into Human Resources (HR) while working in banking. I am very focused on the functional excellence of HR, delivering excellent service and being accountable to all customers. I will also be focusing on aligning Civil Service departments more closely through the use of data, evidence-based reasoning and capable and credible centralised services.
I have been extremely impressed by the capability, passion and pride that the Civil Service workforce displays every day in everything it does. Supporting civil servants in their work and recruiting and keeping the best people is a key purpose of my role. It is crucial that our people, policies and processes are as flexible as possible, so that the Civil Service is best equipped to serve the British public.
Main priorities
My role is to lead the HR function across the Civil Service, acting as Head of Profession to over 3,500 HR professionals across government departments. I am directly responsible for the performance of the Civil Service HR teams based in the Cabinet Office, and for managing the HR centres of excellence: Civil Service Learning, Employee Policy, Organisation Design and Development, and Resourcing. My teams lead on workforce strategy and reform, senior recruitment and talent strategy, Civil Service capability and diversity and inclusion across the Civil Service.
My main priorities in the coming months are threefold. First, and most important, is getting the basics right, ensuring seamless people transactions and support through improvement to the services we deliver. Second is to construct a coherent plan to build the Civil Service workforce of the future, refreshing the workforce strategy to allow us to better adapt to the challenges the future will bring. Thirdly, we need to build our capability as an HR function, to strengthen HR capability at the centre and across the whole Civil Service.
Model employer
Another priority - but also a fantastic opportunity - is in diversity and inclusion. I believe that the Civil Service should be a role-model employer in the UK market in this regard. To me, a truly diverse employer is one that welcomes and champions all kinds of diverse groups, whether this be BAME, LGB&T, staff from different socio-economic backgrounds, or those with flexible working patterns. It is clear this is also a top priority for the Civil Service's most senior leaders, and there is enthusiasm for making real progress in this area.
I am very much looking forward to exploring the Civil Service, meeting civil servants across the country and learning how the HR function can best lead and advise on the changes and improvements that need to be made to the Civil Service to ensure we achieve our collective goals. I always welcome views and look forward to engaging in debates on these subjects.
Find out more about the Civil Service HR Profession here.
You can follow Rupert McNeil on Twitter: @CivilServiceCPO