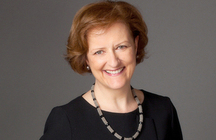 Autumn always brings a range of popular TV shows featuring aspiring talent, whether it's in dancing, singing or business. But encouraging and supporting talented people in the Civil Service is a year-round activity. In my role as chair of the Civil Service Talent Board, I have the pleasure of seeing the breadth of our talent, from apprentices and fast-streamers, right through to the most senior civil servants.  
One of my priorities is to ensure equal access to high-potential corporate talent schemes for departments and professions and for candidates from a wide range of different backgrounds. This year, we advertised entry to the Future and Senior Leaders Schemes much more widely than before. We provided a tool for people to judge for themselves whether they had the necessary skills and behaviours to be successful on the schemes, rather than leave it to someone else to nominate them.  
We had an unprecedented response. Over 1,300 people expressed an interest, covering most government departments, 23 out of 26 government professions and a diverse spread of candidates from different backgrounds. We have now finished interviewing over 500 people, who will find out in early December if they have a place. Next year, we plan to expand the number of places on offer again, to help grow the talent pipeline for the most senior leadership roles in the Civil Service and significantly improve its diversity.
Increasingly diverse
Turning to the Fast Stream, over the last few months we have welcomed nearly 1,000 new entrants to the programme, including people joining new specialist programmes for the government communications, finance, commercial and internal audit professions. I enjoyed meeting some of the new fast-streamers recently at their induction event.
The latest annual report on Fast Stream recruitment encouragingly reveals that the programme is becoming increasingly diverse. For example, the proportion of people coming from black, Asian or minority ethnic (BAME) backgrounds has increased year on year. Recent data shows that BAME representation in the latest cohort stood at 14.2%, a few percentage points away from fully matching the target population in universities. We are making headway on all diversity fronts, but need to do more to ensure fast-streamers better reflect the society we serve. So, attracting talent from under-represented groups to the programme is a top priority. To find out more, visit the Fast Stream website and Facebook pages.
The initial intake of 100 Fast Track apprentices who started back in 2013 are drawing towards the end of their programme. After two years with the Civil Service, the apprentices will graduate not only with first-class professional experience but also a higher education certificate. I warmly congratulate them on their forthcoming graduation, in January, and all the best for their future careers.
Our responsibility
For further information about the Civil Service's apprenticeship programmes, visit Civil Service Apprenticeships website. The 2014 intake was 206, and for this year we have already made over 550 placements. The next recruitment round commences in January 2016 for study on Business Administration, Digital, Cyber Security, Finance and Commercial Fast Track schemes.
We all have a responsibility to identify and develop talent, wherever we are in the Civil Service. Each of us should also feel encouraged to put ourselves forward for the various talent schemes, knowing that we will have support and a fair chance of success.
Developing ourselves and our highest potential civil servants to be inspiring, confident and empowering is crucial to the future of the organisation.