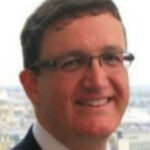 As part of my commitment to regularly share stories from staff about how the Workplace Adjustment Passport has helped them, I am very excited to start the new year with another fantastic story. This one is from Ian Mitchell, an Operational Research Manager at the Department for Business, Energy and Industrial Strategy (BEIS), and his support worker Judith Kerem, from CareTrade Charitable Trust.
Ian talks about his experience of Autism and how, for him, the passport has helped a hidden disability become visible.
I'd like to hear from anyone who would like to share what using the Workplace Adjustment Passport has meant to them. Thank you to everyone who has taken the time to read and comment on the stories so far.
Ian's story
Ian Mitchell

I have an Autistic Spectrum Condition*.

The Workplace Adjustment Passport gives colleagues additional insight. I shared my workplace adjustment passport with colleagues and one response I received was:

"Until I read the passport, I had not thought of you as having a disability, just that you were just being… you" (another Operational Research Manager).

This is an extra benefit of the passport; it is part of making a hidden disability visible. My case is one of an increasing number reflecting changes to the way society treats someone with a hidden disability. That is a good thing.

Precision, patience, a sense of justice and creativity through finding new connections led to successes in many areas of my life.

As a child in In the 1970s and 1980s, being different led to bullying, so hiding that difference and deterring those who would bully became ingrained habits.

Creativity comes from creating patterns from small amounts of information from my unusually precise memory. These attributes are common with someone with an ASC. Although ASC is a disability it can be an advantage; the passport explains the workplace adjustments that unlock the advantages.          

When working in another government department, a manager said that he did not know what it was that I was doing, but that it was working for him, so whatever it was would I please keep doing it.  When I left that environment, things changed and I experienced conflict and a spiral into illness. It took three years for the health system to assess me as having an ASC.

I have had workplace adjustments in place to help with the major symptoms of my condition, principally to reduce anxiety, which otherwise leads to insomnia and illness since I started at the Department for Business in 2010.

I have noticed that the focus of my adjustments has moved from these physical aspects to more subtle issues, such as communication and management; and the workplace adjustment passport has become the main vehicle for these, concentrating useful information in one place and in one form. 

The purpose of any passport is to enable mobility. If the individual moves to a different job, or if different people move around them, the workplace adjustment passport can be a helpful guide to the best way to support the individual. It enables consistency and can also head off debate and the problems of personal preference and understanding.

I worked on the passport with my line managers and Senior Reporting Officer as well as a consultant from the charity CareTrade, which specialises in helping people with autism get and stay in work. This is important because having a job is one of the best therapies for someone with autism. Currently, only 16% of those with an ASC who can and want to work are in employment within the UK (National Autistic Society 2016).

I hope that my story helps others with theirs. If you would like more details please get in touch.
Ian Mitchell, Operational Research Manager, Economy and Flexible Analysis, Education Funding Agency (EFA)
* Autistic Spectrum Condition (ASC) and Autistic Spectrum Disorder (ASD) are generic terms applied to autism and Asperger syndrome.  Both are lifelong developmental disabilities but the level of disorder varies greatly from person to person.  Autism affects how a person communicates with, and relates to, other people. It also affects how they make sense of the world around them. It is a spectrum condition, which means that, while all people with autism share certain difficulties, their condition will affect them in different ways.
Judith the adviser's story   
Judith Kerem

I have been working with employers and employees with an ASC since 2000. I have worked within a number of Civil Service departments over this time. I think the development of the Workplace Adjustment Passport is both positive and informative.

I have been working with Ian at what is now the Department for Business, Energy and Industrial Strategy (BEIS) since 2015. We have worked together with his line manager and developed the passport to enable Ian to share his workplace adjustments with anyone he feels would benefit from knowing about his ASC – not just his line manager. This has worked well within BEIS but there are still issues when working with external organisations. There is a wider issue around awareness and the fact that most adjustments can be quite small but make the biggest difference.

Each person is unique, as is the way their condition affects them. The passport allows the individual to explain this, along with tips and adjustments already in place. It is also a stepping stone to finding out more information when it is needed, as it can have website links and contact details for further information about the condition. It is a live document that can be updated, but if this is necessary it is important to make sure updates are circulated.

Because the passport also has the advantage of not being department-specific, it can be taken from one role to another if you decide to change roles. It is a key in working towards better inclusion and understanding of conditions and disabilities, especially 'hidden' ones such as ASCs.

For further information about autism in the workplace please visit the CareTrade website at www.care-trade.org or contact judith.kerem@caretradeuk.org
Judith Kerem, Development Director, CareTrade Charitable Trust
Further information

The Workplace Adjustment Passport is available on departmental intranet sites and from Civil Service Learning here.

You can also find the following products on Civil Service Learning:

The Civil Service Workplace Adjustment Team also offers a 'review' service for employees or line managers finding it difficult to secure workplace adjustments. This service is available to everyone, regardless of whether their department has signed up to the case-management side of the Workplace Adjustments Service. The review may involve an intervention by the Workplace Adjustments Team, which can, alternatively, simply provide specialist advice.

You can contact the Civil Service Workplace Adjustment Team on 0114 294 8902 or at cswat.reviewroute@dwp.gsi.gov.uk.

If you would like to share your story on how the Workplace Adjustment Passport has helped you, it would be great to hear from you. You can contact us by email: cshr.casework@csep.gov.uk.