The Civil Service Fast Stream encourages people from all backgrounds to apply. Clare writes about her experience of developing a career in communications on the Fast Stream while managing her mental illness.  
I'm a third-year communications Fast Streamer currently at the Ministry of Defence. I have complex Post-Traumatic Stress Disorder (PTSD) and Borderline Personality Disorder (BPD). I also ran the London Marathon in April this year and am running another one this month. I'm a collection of various different facets, including my mental illness, and over the years I've learned to be upfront about it. It doesn't define me but it is a fairly major part of who I am.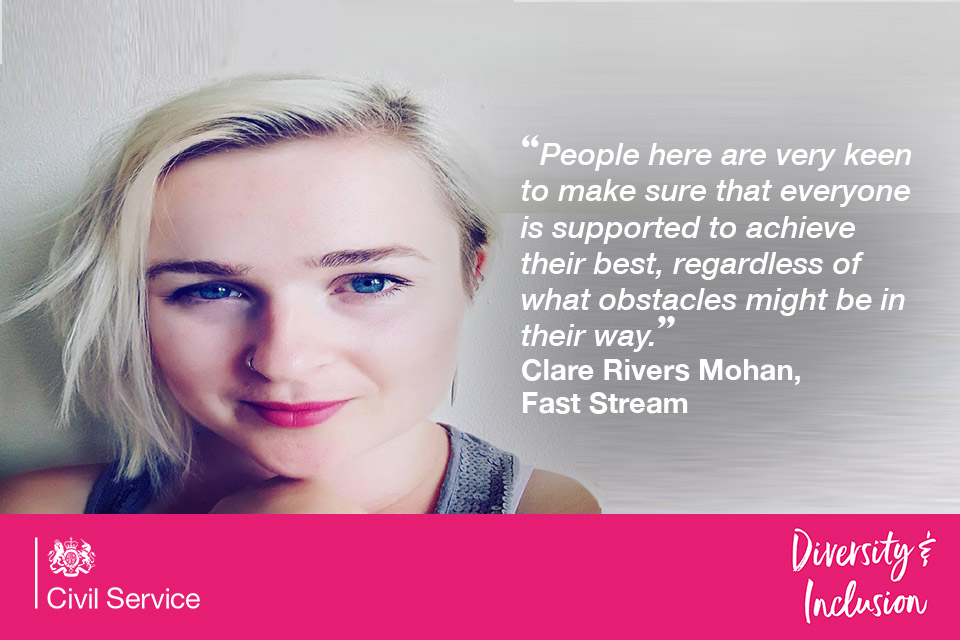 I was apprehensive about applying for the Fast Stream with these quite complex conditions. For example, BPD means that I experience every emotion at a higher intensity than normal; managing my feelings is often impossible as they arrive and disappear on the turn of a moment. PTSD, meanwhile, is familiar to many people, often because they are aware that soldiers returning from war zones often have this condition. My body is constantly on red alert, looking for triggers from past traumatic experiences. When triggered, my body shuts down, putting everything into tackling a perceived threat. I have flashbacks, my heart rate soars.
All of these things combined mean that when I'm having bad days with my mental health, life is very difficult to manage. I worried that being a member of a scheme as competitive and challenging as the Fast Stream wouldn't work for me but this is not true. I've had lots of support over the past few years from managers who didn't necessarily understand straight away what I was dealing with, but were open to helping me figure out what worked best to help me be a productive member of the team.
In my life not everyone has been great when I've opened up about my mental health, but when things haven't gone smoothly at work I've always felt able to talk to my manager or other members of staff and find ways to solve the problem. People here are very keen to make sure that everyone is supported to achieve their best, regardless of what obstacles might be in their way.
Things that have helped me include being able to work my hours flexibly; accessing a fixed workspace, rather than hot desking; and working from home regularly. I can get burned out easily so having the chance to sometimes work from home allows me to recharge, focus on tasks, and reset before heading back to the office. Modern technology such as Google Hangouts or Skype mean that my colleagues can always reach me.
I've always preferred to be open with my managers and colleagues about my mental health. I'm not ashamed of it. My disability is the result of difficult and damaging experiences, but the fact that I've come out stronger is a sign of my strength. As I said to my manager at one point, "I survived a psychiatric ward; I can cope with the Fast Stream."
In fact, I'm doing more than just coping. Alongside many other colleagues with mental illnesses, I'm contributing enormously both to the Civil Service and the Fast Stream. Through the work I've done on improving the communications of a small charity to looking at the health and wellbeing of children at a national level, my work is challenging and fun. I'm managing complex and difficult workloads, and doing well.
I recently set up the Fast Stream Wellbeing Network. All Fast Streamers are welcome regardless of whether or not you have a diagnosed mental health problem. Everyone should feel able to take charge of their own wellbeing. We have big plans to promote wider awareness of mental health across the Fast Stream. You can sign up to the mailing list by contacting fswellbeing@gmail.com.
Find out more about the Fast Stream here: www.faststream.gov.uk