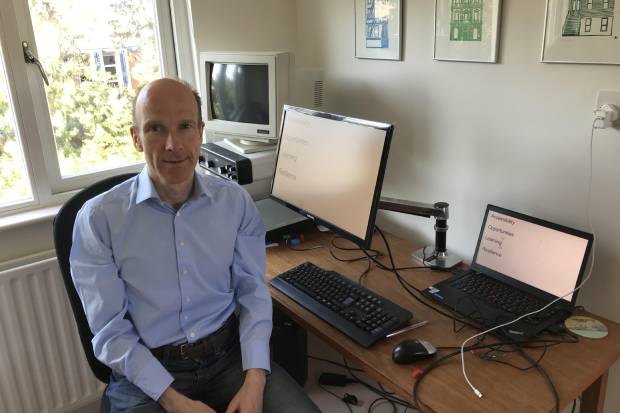 I wanted to write about my experiences and thoughts on operating as a senior leader with a disability during the coronavirus pandemic. Partly in my role-modelling capacity, to demonstrate what is possible, and as the Deputy Disability Champion for the Civil Service. It's more important than ever that all departments think about disability inclusion, and what challenges and opportunities the current situation brings. 
Getting the working environment right
 As Director for the Overseas Territories (OTs) in the Foreign and Commonwealth Office I have been extremely busy, with a massive increase in the volume and pace of work that my team in the UK, our Miami office and the OTs are doing to support the territories in responding effectively to coronavirus, by maintaining their security, healthcare systems and access to supplies. We are also working with local OT governments to bring home British nationals from the territories to the UK, and vice versa, as appropriate. I am also overseeing essential non-COVID work on EU Exit and running the uninhabited OTs in the Indian Ocean and Antarctic that I am responsible for.
Readers of my past blogs will recall that I am legally blind. This means I cannot read hard copy unless hugely magnified, or recognise people, and I use software that provides magnification and voice synthesis. I have done quite a bit of working from home in our spare room before, but the monitor I had had installed on an arm to make it easier to see the screen had stopped working a long time ago. However, COVID-19, and my wife, galvanised me into sorting it out, and I now have the workplace adjustments I need (see the photo above). These adjustments have made a massive difference to my ability to work properly. I encourage all of you to make sure you and your colleagues have the kit you need.
Challenges and opportunities
COVID-19 has thrown up many challenges for disabled people. One is accessibility, especially in videoconferencing. I find the Chat function can be difficult to take in and I'm also aware that there can be difficulties for those with hearing loss and neuro-diverse conditions, so it's important that meeting chairs think about how to be as inclusive as possible. 
Other issues include stress of many kinds, mental health problems, and the additional isolation for those with conditions that increase the risk from COVID or make them clinically extremely vulnerable. It's crucial that we support all disabled people in addressing these difficulties.  
However, we are all aware, too, of the opportunities the pandemic is creating. 
Caroline Casey, for example, has written an illuminating piece on the wide range of opportunities for disability inclusion, such as greater empathy from leaders and managers.  
I have found that our much-increased use of MS Teams, for example, has enabled much better comms with our governors' offices overseas and with other government departments. It's also made it easier for me to see who's involved in a call, and my visual impairment, as so often, has been quite helpful, since I'm used to chairing meetings where I can't see everyone. 
It is also a good opportunity to review how your team operates, and we are refreshing our ongoing work on staff engagement. The working-from-home dynamic makes it even more important that we aim to be as inclusive as possible, and to think about everyone's motivation. We've set up fortnightly pulse surveys to check on everyone's engagement and workload.
There are also many opportunities for learning and development. Thinking about leadership in these difficult times is more important than ever, not just in terms of setting direction and outcomes within an uncertain context, projecting confidence, but also in engaging and empathising with colleagues dealing with a wide range of pressures at work and at home. There is much you can achieve through self-reflection, but I would also encourage everyone to see what learning tools are out there. My union, for example (the FDA for senior civil servants), is holding a webinar on leading virtually, and there is a wide range of similar material from various providers.
Resilience
Modelling resilience is a key part of leadership, particularly now. Home-schooling the kids in addition to the day job is not easy, and I am lucky to have an incredibly supportive wife, who is also a key worker.
Working with colleagues in London and Caribbean time zones means that my working day can be quite long. I aim to insert chunks of time in the middle to do other things and break up the day. I love going for green exercise in the local parks, and the kids and I are working through the NHS's 'Couch to 5k' app exercise programme together. To ease my back problems, caused by sometimes having to lean over to look at things more closely, I've also taken up Pilates lessons through Zoom with my local studio.
I am gradually working my way through The Sopranos for some escapism. And I aim to maintain my practice of introducing my children to new experiences. They were equally gratified and mortified in a recent Zoom quiz for families in their class when we won five points after I was the first and only person prepared to sing the theme tune from Grange Hill to the assembled company. Well, someone had to.
Conclusion
Whether or not you are disabled, I hope the above gives some food for thought.
Everyone has to challenge the previously accepted norms of office work. This period offers opportunities to establish new norms around home working and workplace adjustments to make disabled people more included at work. 
Getting the workplace situation to suit you, taking the learning and development opportunities, and thinking carefully about your and your colleagues' resilience are fundamental. I'm really proud of the public service values that all of my colleagues are demonstrating in supporting the OTs, and will use my own situation to play my part the best I possibly can.