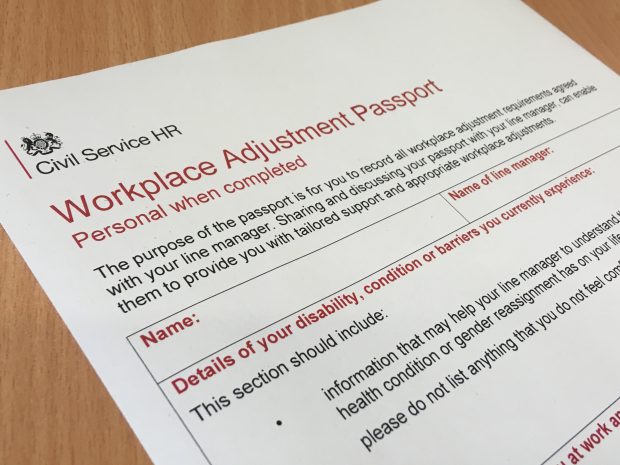 When I took on the role of Civil Service Disability Champion, one of the key disability priorities I identified was the need for our people to have access to timely and effective workplace adjustments. Alongside engaging leaders at all levels to build line manager disability confidence, I often refer to these as "getting the basics right".

When considering workplace adjustments, many people immediately think of physical adjustments such as specialist furniture or IT. However, non-physical adjustments, such as a review of an individual's key work objectives or a change in working pattern, are equally important.

To illustrate this point, I would like to introduce Sue's story, the first in a series of blogs on the theme of workplace adjustments. Sue shares her personal experience of mental health and the importance of having open conversations with her line manager in the Cabinet Office and effective workplace adjustments to do the job.
Sue's story – how workplace adjustments help me manage my mental health
It's a little daunting to write this but I'm just going to dive right in. I have a small cluster of mental health conditions: an anxiety disorder, depression and a personality disorder. They make life difficult, not just for me but for the people around me, including my family and, more to the point, the people I work with. I have spent most of my adult life hiding when I'm at work and knowing I can't tell anyone around me that I am ill.
I can suddenly be unable to speak and will burst into tears – I might do so for a few days. I can also lose the ability to make simple decisions and will repeatedly go over the same action again and again and again. I might become worse if someone asks me why I'm crying, particularly if I've stopped making sense and my memory isn't working properly, but I'm also grateful for their kindness.
If I walk down the street I have a way of doing so without becoming overwhelmed by the people and the noises around me, which can seem strange to colleagues. I can also look like my usual happy, helpful self when I'm doing my job, but actually I may be aware that my mental faculties are shutting down. The contradictions in my behaviour are not helpful if you're trying to manage someone like me, and can cause confusion – it isn't logical. And therein lies the problem.
One thing that has helped is having easy access to information on workplace adjustments via my departmental intranet. This has enabled me to find out more about how I can help myself to continue to work effectively and what I could expect from my manager. I was reassured to discover that the process of putting workplace adjustments in place is confidential and would be driven by me, based on how I wanted to present my needs.
I now have a set of adjustments in place and captured in a Workplace Adjustment Passport. My adjustments include having some flexibility around my work pattern and my work location. For example, I am able to work at home a couple of days a week. Capturing these adjustments in my Workplace Adjustment Passport helps to remove doubt or misunderstanding, not just for me but for my line manager and any future line managers, should I move to a new role.
One of the most important aspects of having my adjustments in place is knowing I am trusted. If I suddenly need to work from home, or I can't work or communicate at all, I am not doing something wrong and I can come back to work without feeling guilty or worried. It's a bit more complex than that and professional help is important, like your GP and Occupational Health. However, just as my manager and colleagues at work are learning how to help, I am also learning to ask for that help, and it will take time.
Over time I have been able to change some deeply ingrained worries and concerns and I have been supported by my manager to do the job I love without fear of intimidation or prejudice.
I cried a bit when I wrote this. It's made me feel a bit sad, but I know it's a good thing to do and I hope it serves to help at least one person take that first step in talking about how they are feeling and the help they might need. There were ups and downs and it sometimes felt counter-intuitive and frightening but, for me, taking that first step a few years ago was the best thing I ever did.
I would like to thank Sue for sharing her deeply affecting personal story of mental health and encouraging others to be open about their difficulties and to seek help. Stories, such as this  – and Joanne's and Emil's  – play an important part in breaking the stigma around mental health.

It is particularly pleasing to hear that Sue received the workplace adjustments that she needs and has recorded these in a Workplace Adjustment Passport. I would encourage anyone with workplace adjustment needs to start a conversation with their line manager. Workplace adjustments tailored to individual needs can, as Sue's story shows, help employees to be the best they can be at work.

I would also encourage anyone experiencing mental ill health – or their line managers – to contact their Mental Health First Aider or equivalent, who can signpost them to available support. This could include contacting Employee Assistance Providers or organisations such as the Charity for Civil Servants, Mind and the Samaritans. 

Our Mental Health: A Guide for Managers product, is also available to offer practical support for line managers. You can access the guide via Civil Service Learning.