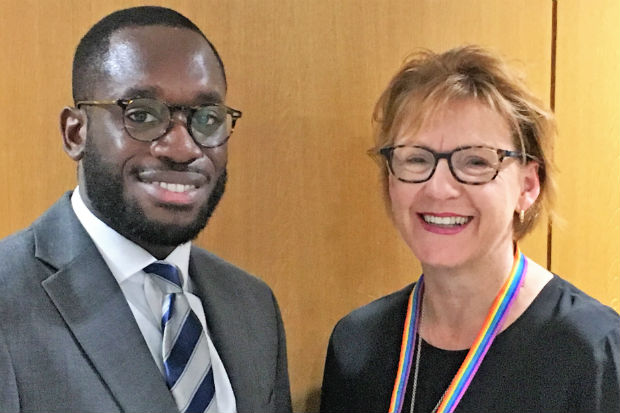 To mark National Mentoring Day (27 October), Sarah Harrison, MBE, Director General, Corporate Services at the Department for Business, Energy and Industrial Strategy (BEIS), and Godfrey Atuahene Junior, Senior Policy Advisor – Innovation at the Centre of Connected and Autonomous Vehicles (CCAV),  share their experience of reverse mentoring.
Mentoring is one of the ways people learn: 20% of our learning comes from coaching, mentoring and developing through others.

The relationship of a mentor and mentee can be incredibly enriching and empowering for both individuals, creating fresh perspectives, and have a lasting impact on a mentee's career.

Most government departments have a variety of mentoring schemes available to staff. It is known that people are more likely to mentor someone who they feel an affinity with, rather than someone who is unlike them.

One of the benefits of a diversity-based reverse mentoring relationship is that it pairs people who might otherwise not come together. These relationships are often profoundly transforming for both parties and promotes a culture of inclusion in an organisation, where everyone matters.

In contrast to conventional mentoring schemes, reverse mentoring ensures mutual benefit to both the mentor and mentee. The mentee gains new skills and perspectives, the mentor gains valuable insights into company culture, values, business strategy and can tap into years of industry experience accrued by the mentee.
Godfrey Atuahene Junior says:
It was March 2019, and the FAME (Faith and Minority Ethnic ) Network – for which I am the Diversity and Inclusion Lead – had asked for reverse mentor volunteers. Although initially daunted by the prospect of mentoring someone more senior than myself and with more experience, I found the opportunity exciting, inspiring and decided to apply. 
Sam Balch of BEIS wrote a great blog on his reverse mentoring experience. This gave him the confidence to write the blog "Dear White People, we need to talk about Race", which in turn led to action on talking about race at a BEIS Senior Civil Service (SCS) Away Day, and gave me the confidence to become a reverse mentor. 
Fast forward seven months, and I can truly say that I am enjoying reverse mentoring. It's been an exciting experience. I have had the opportunity to share my ideas and observations, and made suggestions to improve Sarah's understanding – and subsequently, the department's – of the issues faced by Black, Asian and Minority Ethnic (BAME) members of staff and new starters within BEIS. I hope this, in turn, can lead to a more global understanding of these issues within the Civil Service.  
I was very nervous during our first meeting. After four meetings, my nervousness has disappeared. Now, I have candid discussions with Sarah regarding issues ranging from the strategy of BEIS (Shaping our Future) to diversity and inclusion, and more. 
At first, the conversations were a little uncomfortable for me, owing to Sarah's seniority. However, I felt we built a trusting reverse mentoring relationship. I am genuinely impressed that Civil Service leaders are ready and prepared to listen to a diverse and junior view and take action on it. 
 What have I learned and benefited from through the reverse mentoring relationship?  
It has eliminated a fear of the unknown and increased my confidence and empowerment in communicating with senior leaders and stakeholders. 

I have gained a true insight into how senior managers think and work, and into the development of organisational improvement  

The opportunity to shadow and sit alongside Sarah at senior leadership team meetings has been rewarding, know that my contribution to the discussion is valued by senior leaders in highlighting diversity and inclusion points. 

'Speaking truth to power' in a welcoming and safe space which could potentially make a tangible difference to the department.
I would strongly encourage everyone to take the opportunity to reverse mentor, because you can't affect change if you don't get involved. The learning, experience and opportunities gained are second to none. Different reverse mentor matches offer a wide range of perspectives.   
Sarah Harrison says:
I have benefited from working with reverse mentors before in previous organisations and now in the Civil Service. I value the chance to work with colleagues in a relationship of trust and to help get a 360-degree-view of the organisation, and to shape what I need to do more of and less of as a leader.    
I would really encourage anyone in the SCS to volunteer to be a reverse mentor – you'll get such a lot from the experience.  
I was particularly pleased to be working with Godfrey. Our partnership coincided with the beginning of a conversation in the department about race, and Godfrey has helped me see things through his eyes and his personal experience.   
Early on we talked about his lived experience as a young black man. Although we all know that the data tells us that we need to go further in the Civil Service, the message is much more impactful when it's linked to someone's personal experience.   
Hearing Godfrey's story has helped to improve my own self-awareness, and we need to look for more ways for stories like Godfrey's to be shared. As the BEIS SCS Race Champion I represent the department across the Civil Service, and I am really proud to be able to share with other colleagues all the great work in BEIS to really move the agenda forward.   
There's still a lot to do, but with the support of colleagues across the department, and individuals like Godfrey sharing their experiences, I know thay together we'll be able to achieve a lot.   
Some of the more recent activity in BEIS has included:
Our first-ever BEIS Race Hackathon. This brought together a wide variety of people to collaborate in an intensive session looking at our particular challenges in recruiting BAME staff.  

Piloting an SCS Sponsorship Scheme for our G6/G7 women, BAME colleagues and people with a disability identified as either High Potential or Excellent. This scheme matches talented individuals from underrepresented groups with SCS sponsors who can offer advocacy and practical help with development to support career progression.  

Introducing a mandatory requirement to ensure at least one member on SCS interview panels is either BAME or disabled or both. This is part of a cross-Whitehall drive to improve diversity at senior grades.  

Creating a pool of over 200 independent panel members – a large proportion of them from BAME backgrounds – to support our recruitment processes.
National Mentoring Day was launched to recognise the significant benefits of mentoring across the world and takes place annually on 27 October.