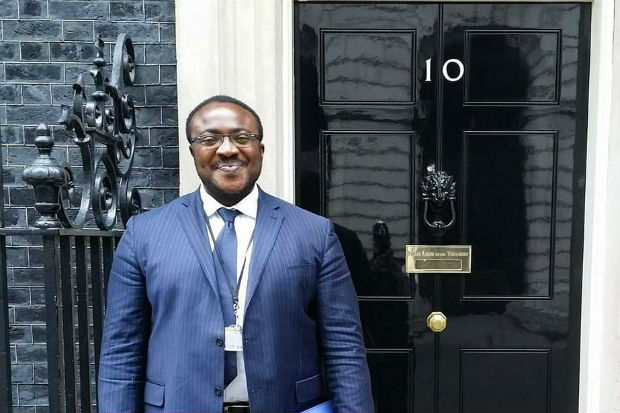 What is the meaning of Black History Month (BHM)? Why all the events, and why is it important for me to write a blog about my migration journey? 
I am a first generation migrant, who moved to the UK from Nigeria for my academic development in 2008, with a grand plan of completing an MBA and Accountancy (ACCA) certification before 'moseying' off to 'live the life' on one of the Caribbean Islands. Fast forward to 2019, I have accomplished all my academic development goals, but the Caribbean dream is still a dream.
Colleagues know me as Austin – rather than Augustine, which is actually my middle name. Without a doubt, most people will struggle with my first name which is Oyiyole - Okanugeche - Alo - Pelanu - Ole, shortened to Oyiyole. Let's leave the meaning – and the competition to pronounce my name correctly – to 'get-to-know-you' coffee/tea meetings or small talk when our paths cross as I promote my transformation agenda under the badges of Project Delivery and Policy, across Whitehall. 
BHM for me personifies the vision of the great Akyaaba Addai Sebo (founder of BHM UK) of connecting with my roots, celebrating African and Caribbean culture, and sharing our knowledge, ways of life, entertainment and food across an ever-widening platform in a multicultural UK. During this month, it is normal to take stock. However, BHM should not be treated merely as the month where we roll out our stalls, pay tributes, and then get back to business as usual, without doing our best to address the issues of inequalities faced by colleagues from African, Caribbean and minority backgrounds in the workplace and everyday life. 
"Time to act"
You may be conversant with the Race Disparity Audit report and some of its insights on inequality. And there are a multitude of reports on inequality. The McGregor-Smith Race in the Workplace Review concluded with the words, "The time for talking is over, now is the time to act." According to the report, if the Black, and Ethnic Minority talent were fully utilised, the UK economy could receive a £24 billion boost.
At the Cabinet Office Race Equality (CORE) Group, we have a vision of helping the department use its diverse talent to the full and become a truly diverse place to work – as diverse as the population it represents, including across higher grades. To that end, we celebrate Diversity and Inclusion (D&I) colleagues working with CORE to design and implement a policy of diverse by default interview panels for all SCS recruitment campaigns, which was mandated across the Civil Service in April this year. 
However, there is a lot more to be done if we are to shift the dial and improve representation of ethnic minority colleagues across higher grades. For example, downstream, what more could be done to change the status quo? We all have a role to play, either as intrinsic owners of the problem/solution, allies and corporate owners. 
Awesome experience
Now let's go back to my migration journey. 
I arrived in the UK in February 2008, on a first class flight, having been upgraded, and was given a pink slip which meant I did not have to go through a long queue and experience the 'ordeal by a thousand questions' immigrant students go through. I learned my first slang - 'are you having a laugh!'  when the immigration officer tried to pronounce my first name. Now, 11 years later, I am married with two kids (Jasmine and Leo) – still no Caribbean destination!
However, I have benefited immensely from my adopted country and my migration journey. I have completed my planned academic studies and doing some more. I have broadened and enriched my career with over a decade of awesome experience. Four years at the Cabinet Office has afforded me a front-row seat for some of the most profound socio-economic-political developments in the UK's recent history. 
What next? Seriously, I still want to move to the Caribbean or East Africa, to pursue my passion for international development. The plan is for an Entonu Exit in 2023/24. 
Although my wife is Polish/British, I am Nigerian/British, and Jasmine and Leo are Polish/Nigerian/British, the UK will always be our home. So, as citizens of the world, our journey as migrants is about the experience, rather than the destination. Indeed, I hope my migration journey to the UK has been as beneficial to the UK as it has been for me – and that you have enjoyed my blog. Reach out - let's have a 'chinwag', not a 'natter'. I can be contacted on augustine.entonu@cabinetoffice.gov.uk. 
Enjoy the experience of the BHM, but let's cherish each other on this journey of life. By the way, at which generation do we stop counting? First, second, third or fourth generation migrants?