Welcome back to the Race Champion Blog!

In this series of posts I am introducing inspirational people who are working hard to make a positive difference to our Civil Service.  

The next two posts are about staff networks. I have seen at first hand the work they do to support colleagues, advocate on their behalf, and create an equal workplace for all colleagues. Just as importantly, they help to hold senior leaders (myself included) to account. And of course, they are a source of knowledge and insight that a white race champion is never going to acquire through his or her own experience.

Much of the work the network chairs do is by their influence and leadership, and in their own time. That sort of commitment is well worth recognising. Here's my colleague Rupert McNeil on the value of staff networks.  

Read on to hear from Bernadette Thompson, who co-chairs the Race to the Top G6/7 network with Anita Bhalla. Bernadette shares her reflections on what the recent National Day for Staff Networks meant to her and on the role of leading a network.

Richard Heaton
The Race to the Top Grade 6/7 Network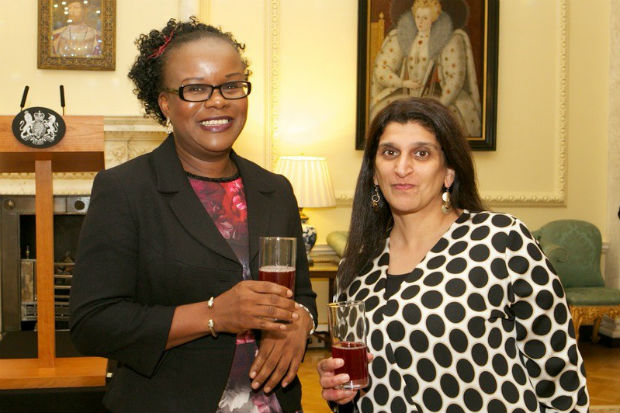 Approximately three years ago, Anita Bhalla invited me to co-chair the Race to the Top G6/7 Network with her. I said yes, and it is one of the best decisions I have made.
We were established in 2016, with the specific aim of supporting ethnic minority colleagues in the feeder grades to the Senior Civil Service (SCS) to thrive and progress and helping to address the prominent lack of ethnic diversity at senior government levels. Membership has grown rapidly, now connecting approximately 800 members. As a network, we continue to make a tangible impact on the Civil Service, delivering the largest annual diversity programme run by any government employee network.
Cherron Inko-Tariah, a former civil servant and founder of National Day for Staff Networks, published a book in 2012, entitled, The Incredible Power of Staff Networks, and this rings true for me every day. This year's theme for the National Day for Staff Networks was Leading for Change. Its aim was to encourage networks to think about how they can be beacons of support and a strong voice articulating solutions to inclusion in the organisation. I reflected on the impact of our network in line with the #leadingforchange and concluded – we have been doing just that!
What we do
We directly support the Civil Service's aspiration to increase ethnic representation at SCS level; and this year our flagship BAME G6/7 SCS shadowing programme was sponsored by Cabinet Secretary and Head of the Civil Service Sir Mark Sedwill. Each year, the programme enables approximately 400 BAME G6/7s to shadow senior leaders, including permanent secretaries, director generals, ambassadors overseas, and roles in No. 10.
We organise training sessions for our members with some of our internal and external partners. Last year, the Institute for Government delivered three training sessions for us on policy, working with ministers and on EU-Exit-related issues. Change Associates delivered a fantastic session on 'Why projects fail'; and longstanding partner Thrive Ltd,  a timely one on resilience.
Based on the feedback from our members, we established professional sub-groups for HR, Finance and Policy.  We also run a prominent Women in Leadership series, hold frequent events providing access to top level Civil Service leaders, and keep members up to date with wider Civil Service opportunities/developments through our monthly circulars.  One of my most memorable events from 2018 was the first-ever Civil Service positive BAME male role models conference, with 90 BAME men in the room. It was awesome!
I have an ongoing reverse mentoring relationship with John Manzoni, Civil Service Chief Executive, which has been an excellent opportunity to 'speak truth to power'. I also feed into the discussions of the Diverse Leadership Taskforce, which John convened for a year  to accelerate our progress on increasing the representation of disability and ethnic diversity within the SCS, especially at the most senior levels. This year, Sir Richard Heaton, Civil Service Race Champion, endorsed our network's charter for change, and recommended the content be considered by all cross-government race champions. Having direct support and time with our most senior leaders has been a great help.
A great asset
I am proud of our achievement as a network and the benefits we have brought to the Civil Service race equality and inclusion agenda and, more importantly, the support and opportunities we have provided for our ever-increasing number of members.
Richard McKenna said: "Staff networks are one of the greatest yet overlooked assets in many UK organisations. They offer not only support to colleagues but also act as a cultural barometer for the organisation." Organisations must recognise, resource and reward networks.
I commend all employee network chairs and their members across the Civil Service for the time, resources and rigour they bring to drive a culture of inclusion, contributing to making us a brilliant Civil Service.
So, as I reflect on the National Day for Staff Networks, the words of a song come to mind: 'What have you done today to make you feel proud?'. I am proud that I belong to a large movement of employee network groups who are making a significant change to diversity and inclusion landscape across the Civil Service and, as Cherron says, we are indeed incredible!