https://civilservice.blog.gov.uk/race-to-the-top-g6-7/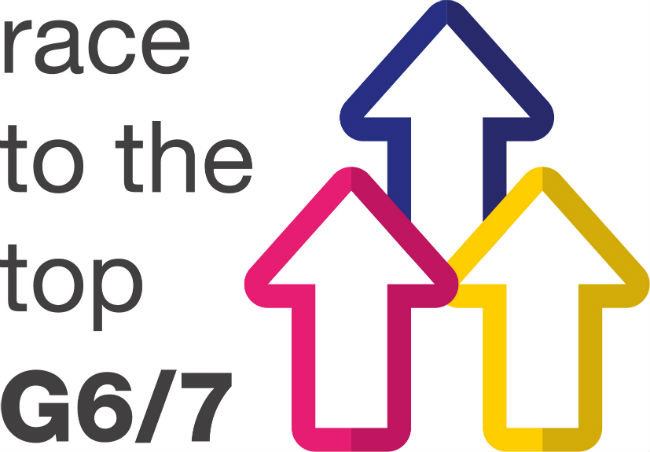 The Race to the Top Grade 6/7 network (RTTT G6/7) is a community of Black, Asian and Minority Ethnic (BAME) G6/7 Civil Service employees across all government departments and agencies.
The overarching intention of the network is to help address BAME underrepresentation in the Senior Civil Service (SCS), supporting departmental and Civil Service targets.
The Race to the Top G6/7 network is headed by two co-chairs, Anita Bhalla and Bernadette Thompson. The co-chairs are responsible for seeking views and opinions from network members through consultation and organising events to address some of the issues raised and support colleague's career development goals.
The network supports members by helping to increase preparedness for leadership at the next level, strengthening personal networks and providing a stronger collective voice.
Aims
Our main aims are to:
assist the Civil Service in widening BAME representation at the Senior Civil Service level

inspire, support and strengthen the leadership capability of BAME G6/7s aspiring to progress  to the SCS

provide a regular forum for BAME G6/7s to meet, exchange ideas and strengthen personal networks with peers and more senior colleagues across government

act as a challenge function to help increase scrutiny and accountability in respect of the progress on senior ethnic diversity in the Civil Service

build a critical mass of BAME role models to inspire, motivate and encourage more BAME employees to develop their careers within the Civil Service

help develop a stronger pipeline and support BAME HEO/SEO employees wishing to progress their careers in the Civil Service

actively identify and champion initiatives that advance race equality and inclusion across the Civil Service.
Scope
We are a forum for linking, strengthening and supporting BAME G6/7 civil servants across government, helping to maximise their potential and impact. Our main focus is to address senior BAME underrepresentation, in addition to supporting wider BAME progression.   
We are an action-orientated network of volunteers, focusing on inspiring and developing the next generation of BAME SCS leaders. We do this through sponsorship, guidance and networking, with strong informal links with other cross-government race networks.
Race to the Top G6/7 Network forms partnerships with external organisations to strengthen impact and reach. This involves delivering a number of targeted programmes supporting BAME G6/7s to help build leadership capability. Some of the external organisations we have partnered with include:
FDA

Change Associates

Institute for Government

Thrive
We also collaborate with internal government networks to advance race equality and inclusion, such as:
Race to the Top SCS network

departmental race networks

other cross government race networks

the central diversity and inclusion team
Programmes
The network runs the following programmes:
Cross Government SCS shadowing scheme
The scheme gives BAME G6/7 employees the opportunity to flexibly shadow a senior colleague in their own department or gain insight into senior leadership elsewhere.  Participants shadow an SCS colleague for 2 to 3 days over a period of months, allowing close hand observation of senior leadership in action, with opportunities to discuss leadership approach, the complexities of senior roles and key success factors for leadership at the next level. 
Women in Leadership Series
These sessions explore the gender/ethnicity intersect and are a forum where  senior women leaders within the Civil Service and across other sectors discuss how women can realise their full career potential and thrive within the workplace.
BAME men positive role models
We are keen to improve the representation levels of ethnic minority men across the Civil Service, particularly those at more senior grades. We know that one way to raise aspiration is to see and hear from role models. At these sessions, attendees will learn about the leadership journey of Senior BAME Men across the Civil Service. The aim is to raise aspiration and self-confidence. The BAME men role models series also helps to challenge and change the status quo and change perceptions that BAME men cannot thrive in the Civil Service.
Learning and development sessions
Our training sessions - often delivered by our external partners - allow employees to strengthen the skills that they need to improve.
These events are aimed at helping members to expand their personal networks, by creating opportunities to network with senior leaders and other colleagues across the Civil Service, and the wider public and private sectors.
Bi-monthly information circulars
A bite-sized e-communication aimed at bringing members up to date with some of the activities taking place across the Civil Service that are linked to advancing race equality and inclusion. The circulars are also used as a tool to promote planned events.
For more information about the network and its activities, contact Anita Bhalla or Bernadette Thompson.