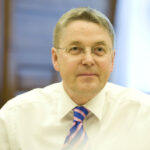 The Prime Minister has said the driving purpose of her government is to make Britain a country that works for everyone, not just the privileged few. The Civil Service, both in its role in supporting the Government and as one of the country's largest employers, must be at the centre of this effort.
The Civil Service has long seen itself as a meritocratic organisation in which people, whatever their background, can rise to the very top. Making this a reality is the right thing to do; not just because it is fair, but because it allows us to make the most of the talents of our staff. This is why increasing diversity at all levels of the Civil Service is one of the Civil Service Board's top priorities; we want to make the Civil Service the most inclusive employer in the UK.
So far, much of our focus has been on promoting diversity on the basis of gender, race, sexual orientation and disability. However, at the end of last year, the Civil Service commissioned the Bridge Group to conduct independent research looking at the socio-economic composition of our flagship recruitment programme, the Fast Stream. Their report revealed a shocking lack of diversity, with just 1 in 20 Fast Streamers from the 2014 intake coming from a low socio-economic background. This acted as a wake-up call that this is an area of diversity we must do more to address.
In response, we published our Talent Action Plan 2016, with an ambitious set of commitments for how we will set about increasing social mobility in the Civil Service and beyond. To meet these commitments, it is essential that we have a better understanding of the make-up of our workforce. While we have data on protected characteristics like race, gender and disability, we don't have a set of metrics, commonly recognised by employers, on the socio-economic profile of our people.
That is why, earlier this week, John Manzoni, Jon Thompson and I wrote a joint letter to all Senior Civil Servants, asking them to complete an online survey on their socio-economic background. Data collection of this kind, the first by any major employer in the UK, will allow us to track how the background of civil servants is changing over time.
This is a significant milestone for our work on social mobility. It will mean that our interventions to increase socio-economic diversity will be based on stronger evidence than ever before. And it will therefore be a crucial tool in our efforts to break down the barriers that some civil servants currently face, particularly when trying to reach the higher levels of the Civil Service.
Civil Service leading the way
The survey is the result of months of collaboration between the Civil Service and over 30 organisations working in the social mobility space. The initial stage of this work produced 26 potential measures to help better understand the socio-economic backgrounds of workforces and applicant pools. We then sought the views of employers through an online engagement, refined the potential measures and now have a list of 12, which form the basis of the survey.
The list of measures is intentionally broad. This allows us to gather further insight ahead of a final recommendation of what we expect to be a much smaller number of measures. Other employers are testing the potential measures on segments of their workforces. Together this will give us a wealth of information from which we can identify the measures that are most meaningful and commonly recognised and that help us understand the issue best.
Some of the questions may make those taking the survey slightly uncomfortable. But I want to reassure everyone that data is being collected and used anonymously, in the same way as other diversity data. It's our hope that, over time, as has happened with the collection of data on race, gender and disability, the concerns about answering questions of a personal nature will diminish and providing such information will be seen as the norm.  
This will only happen if we are clear about the purpose. This data is not being collected to disadvantage anyone. We should value difference of all kinds, all backgrounds. I want us to understand our workforce so that we can be sure that there are no barriers in place to achieving this. This work is about increasing chances for all, based on the most meaningful evidence at our disposal. Appointment is and should always be on merit. Name- and school-blind applications have been rolled out for 70% of the Civil Service by default and will soon be standard across the organisation.
I look forward eagerly to the results of the survey and to seeing how they inform the approach to improving social mobility. I also look forward to reading more personal stories - such as those told here recently by Rupert McNeil and Martyn Henderson - from people who believe it is important to declare and talk about their background in order to inspire others to do the same.
Follow Sir Jeremy on Twitter: @HeadUKCivServ