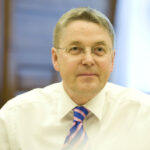 Anyone who reads this blog will know that Diversity and Inclusion is one of my top three priorities as Head of the Civil Service. And the reason for this is clear - the Civil Service cannot aspire to be the world's best public administration if we do not reflect and draw more consistently from all of the talents of the country we live in.
So, one year ago, we launched the refreshed Talent Action Plan (TAP). This set out how we would remove the barriers that prevent more women, people with a disability, those from BAME or LGB&Ti communities, and those from lower socio-economic backgrounds from achieving their potential and reaching the higher levels of the Civil Service.
In doing so we set ourselves the long-term target of becoming the most diverse and inclusive Civil Service in the world.
We will be judged on how we progress against this commitment. It's ambitious but essential. It defines the Civil Service we want to be - a truly meritocratic organisation, constantly challenging ourselves to improve, not captured by "group think" or conventional wisdom, and properly representative of the whole nation we proudly serve.
More diverse and open
So, how far have we gone towards realising our ambitions?
The latest statistics show that, as a whole, the Civil Service is more diverse and open than it has ever been. The pages of the Civil Service blog testify to the effectiveness of some of the initiatives we have introduced, such as the Fast Track Apprenticeship, and the vitality and fresh perspectives that apprentices from different backgrounds bring to government. Then there are the opportunities that the Fast Stream can offer talented people from working-class families like Charlotte Dring. And the backing we increasingly provide for staff networks, which give under-represented groups a bigger voice and a source of advice and support in overcoming career barriers that brilliant civil servants like Geraldine Clement didn't have when they were first making their way in the service.
However, it is clear that diversity is not evenly spread throughout the organisation, and particularly at the most senior levels.
Sustained focus
Today, we publish TAP 2016, a progress update against the commitments we made in the TAP under the headings Clear Leadership and Open Culture, Our Talent, and Capability. I am confident that we are laying firm foundations for change, but I am also clear that achieving our ambition will require sustained focus over the years to come.
We have backed our commitment to a diverse Civil Service with clear governance measures. These include a cross-Civil-Service Removing Barriers Implementation Board; the appointment of four expert external advisors to challenge us on progress; board-level diversity champions in all departments; and diversity champions at Permanent Secretary level for Race, Gender, Social Mobility, Disability, and LGBT&i issues; as well as an overall Diversity and Inclusion Champion.
All Permanent Secretaries have now published diversity objectives, for which they are accountable to me as Head of the Civil Service.
Eradicating unconscious bias
Among a range of steps to develop 'Our Talent', we have exceeded our initial target of 1,000 places on the Positive Action Pathway, a development programme for civil servants from underrepresented groups, and promotion rates for the first two cohorts are encouraging. The Fast Track Apprenticeship goes from strength to strength, with over 550 placements in 2015 ,and we have increased the numbers on our Summer Diversity Internship Programme to 300.
As well as increasing opportunity for every civil servant, to be more inclusive we know we have to eradicate any unconscious bias there might still be in our recruitment and assessment processes. Last November, we introduced name-blind recruitment. This will cover the whole of the Civil Service by September and is for all roles below the Senior Civil Service.
In terms of 'Capability', the TAP acknowledged the importance of training and development in increasing diversity at all levels. The revamped Civil Service Learning offer has diversity and inclusion principles embedded throughout. And we have given bespoke support to staff networks through a new leadership learning pathway for Civil Service Network Chairs that was launched in 2015, while giving cross-government networks the opportunity to bid for central funding.
Since TAP's launch, 110,000 civil servants have taken training to counter unconscious bias - that's over a quarter of our workforce.
Social mobility
Our commitment to inclusion is underlined in Chapter 2 of TAP 2016: Our Social Mobility Plan, which sets out how we will support people from lower socio-economic backgrounds. It focuses on what we can do within the Civil Service, but also how we can use our unique position to propel the debate about social mobility across other employers and sectors, to ensure that socio-economic status is not a barrier to taking part or progressing in any walk of life.
Central to this is today's announcement by the Minister for the Cabinet Office Matthew Hancock that government will now work with other employers to develop a new set of standard measures of socio-economic background. This will allow us to track the progress being made and ensure our efforts are focused on the right areas.
I also strongly welcome Matt's call to civil servants to visit schools and inspire young people about the world of work. People, irrespective of background and social circumstances, should hear about careers in the Civil Service and say, yes, this is a place where I can be myself, do interesting work that makes a difference, and be successful. If you want to take advantage of this opportunity to 'inspire the future', you will be able to use some of your 5-days annual volunteering allowance to take part. You can find out more here.
Personal responsibility
Removing barriers and discrimination, and creating an inclusive culture where all have the opportunity to succeed is vital for the health and wealth of the nation. This is only possible through every civil servant, at every level of the organisation, taking personal responsibility for embracing diversity and inclusion that we will see real change. The Civil Service Board is united in its commitment to creating an inclusive culture, introducing fairer recruitment, selection and promotion, and using evidence of what works to open up opportunity for all.
This won't happen tomorrow. We can take a moment to reflect on the good start we've made before we knuckle down and get on with the big job that remains.
Follow Sir Jeremy on Twitter: @HeadUKCivServ