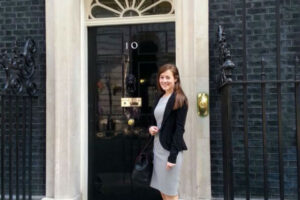 In a keynote speech in June last year the PM spoke about his commitment to improving social mobility. In the same month, Jon Thompson - Permanent Secretary at the Ministry of Defence - was announced as the Civil Service's new social mobility champion. Both spoke passionately about their commitment to helping people from a wide range of backgrounds to achieve their full potential.
As someone who came into the Civil Service from a working-class background, these messages really chimed with me. I knew what the Civil Service had been doing to improve other aspects of diversity, including gender and BAME, but I couldn't identify the equivalent work programme for social mobility. What I didn't know prior to the June announcement was that the Civil Service had noticed this gap themselves, and were primed to make the announcement about Jon.
I was so pleased to hear this, and quickly approached Jon to offer my support. Whilst it's very early days for this new strand of diversity work, it's clear that the Civil Service is fully committed to it, and it's starting to gain some real momentum.
Surprising comparisons
Those working with Jon have been eagerly awaiting the publication of the Bridge Group report into the Socio-Economic Diversity in the Fast Stream. The main findings were announced in a speech by Matthew Hancock, Minister for the Cabinet Office.
Whilst the report is focused on the Fast Stream only, it has some interesting stats. It states that only 4.4% of successful applicants to the Civil Service Fast Stream are from working-class backgrounds, in comparison to the third of the population in employment who are working class. The line that struck me the most was this one – "the profile of the intake is less diverse than the student population at the University of Oxford." This really surprised me – Oxford is known for not being particularly diverse (although is also working to tackle this) – and even though I feel like I'm in somewhat of a minority in the Civil Service, I didn't expect to hear that the Fast Stream is less diverse than Oxford.
On a personal level, I found this quite ironic. I had an interview for Cambridge Uni but talked myself out of it the week of the interview (who would conclude I was clever enough to go there?). You can imagine this went down well with my parents, particularly my Dad, who had rather prematurely had already told his friends down the pub that his second-born was going to Cambridge. Anyway, I might have talked myself out of that one, but there's some irony in the fact that some years later I applied for something that is evidently in a similar league of trickiness, and I made it. I was really proud of myself, and one of the things I remember from my first day - apart from being mildly terrified throughout - was ringing my Mum after work and telling her my DD was the "poshest person I've ever met." I've just about acclimatised now.
Why does diversity matter?
So why does all this matter? Well, diversity matters. People achieving their full potential matters. Feeling like you fit in and can add value - even though you might not be the same as everyone else - matters. It matters for business, and it matters for individuals. If we are going to be the best Civil Service we can possibly be, we must reflect the population that we serve.
The Bridge Group report makes some recommendations on how to make the Fast Stream more diverse. I hope these help. But I also hope that we manage to find a way of obtaining data on the whole organisation so that we can understand the wider picture and how the Civil Service compares with other organisations. I hope that we support those within the organisation from all kinds of backgrounds, to feel like they fit in and that their contributions are valued. For me, my background manifests itself in a lack of confidence - I don't have the same accent or vocabulary as others and I haven't had the same educational or cultural experiences. I often find myself unable to keep up with conversations about life experiences – I can't relate to the cultural reference points. But what I do have is drive and determination to be the best civil servant I can be. I hope that the work Jon is leading both helps increase the diversity of the Civil Service, and also supports those already within it to believe in themselves and achieve their full potential.
Update

Thank you for all your comments on this blog. A number of the issues you raise were addressed recently, here, by our Chief People Officer Rupert McNeil, in response to comments on a separate blog about social mobility.
Follow Fast Stream on Twitter: @faststreamuk.