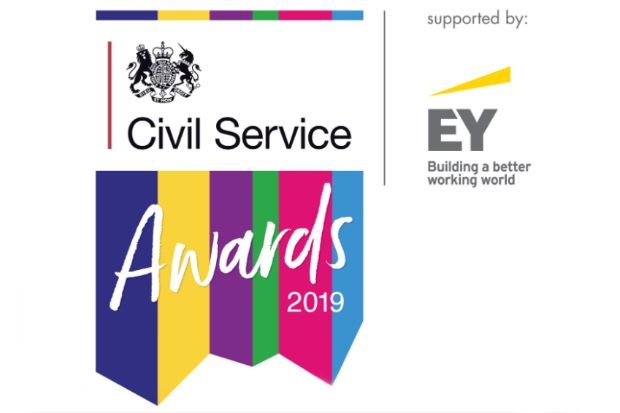 The annual Civil Service Awards are our chance to celebrate the phenomenal array of talented and dedicated individuals we have doing amazing work across the Civil Service. We want to thank and recognise our colleagues for their brilliant public service.

Thank you to everyone who put in a nomination. We received more than 1,200 nominations, and together they tell a story of hard work, incredible commitment and unwavering values.

I also want to thank our judges, who have had the difficult task of producing the shortlist for this year's awards. 

Congratulations to those who have made it to the shortlist. I look forward to meeting them at the awards ceremony at Lancaster House in London on 21 November.
Civil Service Awards 2019 shortlist
The Citizenship Award
Team or individual: Jonathan Bamborough
Department or agency: Department for Work and Pensions
Team or individual: Suzanne Smith
Department or agency: Disclosure and Barring Service
Team or individual: Mairi MacNeil
Department or agency: Department for Work and Pensions 
The Collaboration Award
Team or individual: The Leeds Social Justice Team
Department or agency: Department for Work and Pensions
Team or individual: Offender Accommodation Pilot Project
Department or agency: Ministry of Justice 
Team or individual: Statutory Accounting & Corporate Structure Fraud Project Team
Department or agency: Companies House
The Commercial Award
Team or individual: Superfast Cymru Project Delivery Team
Department or agency: Welsh Government
Team or individual: Defra Group Commercial EU Exit Team
Department or agency: Department for Environment, Food & Rural Affairs 
Team or individual: Voluntary Pricing and Access Scheme Negotiating Team
Department or agency: Department of Health and Social Care 
The Communication & Engagement Award
Team or individual: Welsh Government Digital Infrastructure Communications Team
Department or agency: Welsh Government
Team or individual: THINK! New Driver campaign
Department or agency: Department for Transport 
Team or individual: First World War Centenary – The Last 100 Days Remembered
Department or agency: Department for Digital, Culture, Media & Sport 
The Developing People Award
Team or individual: Rob Macpherson and HR's Recruitment Team
Department or agency: Department for Education 
Team or individual: Bridges Project Team
Department or agency: Office of the Public Guardian 
Team or individual: Tracy Lee
Department or agency: Department for Digital, Culture, Media & Sport 
The Digital Award
Team or individual: Divorce Project – HMCTS Reform
Department or agency: HM Courts & Tribunals Service 
Team or individual: Digital Customer Service – HM Passport Office
Department or agency: Home Office
Team or individual: Sarah Pannell and Learning & Innovation Team, DFID Malawi
Department or agency: Department for International Development
The Health & Wellbeing Award
Team or individual: Jack Summers
Department or agency: Home Office 
Team or individual: The Offshore Petroleum Regulator for Environment & Decommissioning - Healthy Working Lives Committee
Department or agency: Department for Business, Energy & Industrial Strategy
Team or individual: Cross Government Menopause Working Group
Department or agency: Cabinet Office
The Innovation & Science Award
Team or individual: Genomic Science and Emerging Technologies
Department or agency: Department of Health and Social Care
Team or individual: ONS Data Science Campus team
Department or agency: UK Statistics Authority/Office for National Statistics
Team or individual: Troubled Families Evaluation and Policy Team
Department or agency: Ministry of Housing, Communities & Local Government
The Inspirational Leadership Award
Team or individual: Paula Holbrook-Witt
Department or agency: Defence Science and Technology Laboratory 
Team or individual: Craig Goodwin
Department or agency: Welsh Government
Team or individual: Sonia Walsh
Department or agency: Her Majesty's Prison and Probation Service
The Policy & Use of Evidence Award 
Team or individual: Childcare Offer Team
Department or agency: Welsh Government
Team or individual: Ellen Lynch, Connie Smith, Guy McGivern, Karen MacNee
Department or agency: Scottish Government
Team or individual: Independent Review of the Mental Health Act
Department or agency: Department of Health and Social Care
The Project Delivery Excellence Award 
Team or individual: Matthew Bell
Department or agency: The National Archives (TNA)
Team or individual: Marine & Fish EU Exit Programme Team
Department or agency: Department for Environment, Food & Rural Affairs
Team or individual: HMRC Diverted Profits Project
Department or agency: HM Revenue & Customs
The Public Service Award 
Team or individual: Commemorations Team, Defence Business Services Joint Casualty and Compassionate Centre
Department or agency: Ministry of Defence
Team or individual: Midlands Intake Unit
Department or agency: Home Office
Team or individual: South Korea Trade Negotiations Team
Department or agency: Department for International Trade
The Resilience & Rapid Response Award
Team or individual: Aeronautical Rescue Coordination Centre Blue Watch
Department or agency: Maritime and Coastguard Agency
Team or individual: British Embassy Moscow, plus police and regional support
Department or agency: Foreign and Commonwealth Office
Team or individual: Faith, Race and Integration team
Department or agency: Ministry of Housing, Communities & Local Government
The Rising Star Award
Team or individual: Piers Trory
Department or agency: HM Revenue & Customs
Team or individual: Cindy Kim
Department or agency: Department for International Trade
Team or individual: Charlotte McMillan
Department or agency: Home Office
The Diversity & Inclusion Award
Team or individual: Bristol Race Network
Department or agency: HM Revenue & Customs
Team or individual: Home Office Working Through Cancer Network
Department or agency: Home Office
Team or individual: Nuzhat Ali 
Department or agency: Public Health England
Team or individual: DWP Digital team
Department or agency: Department for Work and Pensions
Team or individual: LGBTI Staff Network
Department or agency: Scottish Government
Team or individual: DfE Social Mobility Network
Department or agency: Department for Education
Team or individual: Bernadette Thompson and Anita Bhalla – Co Chairs, Race to the Top G6/7 Network
Department or agency: Home Office
Team or individual: Sexual Harassment and Personal Safety Working Group
Department or agency: Department for International Development