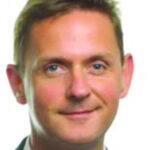 The focus of this year's World Mental Health Day included the changing world and the impact this can have on us. As civil servants I know we are all familiar with change, particularly in the current climate, with a number of us involved in work relating to exiting the EU.
Change can bring positive outcomes, such as personal growth and new opportunities. However, change outside our control can also sometimes make us feel anxious and stressed. For situations like these, whether at work or elsewhere, we should never underestimate the value of showing concern and care for each other. If you notice someone behaving differently, then do take the time to check in to see if they are OK.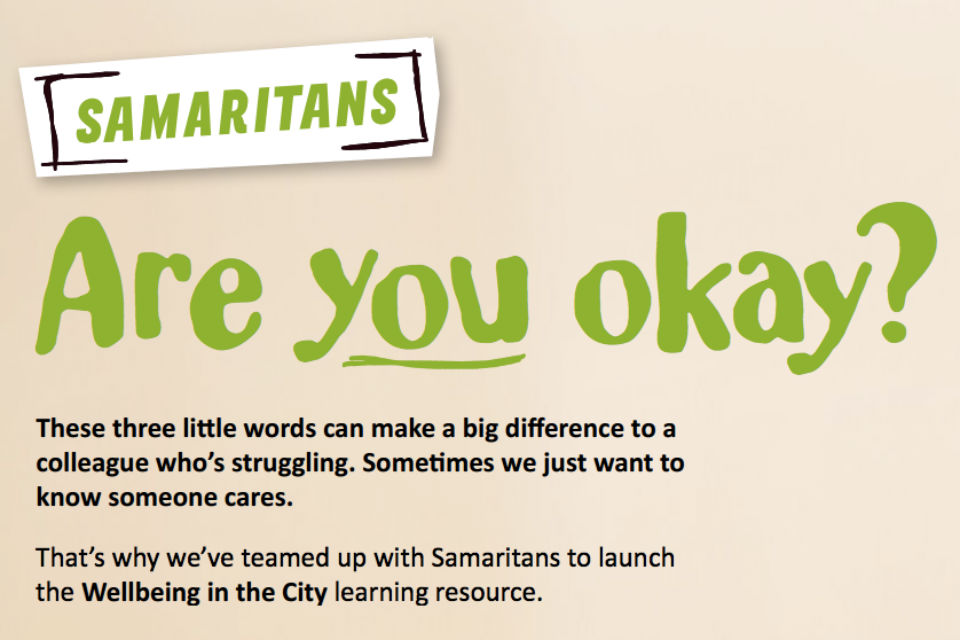 To assist in enhancing our listening skills, I am delighted that we have worked with the Samaritans to launch their Wellbeing in the City digital pack. This is a set of interactive videos and information that provides tips on how to have sensitive conversations and how to develop active listening skills. These are skills that can be used across our home and work life on a daily basis, as well as in more complex sensitive situations.
The Wellbeing in the City digital pack is available for civil servants and is signposted under 'Wellbeing' on Civil Service Learning. It is also accessible directly via the the Samaritans website. This free pack comprises two excellent bite-size learning modules:
The Wellbeing toolkit 

(60 minutes): an interactive set of videos and online resources that can be taken at once or broken down into bite-size modules. This will help individuals start a conversation, recognise signs of emotional distress, and look after their own wellbeing.

Videos include tips from Ruth Sutherland (CEO, Samaritans) and Professor Cary Cooper (President, CIPD).

The Active Listening toolkit 

(25 minutes): a wealth of resources, including an interactive video to 'have a go' and practise your new skills.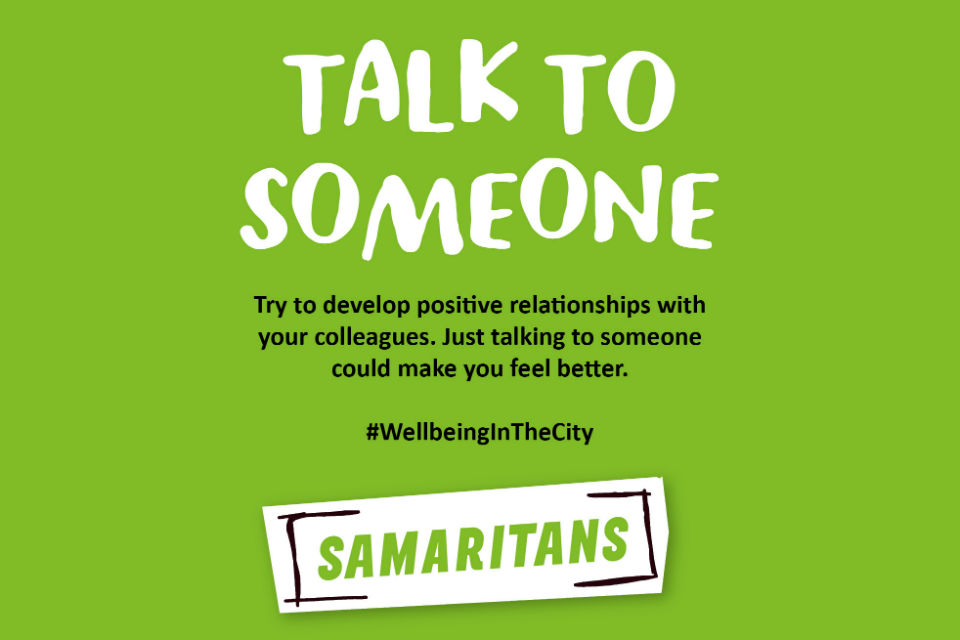 Ruth Sutherland

"It's fantastic to see the Civil Service taking the emotional health of its employees so seriously. By launching Wellbeing in the City, Civil Service staff will benefit from learning Samaritans' core listening skills and gaining the confidence to approach someone who is struggling.  

When people feel listened to, it can save lives. Our aim is to help people who are struggling, before they reach crisis point. Giving Civil Service staff wellbeing and listening skills creates a network of support, so no one feels they have to cope with difficult thoughts or feelings alone. 

"We want to create happier and healthier workplaces. And we believe this starts by creating open and supportive working environments, where people feel listened to."

Ruth Sutherland, Samaritans CEO
The Wellbeing in the City digital pack complements and supports training packages available on Civil Service Learning such as Mental Health at Work and Wellbeing, Resilience and Stress. In the Civil Service, a range of support is available, ranging from our network of over 2,250 Mental Health First Aiders (or equivalent) to our Employee Assistance Programmes (or equivalent).