The Race to the Top G6/7 Network is inviting Civil Servants at grades 6 and 7 from ethnic minority backgrounds to register for brilliant work-shadowing opportunities within the Senior Civil Service (SCS).
Last year more than 300 civil servants at these grades benefited from the opportunity to shadow a senior civil servant.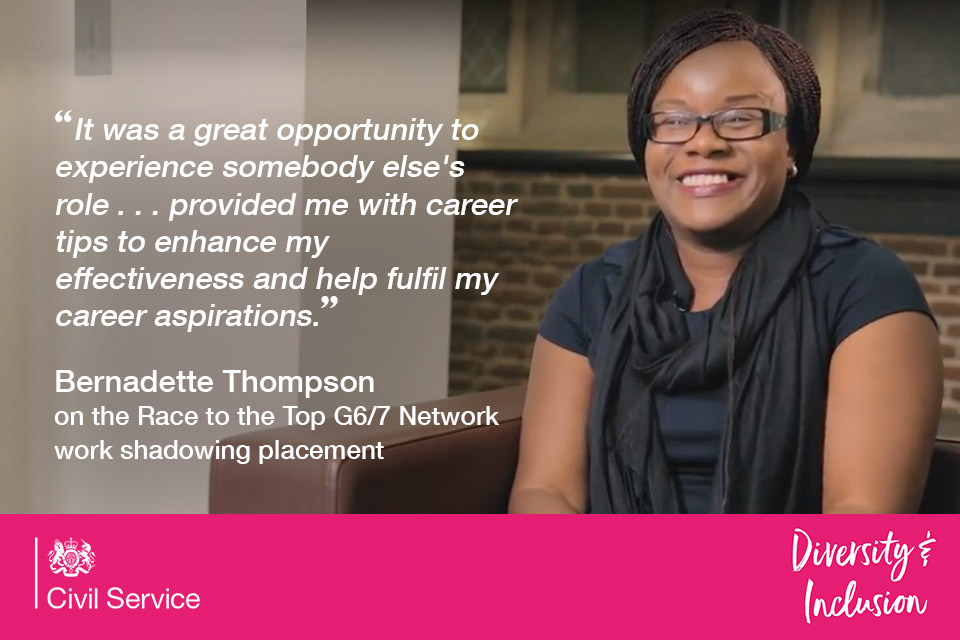 Bernadette and Shabbir tell us how the work-shadowing programme was a powerful way to learn more about their own professions and experience a different role in the Civil Service.
Shabbir Khan on his placement with the Foreign and Commonwealth Office
I was interested in the Foreign and Commonwealth Office (FCO) so decided to take advantage of an unique opportunity to observe diplomats at work and applied to work shadow Wasim Mir, the Deputy Head Of Mission to Brazil, taking the opportunity to combine this with a holiday (paying for my own flights, of course).

My three days on the placement in Brasilia did not disappoint and were certainly varied – accompanying Wasim to numerous meetings, starting on the first day with video conferences with various FCO sites such as Sao Paolo and Rio De Janeiro.

The placement also  gave me a real insight into how proactive the consulate is in representing UK interests. I attended an exhibition evening at the Indian Embassy and meetings with the Brazilian Department of Transport and an international commercial executive agency of UK Department for Transport – unfortunately for me the entire meeting was conducted in Portuguese!

"The experience made me realise becoming a senior civil servant
is an achievable and realistic ambition."

The highlight of the work-shadowing was no doubt on my final day – a meeting with the EU Heads of Missions – and in English this time! Those few days in Brazil were a great way to learn about working for the FCO.

This was my first experience of Senior Civil Service (SCS) shadowing and I can't recommend it enough.  At the very least it's a great way to learn about other Civil Service departments and gain insight into other careers and opportunities. The experience made me realise becoming a SCS is an achievable and realistic ambition. Suddenly, the thought of taking on a senior role feels that little bit less daunting.

Bernadette Thompson on learning about senior leadership through a work-shadowing placement

As someone working in Human Resources, the chance to work-shadow Rupert McNeil, Government Chief People Officer, was an excellent opportunity. The placement gave me more exposure to the strategic overview of Civil Service HR. It was a great way to experience someone else's role.

"It was a great way to experience someone's else's role."

During the shadowing, I attended a range of meetings linked to current HR priorities and was able to contribute to some of the meetings, including discussing the plans for the launch of the new Diversity and Inclusion Strategy, the direction of the apprenticeship strategy, and a 1-1 meeting with Civil Service CEO John Manzoni. During the placement, I was able to observe how senior leaders approach conflicting priorities and adopt pragmatic decision-making processes.

I also had a useful career conversation with Rupert McNeil, who provided me with career tips to enhance my effectiveness and fulfil my aspirations within the HR profession.

How can you take part?

Those taking part in the 2018 BAME work-shadowing programme, in partnership with the FDA Union, will be able to flexibly shadow a senior colleague in their own department or gain insight into leadership elsewhere in the Civil Service. They will take part in work-shadowing for 2 to 3 days over a period of months, observing senior leadership in action with opportunities to discuss how to develop their own leadership for the next level of their career.

If you are grade 6 or 7, from an ethnic minority background, and interested in taking part in work-shadowing programme, or a senior civil servant who can offer a work shadowing opportunity, please contact Anita Bhalla for more information.

Registrations are open until 22 December, with work-shadowing taking place between March and July 2018.

The Civil Service recently launched its new Diversity and Inclusion Strategy. It aims to become the most inclusive UK employer by 2020, and supporting senior ethnic diversity is a key part of this.