I thought it would be helpful to provide an update on the disability agenda which featured strongly at this year's Civil Service Live events. At most venues we had two exhibition stands showcasing the work of the Central Workplace Adjustment Service and the Civil Service Disability Inclusion Team.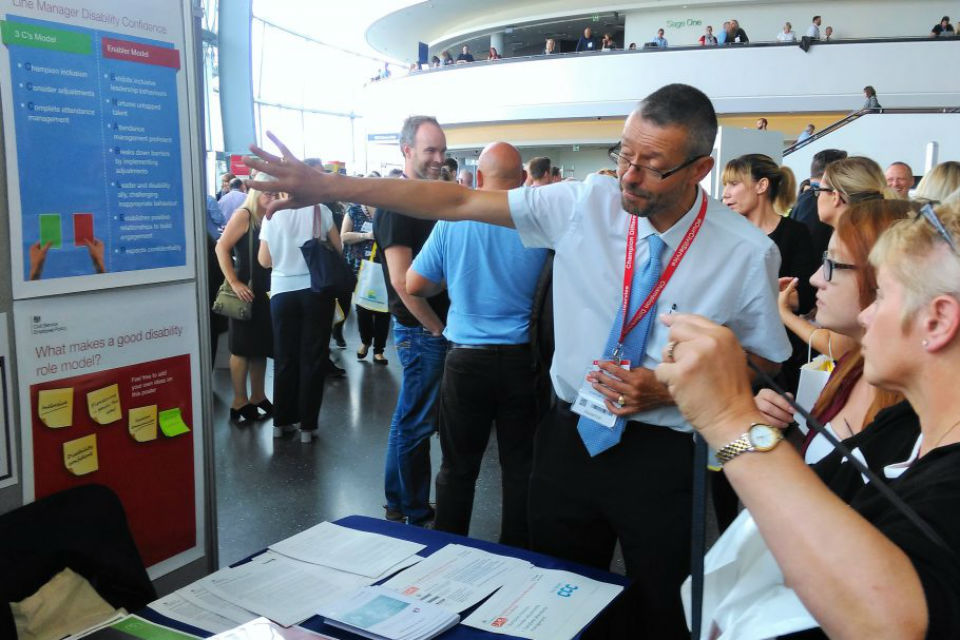 Many disabled colleagues and line managers grasped the opportunity to visit the stands to raise queries and share insights. Common themes which emerged were:
There is greater awareness of disability inclusion across the Civil Service. It was great to hear about role models such as Jonathan Cocks in DWP Morecambe Jobcentre, who has created a disability notice board to update colleagues on disability initiatives, such as promoting the new learning offer.
Some disabled colleagues continue to report barriers, such as their line manager refusing to complete a Workplace Adjustment Passport. We need to address this and I would encourage anyone experiencing difficulties to speak to your Departmental Disability Champion, or to raise this with your Departments Workplace Adjustment Team. If this does not resolve the concern you should use the Central Workplace Adjustment Team Review Route.
The vast majority of line managers are keen to build their disability confident knowledge and are seeking the tools and support to do so. Many openly revealed that they wish to help but are scared of saying the wrong thing.
On this latter point, we ran a Disability Confident workshop at Civil Service Live in Manchester aimed at line managers. Attendees were presented with two line manager disability confident models; the 3Cs model which I shared in a previous blog and the following alternative ENABLER model.
A disability confident line manager who applies the ENABLER model will:
Exhibit inclusive leadership behaviours  They will adopt inclusive leadership and working practices, such as ensuring that everyone has the opportunity to contribute when chairing team meetings. It could also involve considering the impact of proposed organisational changes, such as the introduction of new IT/working practices etc. on disabled colleagues or simply requesting regular 360 feedback to obtain insight on their leadership behaviours.
Nurture untapped talent They will ensure that disabled employees are treated fairly and have the same opportunities as non-disabled colleagues. Disability Confident line managers will have no preconceptions on the abilities of disabled staff, offering them stretching work, career development moves, and putting them forward for promotion and talent programmes in the same way as their peers.
Apply Attendance Management policies correctly They will be knowledgeable and skilled in attendance management and in supporting staff to return to work. They will Identify and act on signs or triggers that may prevent extended sick leave and know how to distinguish between disability related absence and sickness absence.
Break down barriers by implementing adjustments They will know where to access advice about identifying, implementing and reviewing workplace adjustments to enable disabled employees to work effectively and realise their full potential. They will offer to document approved adjustments on a workplace adjustment passport, to enable seamless retention on a change of line manager/job role or move between departments, agencies and external organisations.
Lead the way, acting as a disability role model They will challenge and tackle inappropriate behaviour towards disabled employees that constitutes bullying, harassment and/or discrimination. They are widely recognised as a disability role model and champion of disability inclusion.
Establish positive relationships to build engagement They are skilled in building positive relationships to ensure that disabled colleagues have a motivating and inclusive experience at work. They understand that this can have a significant impact on their engagement, reducing work-related stress and improving organisational commitment.
Respect confidentiality They will respect that information on an employee's disability is confidential, unless the employee has made it clear that they are content for the information to be shared or disclosure is necessary to safeguard the individual or others.
Having presented both models we then used the tried and tested method used by the TV programme Ready Steady Cook of asking workshop attendees to hold up a red or green card to show which model they preferred. Attendees voted the ENABLER model a clear winner and suggested amending this to ENABLERS in order to capture an additional key characteristic, "seeks help and advice".  
If you have any thoughts on which model you prefer, please post your comments below or contact me at disability.inclusion@cabinetoffice.gov.uk.
ENEI Awards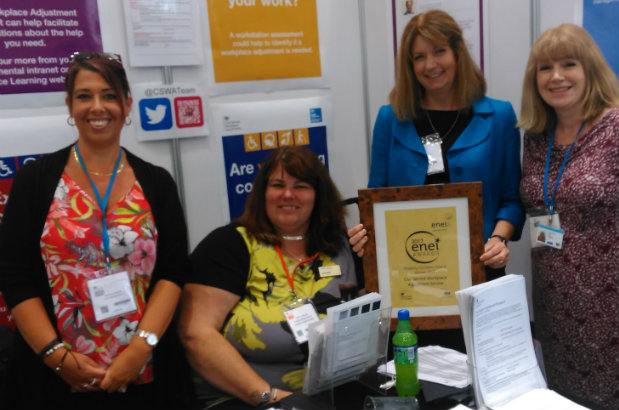 Finally, congratulations to the Civil Service Workplace Adjustment Service for winning the 2017 Employers Network for Equality & Inclusion [enei] Disability Confident Award. Also to DWP and Civil Service Human Resources, who were highly commended in their award category and to other Civil Service departments, teams and individuals shortlisted. ENEI Awards are a useful indicator of progress as they recognise the commitment of organisations in achieving diverse and inclusive workplaces and celebrates the teams and individuals who are really making a difference.