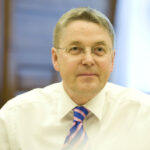 Thank you to everyone who completed the 2016 People Survey. In all, 279,708 of you took part, meaning an overall response rate of 65%, the same as last year. The results are now available here.
This is the eighth annual survey of attitudes towards and experiences of working in the Civil Service. It is an indispensable aid to understanding what civil servants are feeling and thinking about their work and the changes under way to deliver our vision of 'A Brilliant Civil Service'.
Overall engagement is 59% for the Civil Service as a whole, the same as in 2014 and up one percentage point from 2015. This is the highest level since we began the survey.
The results for the nine themes that drive engagement are broadly in line with last year, with some small increases. I take great pride in what this says about civil servants' dedication to public service and their readiness to take on any challenge, in this year in which we have seen so much change and new work.  
Under these headline themes, we've seen consistently high scores for the numbers of us who are interested in our work (90%), believe we have the skills and tools we need to do our jobs (89%), feel trusted to do so effectively (88%) and that we have the respect of our colleagues (84%). These are amazingly positive scores that any organisation in the country would wish for!
It's good to see that the Leadership Statement is becoming embedded in all that we do.  Significantly more people believe that their own managers, and senior managers in their organisations, actively role model behaviours set out in the Leadership Statement.
I am particularly encouraged by the improvement in perceptions of 'Inclusion and fair treatment': this theme score is up this year by 2 percentage points to 76%. Again, this is the highest it has ever been and a positive indicator for our ambition to be the most inclusive employer in the UK.
However, both the 'Discrimination' and the 'Bullying and harassment' benchmark scores have increased by one percentage point compared to 2015, to 12% and 11% respectively. I don't think it's acceptable that any civil servant should have to experience bullying, harassment or discrimination, and it's particularly disappointing after the efforts we have made this year to tackle this issue head on. We must rededicate ourselves to this, and aim to eradicate discrimination and bullying completely.
Of those who experienced bullying or harassment, only a third reported their experience and just one in five felt that their issue had been resolved. There is a lot more that we need to do in order to give confidence to civil servants, wherever you work, that your concerns will be listened to and action taken.
That makes it all the more important that we take action on the results of the People Survey.  I know that every department, organisation and unit will want to look at their own scores and make sure that they act on the results. I will be discussing this with Permanent Secretary colleagues in the coming weeks to work out what more we need to do for the Civil Service as a whole – learning from and building on successes as well as identifying areas for improvement.  
Meanwhile, thank you again for filling in the survey – and for the great work you are doing in every department.  
Follow Sir Jeremy on Twitter: @HeadUKCivServ