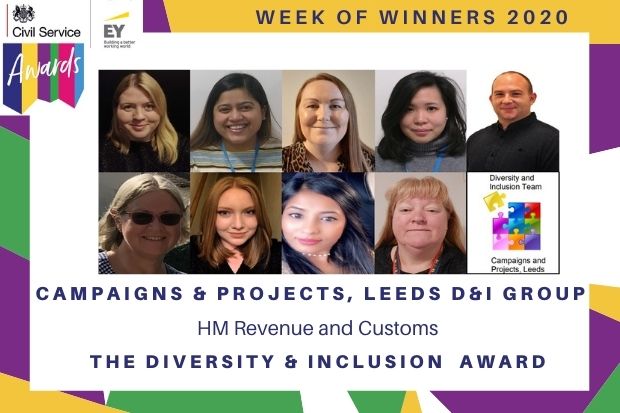 Pride, passion and honour summed up HMRC's touching reaction and team spirit to winning the hotly-contested Diversity & Inclusion category.
Alex Chisholm, Cabinet Office Permanent Secretary, and Rohan Malik, UK&I Government & Infrastructure Managing Partner at EY, presented the honour to the Diversity & Inclusion Group from HMRC Campaigns & Projects, Leeds. This is an award that recognises real achievement in diversity across the Civil Service.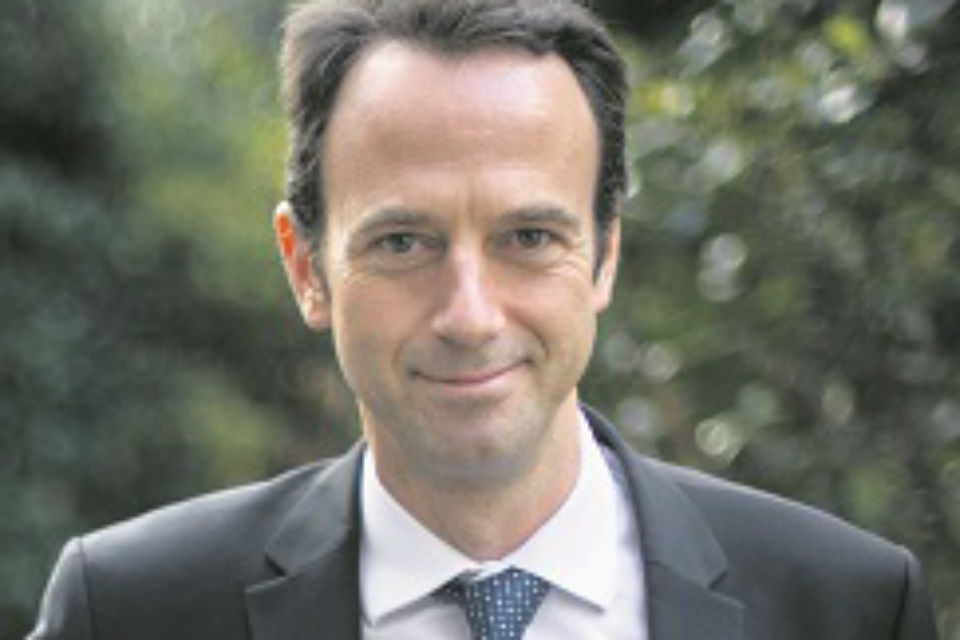 Before announcing the winner, Alex Chisholm took a moment to pay tribute and thank the "outstanding" finalists over what he termed, "an extraordinary 12 months, held together by extraordinary people and extraordinary teams."
Campaign & Projects, Leeds, is a new office of over 400 people from a range of backgrounds. The Diversity & Inclusion Group was formed by 11 volunteers who never once wavered from their determination to recognise the "unique nature of every person bringing different values, skills and personal experiences and ways of thinking."  
At the time their nomination was written last autumn, the volunteer group had produced more than 30 awareness campaigns spanning a range of themes. For example, their Time to Talk Day campaign promoted better understanding of mental health, and to mark Inclusion Week, the group laid on engagement workshops, such as exploring identities and 'speed-inclusion.'
Recognising the potential isolation caused by working from home during COVID-19, the group developed innovative, online weekly group tasks to help bring teams together.
Combatting isolation
Caroline Lees, who leads the Diversity & Inclusion group, said: "This activity really helped combat feelings of isolation and brought teams together with 350 people regularly participating."
Even more impressive is that the award is technically a 'winner of winners' from the Civil Service Diversity & Inclusion Awards, which took place in late 2020.
Caroline said:
We felt incredibly proud of our team, it was an honour to win such a prestigious award given the high standard of the other 296 nominees. We are all thrilled and immensely proud, and it has been fantastic to hear about all the other wonderful Diversity and Inclusion work being carried out across the Civil Service.

We're motivated by a shared passion to make a difference and are always striving to be the best at what we do. We enjoy working as a team to develop our knowledge which enables us to raise awareness of a diverse range of subjects.
Reflecting upon the best advice they have been given, the team chose: "Approach everything with an open mind and, if you're going to do something, do it properly or not at all."
Pride and purpose
It's a philosophy that certainly worked for HMRC's talented team. Furthermore, they're united in sharing an abundance of pride and purpose - not just in their team, but also in belonging to a thoroughly modern, multicultural Civil Service.
They said: "We feel proud and privileged to be part of an organisation that understands the ever changing and evolving needs of its diverse workforce."
What are they up to next? "We'll be moving into our new regional centre where we're looking forward to engaging with new colleagues, sharing our good practice and influencing the Diversity & Inclusion agenda."