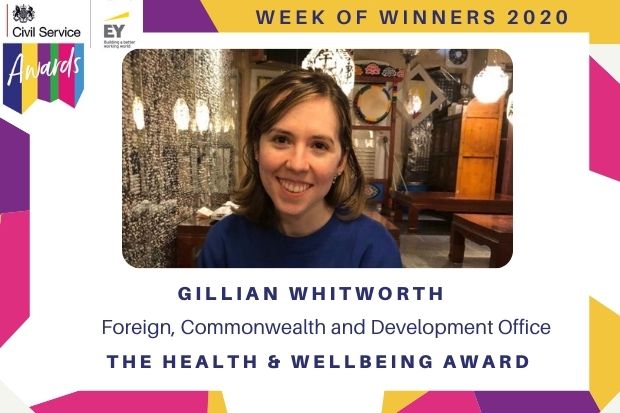 The Health & Wellbeing Award went to Gillian Whitworth from the Foreign, Commonwealth & Development Office. Gillian triumphed in this category for her compassion, courage and commitment in promoting awareness of eating disorders in the workplace, a debilitating but often misunderstood condition.
Inspired to help
Gillian was inspired to help raise awareness of eating disorders when she co-founded an Eating Disorder Support Group at the Department for Business, Energy and Industrial Strategy in 2019, the first group of its kind in government. Since moving to the FCDO, Gillian has continued to raise awareness and has even taken her advocacy global, speaking to UK embassies around the world, whilst continuing to raise greater awareness in London.
Madeleine Alessandri, Permanent Secretary at the Northern Ireland Office, and Graham Hooper, Chief Executive from The Charity for Civil Servants, presented the award. The pair paid tribute to Gillian's valuable work to highlight how eating disorders might appear in the workplace.
Eating disorders have consistently slipped under the radar, yet eating disorder charity Beat estimates that up to 3.4 million people in the UK currently suffer from them, making this a significant issue. Millions more are affected as parents, carers and loved ones. No wonder colleagues welcomed Gillian's empathetic approach, creating spaces for colleagues to share, connect and learn about this emotional issue.
Overwhelming win
Delighted Gillian described her award win as "overwhelming." She acknowledged the difficulty in talking openly about eating disorders at work, saying: "It's not always easy to speak out about hard, emotional topics at work. Breaking the stigma around these issues is also about culture change which can feel long and slow."
Beyond the thrill of winning, Gillian welcomed the tacit recognition that eating disorders matter, calling it "a really important step towards moving eating disorders up the agenda, and recognising the role that support and understanding in the workplace can play in recovery."
Gillian knows first-hand the importance of empathy in tackling eating disorders. Reflecting upon the wisest advice she has received to date, she recalled: "Be kind, and assume good intent - especially when something frustrates you. Hold people accountable, fight for change, but remember at the end of the day that most people are just trying their best."
Tangible impact
Regarding her own career, Gillian is motivated by the chance to make a difference and see a tangible impact. "That's true both in my day job - supporting the FCDO's Europe Director - and the work I do through the Civil Service Eating Disorders Network. It's also fascinating to work on high-profile issues - finish work, see something pop up on the evening news and think, 'I had a part to play in that,' or 'That's waiting for me when I start work tomorrow.'
Gillian clearly isn't the type to rest on her laurels. This month, she helped launch the Civil Service Eating Disorders Network (CSEDN) during Eating Disorder Awareness Week with a programme of activities and events across government. 
"We've put eating disorders on the agenda," said Gillian. "Now, I'm thinking about how we can reach more people to open up conversation and encourage greater diversity of voices. By doing this, we'll get another step closer to realising the network's vision: a safe, kind and inclusive Civil Service where those affected by eating disorders can ask for help without fear of judgement, shame or discrimination."
For more information, contact the CSEDN at edsg@beis.gov.uk.