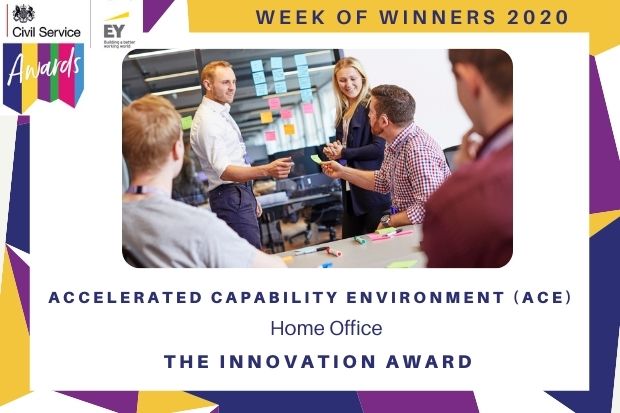 The Home Office's Accelerated Capability Environment (ACE) team won the Innovation Award for their work solving public safety challenges using data and technology, at a pace demanded by a fast-changing world.
The Innovation Award is for the outstanding advancement or application of innovation to improve policy, service delivery or public administration. It was presented by Sarah Munby, Permanent Secretary for the Department for Business, Energy and Industrial Strategy. Presenting alongside Sarah was Lisa Quest, Partner at Oliver Wyman.
Spurning conventional problem solving
This imaginative, entrepreneurial team spurned conventional problem solving in favour of a collaborative approach to speed up ways to solve solutions from years down to mere weeks. The ethos of "mission-led innovation" is embodied in ACE, "from its operating model and fast-paced collaborative ways of working, to the solutions it delivers to complex digital and data problems for public sector organisations."
Sitting within the Office for Security and Counter-Terrorism (OSCT) in the Home Office, ACE solves fast-changing digital and technological challenges facing law enforcement and national security agencies. It brings together expertise from industry and academia to innovate collaboratively and deliver front-line mission impact at pace.
Art of the possible
The team achieved this innovation through a unique partnership with industry, academia and the not-for-profit sector, describing ACE as being "about exploring the art of the possible, to bring to life how public sector mission challenges can be practically solved, which means solution delivery begins earlier, with better buy-in and demonstrable value."
Katie Gardiner, Senior Responsible Owner for the capability, was "absolutely elated" upon ACE being named the category winner during the online ceremony.
"Doing something different like ACE isn't easy and involves a degree of risk, so this award celebrates a real success story and provides an opportunity to share an effective approach to government innovation."
Katie is motivated by the role she plays in keeping the public safe and tackling threats to the UK, working within the OSCT.
Enabling the kind of innovation and technology that delivers the best tools to those on the frontline is constantly challenging but always rewarding.
Reflecting on working in the Civil Service more widely, Katie is "immensely proud" of "belonging to a body of professionals committed to public service. Her advice to others looking to succeed in the same setting is simply: "Empower the people around you."
Looking ahead to the rest of 2021 for ACE and the team that created it, Katie is "looking forward to models such as ACE helping to amplify a collaboration culture that delivers real world benefit."