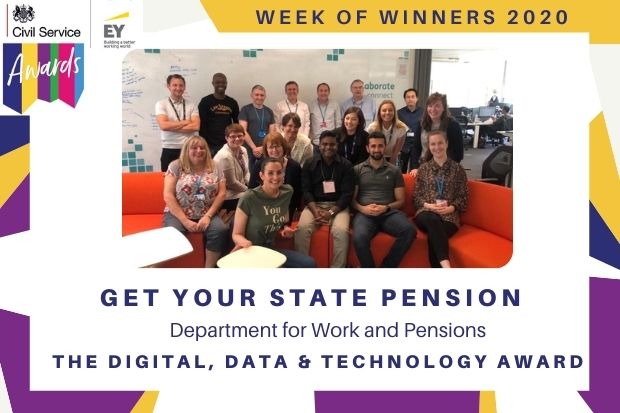 DWP landed the Digital, Data & Technology Award, beating the cream of Welsh and Scottish Government talent with their 'Get Your State Pension' digital service, as well as their remarkable efforts in transforming the way pensioners claim their state pension.
Sarah Healey, Permanent Secretary at DCMS, and Matt Hurley, Director of Strategy and Innovation at SSCL, presented the award. This category recognises excellence in the application of digital technology to solve a problem or make things better.
Developed in 2018, within two years, the service rapidly progressed from being predominantly paper-based to becoming the first benefit which can award and pay a person without any agent intervention at all.
Dramatic improvement
Through collaborative working and cutting across departmental boundaries, the Get Your State Pension digital service has dramatically improved the service, and the team's commitment has paid off.
In 2018, 25% of customers who were invited to claim their state pension did so online. Today, that figure is a whopping 75%.
Team spokesperson Vicky Coatesworth said: "The benefits include an improved customer experience, cheaper maintenance costs and the ability to make future changes quickly.
We became the first 'straight-through processing' benefit, meaning that 60% of new online claims can be awarded and paid to the customer without any agent intervention."
When it came to impressing the judges, DWP stood out from the crowd. Even still, the award left them "a little shocked," said Vicky.
There was tough competition in the fantastic work taking place across government. I also felt really proud of the team for what we've achieved.
Team of achievers
Perhaps they shouldn't be too surprised. DWP is clearly a team of achievers, and that goes for their career too.
"I most enjoy working with data and problem solving," said Vicky. "That's what motivates me, as well as the people I work with every day within the team and the people who support us outside the immediate team. We all share the same goal of wanting to improve services for citizens, as well as our own DWP users of the service."
Vicky cites the sheer opportunity to make a real difference as the main upside to their work. "To do valuable and rewarding work that benefits the people of the UK, and in the case of Get Your State Pension, international residents too. And to work with people who are tenacious and able to adapt, whether that's to changes in government or a global pandemic."
A tall order? Certainly not for Vicky who is utterly committed to her work.
"2021 is going to be another year of transformation and 'firsts' hopefully," said Vicky.  "I'll be working on the ability for users of retirement services to report a change of circumstance online, and automating the processing of many of those changes. So more exciting times ahead."