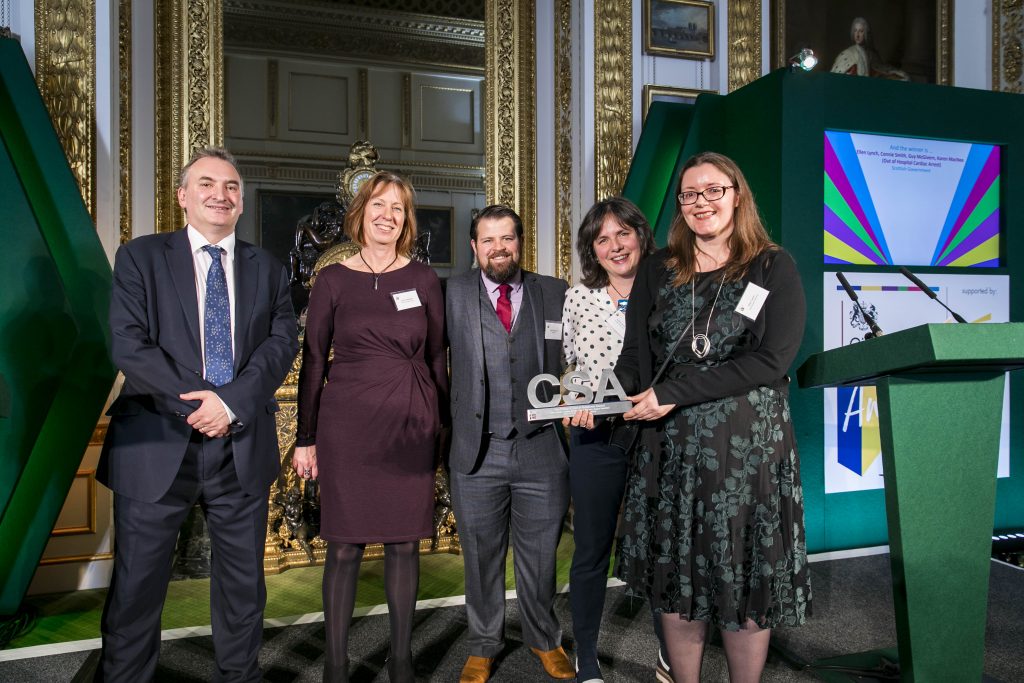 Making Scotland a world leader on Out of Hospital Cardiac Arrest
The Scottish Government's Ellen Lynch, Connie Smith, Guy McGivern and Karen MacNee won the 2019 Civil Service Policy & Use of Evidence Award for a collaborative project to implement Scotland's Out of Hospital Cardiac Arrest (OHCA) strategy. In the process, they brought together all of Scotland's emergency services, the Scottish Government, third sector groups, the NHS and academia, developing an innovative data linkage project to evidence the strategy's progress.
OHCA is a major health challenge in Scotland, with around 3,500 patients having an OHCA each year. A National OHCA Strategy was launched in 2015 to tackle the issue of only one in 20 of those patients surviving to hospital discharge, compared to around one in four in the best performing areas internationally. The aim of the strategy was for Scotland to double survival rates, save an additional 1,000 lives and train 500,000 people in cardiopulmonary resuscitation (CPR) by 2020.
The collaborative effort is transforming Scotland into a world leader in OHCA resuscitation, and the strategy has seen significant improvements in survival at the 30-day point following a patient experiencing an OHCA. One in 12 patients now survive. There is still more work to be done, but Scotland's OHCA strategy is already saving lives and transforming care.
Alongside input from patient groups, the strategy was developed using common themes across internationally evidenced high-performing systems. Actions included developing a cardiac arrest register and making concerted efforts to increase bystander CPR rates, which can increase a patient's chance of survival by two to three times. Since the strategy's launch, more than 300,000 people in Scotland have been equipped with CPR skills (as of January 2019), and bystander CPR rates have increased from 41% to 56%.
Interventions were developed and trialled on the basis of using evidence to inform improvement in real-time, tying in with the team's advice to "never simply accept that something should be done in a specific way because that's how it has always been done: always challenge and aim for improvement".