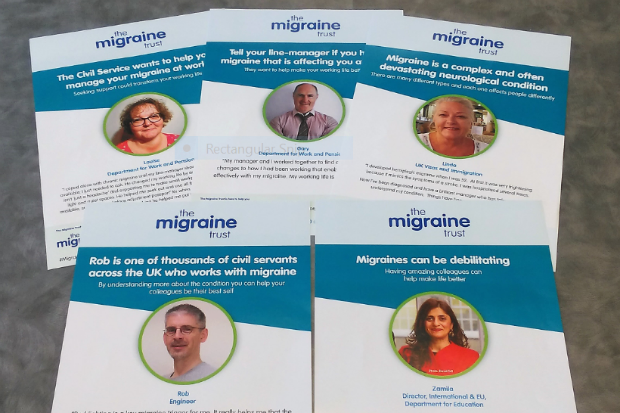 In early September the Civil Service partnered with The Migraine Trust to mark Migraine Awareness Week. Key activities included:
hosting two workshops delivered by The Migraine Trust for HR professionals, line managers and employees

a 500-building poster challenge, involving 5 posters featuring civil servants with lived experience of migraines, sharing their personal insights and tips on how to support colleagues with this condition

using social media to promote individual department activities, with the hashtags #MigrainePositiveCS and #MAW2019.
I hope you had the opportunity to attend one of the events or view the posters, which have been prominently displayed in government buildings across the UK. In one business unit, Companies House, they arranged for the posters to be displayed on electronic notice boards in their main buildings across the UK, including Belfast, Edinburgh and London.
This all stemmed from a fantastic personal story blog post by Zamila Bunglawala, which struck a chord with many people. Zamila highlighted how common migraines are, that we need to do more to raise awareness of the impact they can have and of the support available. She has followed this up with another excellent migraine blog and has been instrumental in initiating this year's activities.
I have learned lots from Migraine Awareness Week, such as:
If you don't experience migraines, you will know someone who does. If you think you don't, it just means that someone you know hasn't shared it with you. It is the third most common disease in the world, with current estimates suggesting 1 in 7 people live with the condition.

More than three-quarters of people living with migraines experience at least one attack each month, but the number of attacks can vary considerably. Those with chronic migraines will have at least eight migraine attacks a month.

There are many different triggers for a migraine attack, such as stress, hormonal changes in women, changes in sleeping patterns, dehydration, bright lights, loud sounds and particular foods, to name a few. 

Line managers and organisations can put in place many simple adjustments to help people with migraines, such as changes to working patterns, lighting, adjusting text/anti-glare on computer screens, providing quiet rooms, installing water-coolers and adjustments to attendance absence trigger points.
To bring these learning points to life, I would like to introduce Linda, who featured on one of the posters.
Linda's story

Linda

I work in the Home Office, and in 2014, in my early 50s, I developed hemiplegic migraines. It was quite a shock, as I had never had one previously. 

My mother had always suffered migraine attacks but not hemiplegic migraines. It was initially suspected that I had experienced strokes, as I suffered weakness in my arm and leg, tingling in my face, speech disturbance, severe nausea and awful headaches. I was hospitalised a few times but, as I didn't always have a headache accompanying the symptoms, this masked the fact that I had developed migraines. I was sent to a specialist stroke unit and finally received my diagnosis in 2016. It came as a relief because, although migraine attacks are frightening and debilitating, it was reassuring to know that my life was not about to end.

When I have an attack, I cannot do anything at all, including listen to music, read or watch TV. I have to lie in a darkened room and "wait it out". So, naturally I cannot function in the workplace. When the migraines began I felt terribly guilty about taking time off work and that others would think I was making a big thing out of a headache. My managers were supportive, but it was still a difficult time for me. I was hitting sickness trigger points and, on one occasion, I received a warning, which made me more stressed and more prone to migraines.

The turning point was receiving my diagnosis which enabled me to research my condition and talk to my manager with confidence. Prior to that it felt that taking time off was unjustified, which was very upsetting as I had no control over the attacks. After the diagnosis I had several occupational health reviews which I welcomed because they helped to identify workplace adjustments that helped me to manage my condition. I can now work from home some of the time, reducing driving time which in the winter due to car headlights can sometimes trigger an attack, and allows me a quieter environment to work in. I also had my sickness trigger consideration point changed to take account of my condition.

I am fortunate that when a migraine is coming on I get a sharp distinctive earache in my left ear which means I can take medication which can sometimes head the migraine off. 

I have had a number of line managers during the last few years and not all were as supportive as my current one. They tried to be supportive but their main concern seemed to be applying the sickness policy. My current manager has embraced putting in place adjustments to make the working environment fully accessible, and has brought other managers onside by helping them to understand that this is something I have no control over.

It has taken me a long time to feel as though I don't have to apologise for my condition all the time. However, with the right support, both at home and at work, I have been able to accept my condition for what it is and manage it as effectively as possible.

For me, this condition is a disability that is not visible until I experience an attack. Managers and colleagues need to recognise this, and the only way we can make that happen is to explain and speak up. We should stop being the person always apologising for something we haven't asked for and can't help having.
I want to thank Linda and Zamila for sharing their personal stories and to the other colleagues who featured in the poster campaign. Also, I would like to thank the
Migraine Trust for their fantastic support in helping us to highlight the workplace challenges that migraine sufferers face, and to raise awareness of what we as employers and colleagues can do to help.
If you experience migraines and need assistance at work, I would encourage you to speak to your line manager or your Workplace Adjustment Team about the adjustments you may need. 
You may also find it helpful to read the useful information and guidance available on the Migraine Trust Help at Work Toolkit.