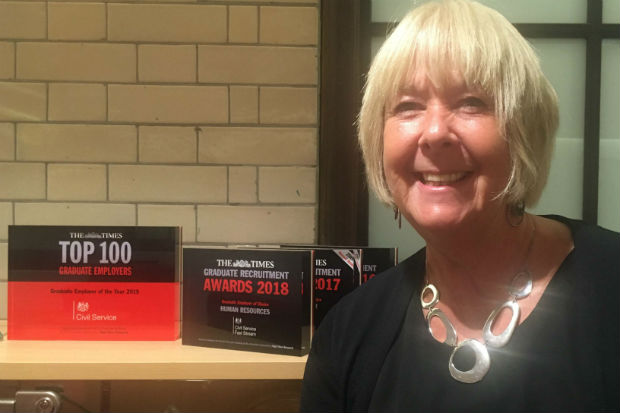 As it is National Inclusion Week I wanted to share my positive experiences of working within the Civil Service. And reflect specifically on how far the Civil Service Fast Stream programme, has progressed over the past few years.
Throughout my career so far in the Civil Service, I have been supported as a parent. This included accommodating many different working patterns from one day a week to 5 days over 4. More recently, I have been supported as a carer (with terminally ill parents). I can truly say the support I have received has been superb, along with the camaraderie and team spirit which has kept me going through the difficult times.
I began my career as an Executive Officer in the Department for Work and Pensions (DWP) in Bath Job Centre. DWP and the Ministry of Defence then sponsored a Masters in Public Policy and Management. They invited me to join a number of development programmes as a carer and part-time worker. It is for these reasons, among many others, that I have wanted to give something back to the Civil Service. Leading the Fast Stream has provided me with that opportunity.
Interventions to date show we are improving diversity on the Fast Stream. The Fast Stream achieved the highest ever diversity success rates in the majority of categories in 2019. Representation in Fast Stream appointments is now above our benchmarks for gender and LGBO. Appointments are more diverse than the wider Civil Service pool across all diversity categories. And I am also delighted that this year sees 50% of Fast Stream roles outside of London.
Yet, I am acutely aware that more still needs to be done. We have made leaps forward in attraction, but some stages of the assessment process have poor performance. In particular, in certain minority ethnic subgroups. 
So, although marketing and recruitment is a success story, there is still much work to do for our priority subgroups (who were lowest represented in 2018). The Fast Stream and Early Talent recruitment and assessment process have made significant changes to address the historic difficulty in recruiting people to the Fast Stream from these subgroups. We have been reviewing our assessment processes to identify adverse impacts. We are addressing these with the research-driven redesign of the Assessment 2020 campaign.
The Fast Stream Assessment Centre has proven to be the most complex stage. There is more to do in supporting those less familiar with this type of assessment. As a result, we are introducing familiarisation days and inviting our diversity networks to 'buddy' those from underrepresented groups. 
I truly welcome support, advice and guidance on how we can do even better to continue to make a difference. Please do let me know if you can help.  
Please also read my colleague Preema's blog, which is an inspiration to us all.
Fast Stream applications are open

The application window for the 15 schemes in the Civil Service Fast Stream programme opened on 26 September and will close on 24 October at 12:00 noon.

Applications are also welcomed to the Summer Diversity Internship (SDIP) and Early Diversity Internship (EDIP) programmes.

Applications to SDIP will close on at 12:00 noon on 24 October.

Applications to EDIP will close at 12:00 noon on 14 November.