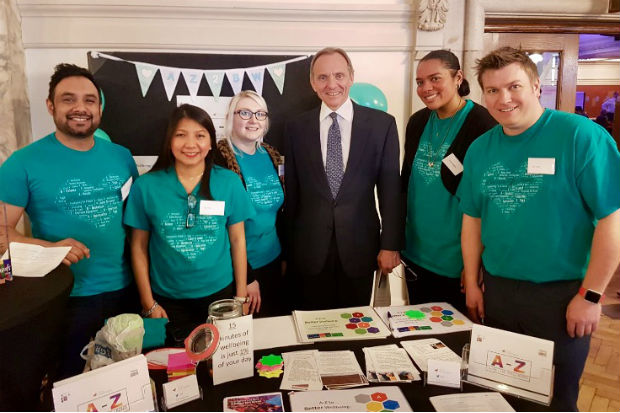 Back in January we (Team Chaffinch) wrote an article Six ways to improve your wellbeing, sharing some ideas from our A-Z to better wellbeing toolkit. Since then, we have improved the toolkit to bring together even more fun and easy ways to take care of your wellbeing, using the latest best practice and case studies from around the Civil Service. We have also added new topics, including financial wellbeing, digital wellbeing and chairobics.
Finding what works for you
Wellbeing is not a one-size-fits-all approach, and it does not have to be time-consuming. If time is an issue, start small. Try an hour of wellbeing. If an hour is too long, try 15 minutes. If 15 minutes seems difficult, try 5 minutes – start small. 
However much time you devote, you could try the following ways to improve your sense of wellbeing.
Encourage your team to create a team bucket list, to identify personal and professional activities they would like to do and goals to achieve in the near future. This will help staff to focus on their personal lives outside of work, while balancing their day jobs and career progression. 
The average person has five social media accounts and spends around 1 hour and 40 minutes browsing these networks every day. Try taking a break from social media. If it is your day off, use your extra time to do good things for your wellbeing: take a walk, read a book or try a new hobby.
Employee engagement assessment
Everyone has a stake in workplace engagement. No matter your position in the organisation, ask yourselves, Did I do my best to set clear goals today? Did I do my best to finding meaning in my work?
Top tip: Learn more about engagement and the four enablers by reading the Engaging for Success report.
Take regular breaks. If you feel you have been sitting for too long, set a timer or email alert, and spend a few minutes stretching or doing some simple shoulder rolls.
Spend a few minutes reflecting on your achievements. Write down three things you have achieved this week, this month, this year. You will be surprised at how many amazing things you have accomplished.
Top tip: Celebrate your team's successes. Discuss what you have done well as a team. You could even create a team success tree to put on the wall.
Relaxation  through mindfulness
Use your five senses to relax. Look around you and pay attention to five things that you can see, hear, smell and touch. For example, a shadow, a crack in the wall or the lighting in a room.
Try the Pomodoro technique. This involves working for 25 minutes, then giving yourself a 5-minute break which you could use for one of the wellbeing tasks from our A-Z to better wellbeing toolkit. 
According to NHS Moodzone, trying new things, such as sitting in a different seat in meetings or going somewhere new for lunch, can also help you see the world in a new way. 
A-Z to better wellbeing toolkit

The A-Z to better wellbeing toolkit is available for download. The toolkit includes:

26 wellbeing topics, from A-Z, in an easy-to-read format

featured wellbeing activities that you can try by yourself or with your teams – from journalling and walking, to an exercise you can do at your desk

over 70 wellbeing ideas and suggestions 

links to further learning including Civil Service Learning courses, Ted Talks and printable guides

top tips suggested by our team and fellow civil servants

accessibility at work and on the go, via smartphone and tablet

Let us know what you think about the A-Z to Better Wellbeing Toolkit by taking this short survey.

About Team Chaffinch

Team Chaffinch is a group of civil servants based in London and the East and South East of England, from across government departments, who met through the Civil Service Local Junior Leadership Academy 2017. They created the A-Z to Better Wellbeing toolkit to help make wellbeing fun, easy and accessible for civil servants and to help create 'A Brilliant Civil Service' that supports 'a great place to work'.

In 2018, Team Chaffinch won the Civil Service Awards 2018 Health and Wellbeing Category; and they were one of the 26 winners in The Charity for Civil Servants Community Awards 2018.

Recently, they were runners-up in the Apolitical Workplace Award 2019 Mental Health Category, where they competed against government initiatives from 8 other countries.