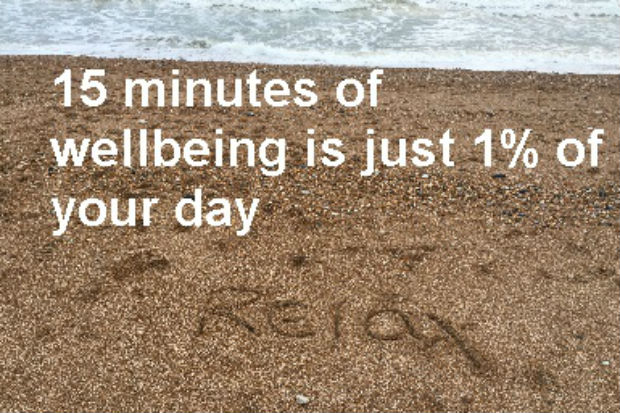 As Jonathan Jones, the Civil Service Champion for Health and Wellbeing, has said: 
We are at our most productive and fully engaged at work when we are healthy, happy and feel able to be ourselves.
One of the biggest barriers we often face when trying to focus on our wellbeing is time. But did you know that 15 minutes of wellbeing equates to  just 1% of your day; and 1 hour of wellbeing equates to 4% of your day. In this time you could try the following six ways to improve your sense of wellbeing.
1. Appreciation 
Create an Appreciation Tree/Wall for your office where staff members can thank colleagues for work they have done. This can improve staff and team morale, as well as effectiveness, by allowing everyone to feel valued and integral to the team's success. Alternatively, or additionally, once a week, you could read a thank-you note to a colleague in your team meeting.
2. Achievement  
You could also create your own achievement jar or box, where you can write down all of the things you feel you have done well in that week or month, and reflect on them at a later time to appreciate how far you have come.
3. Journaling
Spend up to 15 minutes every day recording your thoughts, feelings and the day's events in your journal. The practice serves as free therapy that may help to process emotions and clear your mind.
Top tip:  To establish a journaling habit, you have to pick a journal you're looking forward to using every day.
4. Stress
Here in the UK, we work the longest hours in Europe, meaning we often don't spend enough time doing things we really enjoy. Why not set aside a couple of nights a week for some quality 'me time away from work. By earmarking those 2 days, it means you won't be tempted to work overtime and you'd find time for yourself or to socialise. 
Top tip: Check out NHS top 10 stress-busters
5. Quick wins 
Prioritise using 'power hours'. For one hour (preferably in the morning) focus on a particular task. The theory is that you start with the most important task first, so that you do not have to worry about it throughout the day. Having a dedicated hour often helps you focus and avoid distractions. 
6. Volunteering
Volunteering is a great way to do something for others. Research shows that it benefits people of all ages through increasing feelings of self-esteem, respect, motivation and wellbeing.
If you would like to volunteer in 2019, consider joining CSSC's purple army and volunteer to meet new people and make new friends, or find volunteering opportunities close to you by visiting https://civilservicelocal.blog.gov.uk.
We'd like to encourage our colleagues across the Civil Service to make small changes to improve their wellbeing. For more ideas and inspiration, check out our A-Z to Better Wellbeing toolkit.
Which one of these could you try and do more of in 2019?
About Team Chaffinch

Members of Team Chaffinch with their Civil Service Award, presented by Jonathan Jones (third left), Civil Service Health and Wellbeing Champion

Team Chaffinch are 9 civil servants based in London and the East and South East of England, from across government departments, who met through the Civil Service Local Junior Leadership Academy 2017. They created the A-Z to Better Wellbeing toolkit to help make wellbeing fun, easy and accessible for civil servants and to help create A Brilliant Civil Service that supports a great place to work.

The toolkit won Team Chaffinch the Civil Service Awards 2018 Health and Wellbeing Category; and they were also one of the 26 winners in The Charity for Civil Servants Community Awards 2018.