Five years ago, on 15 March 2013, my life changed. It was the day my gorgeous daughter Eila was born.
Before that day, my energies and focus had revolved around myself, really. Of course, I knew that my life would change, but I wasn't quite prepared for just how much: nappies, burp cloths, milk powder, folding prams, high-chairs and tears. My goodness, lots of tears – some of them Eila's!
Four years on, Eila has grown into a walking, talking, fully functioning human being and she is still very much in charge. Like most kids, she is on an exciting journey, with the slowly unfolding wondrous possibilities of the world before her – nursery school, birthday parties, trips to the park, swimming lessons and so on.
I feel a bit like a combination of butler, servant, cleaner, valet, private tutor and personal comedian. But, demanding though it is, being a parent for most of us remains only one of many priorities in our lives. We still need to earn a buck and continue our own personal journey through life.
Things are changing
I am pleased to belong to a generation where dads are playing more of a role in childcare. For my dad, and his dad, their role was seen to be the breadwinner. In many ways this was unfair to mums, but to the dads too. Long hours spent at work meant only rare sightings of my dad when I was a child. I believe that things are now changing for the better. I would do anything for little Eila, but I am also proud of my career. I am lucky to have the support from my manager and workplace to ensure that parenting isn't a binary choice between being a perfect parent and pursuing a fulfilling career.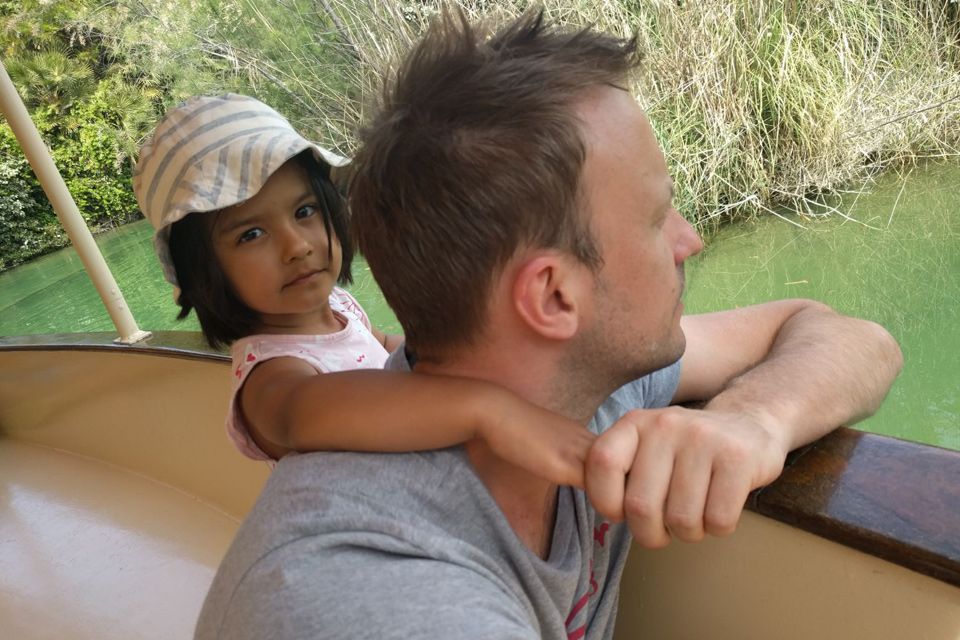 And I am proud to say that where I work – the Government Property Unit – was one of the pioneers of Smarter Working, a policy that has helped empower the way I live my life. It has already helped change the lives of thousands of civil servants, and I am pleased to say will continue to do so. These principles are now enshrined within the next generation of Civil Service workplaces – government hubs, offering flexible working environments and world-class IT that allow people to work more productively from a variety of locations, rather than being tied to one place.
Technology has facilitated this new way of working. We now equip the person, rather than the office. I can now work from my home, nearby café or in the lobbies of other departments on my laptop, or check my emails on the mobile phone during the commute or on my way to meetings. And, to me the most important thing – provided I meet my objectives – I have the ability to choose how, when and where I work. This is a choice that just wasn't available to my father.
My choice is respected
And no, I'm not expected at, or frowned upon for not making, breakfast meetings because people know that at that time I'm rushing to the school gate. Nor am I criticised if I have to leave early one afternoon to do the picking up. People respect my choice – not because of charity, sympathy or a desire to be politically correct, but because I deliver, and I do so in an environment that is focused on outcomes and not process. And where the environment encourages everyone to work flexibly, I don't stand out.
I will go above and beyond for my manager, my team and my department because I know they will support me.
I am a dad and I have a rewarding role in the Cabinet Office. Thanks to the progressive, flexible working policies of the Civil Service, I can be proud of both.
Taking shared parental leave can give parents a real opportunity to enjoy the early months of their children's lives. The Civil Service goes beyond the statutory minimum provision and offers an occupational rate of pay for some of this leave.

The Department for Business, Energy & Industrial Strategy is running a national campaign to encourage more people to consider #sharetheleave.