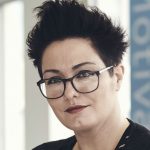 At a large private sector company in 2006, I asked one of my few 'out' senior LGBTQI colleagues her views about setting up a LGBTQI staff network for the business. Her response? "Absolutely not. I don't think we are in that place yet."
That wasn't unusual at the time. Workplace inclusion wasn't something that was talked about - a reason I jumped ship to the public sector. I wanted to make a difference and use my experience as a gay woman, and the insight it brings, to encourage change.
Fourteen years ago, Stonewall introduced an annual list of its Top 100 Employers - a definitive list showcasing the best employers for LGBT staff, compiled from submissions to the Workplace Equality Index (WEI), a powerful benchmarking tool used by employers to create inclusive workplaces.
In the first few years, government departments and agencies performed well. However, as the list gained momentum, the private, voluntary, higher education and wider public sectors caught up. They realised that inclusive culture and diverse workforces are critical to attracting and retaining talent, and to ensuring effective and responsible business and service delivery. Government continued to feature, with the Home Office a star performer, and some smaller agencies consistently doing well. But in recent years departments weren't as well represented.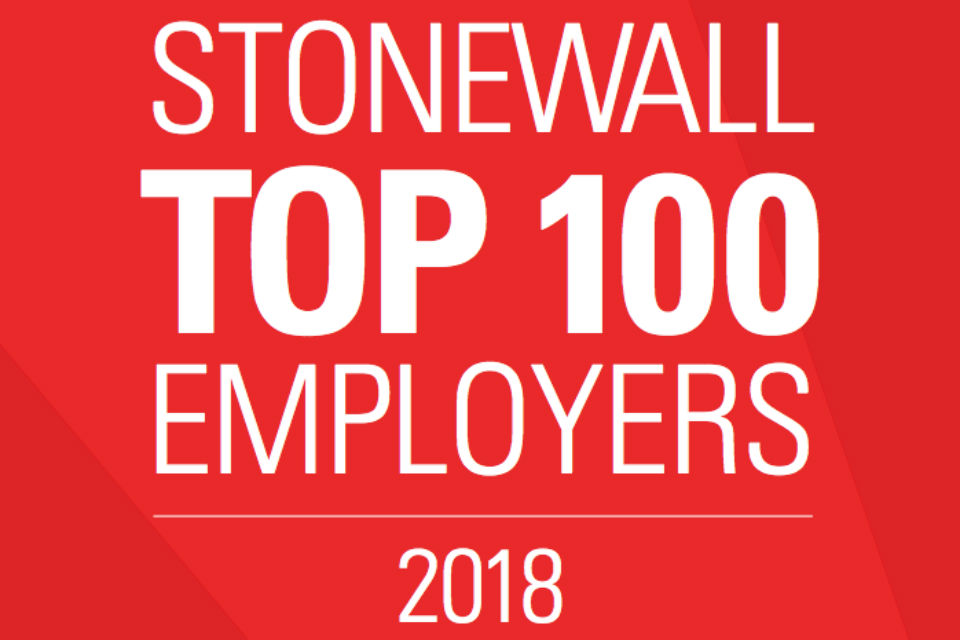 This year the Ministry of Justice features in the Top 100 for the first time in eight years. We are now ranked at 13 - the highest position for a government department, above the Home Office (38th) and Education (78th) - having jumped an astonishing 101 places from 114 in 2017 and 191 places from 204 in 2016. (Other government bodies in the rankings include the National Assembly for Wales (which tops the list), the Welsh Government (12th), the Crown Office and Procurator Fiscal Service (15th), the Environment Agency (18th), the House of Commons (23rd), and the Intellectual Property Office (=93rd).)
An MoJ colleague in HM Prison and Probation Service (HMPPS), Supervising Officer Andy Holmes from HMP Stafford, was named Ally of the Year for his tireless work leading LGBTQI awareness sessions. To date, he has reached almost 1,000 prisoners and 2,500 staff. Both our LGBQTI networks, Spirit and PiPP (Pride in Prison and Probation), have been awarded the 'Highly Commended Network Group' accolade.
So how did we do it, and what practical advice can we offer?
1. Get feedback – analyse LGBTQI responses to the annual Civil Service People Survey and consult with your staff and stakeholders to understand where you need to make improvements the LGBTQI experience. We use this feedback for our Stonewall submission as well as our action plans for LGBTQI equality. Each year we have pulled together a detailed action plan and strategy setting out where we need to do more work, improve policies or processes or do targeted engagement to reach those who may not have a voice or be disengaged.

2. Get the basics right – you can hold as many events as you like and seek opportunities for promotion of LGBTQI issues, but unless you get the basics right in terms of your workplace policies and practices, can you truly say you are being inclusive? In the past two years, we've introduced policy guidance for all staff on LGBTQI issues, such as: supporting staff undergoing gender reassignment; guidelines for challenging inappropriate behaviour; resources for training and development, and for aligning diversity and inclusion; and including participation in staff networks in personal objectives.

3. Make contacts in the business – relationship building has been key to our success. You need to make things happen and you need support from various parts of the business to enable that. And where you may face barriers, don't be afraid to challenge and bring in senior support if needed. Our senior LGBTQI champions played a great part in assisting our journey. Understand who makes the decisions in all the areas where you need to improve and build those relationships, whether that's HR, procurement, communications, policy, finance, etc.

4. Consider the bigger picture – it's not just our internal practices that matter, but how does our work impact on the wider LGBTQI community? Parts of our submission focused on the work we are doing to support LGBTQI offenders in HMPPS; how we are ensuring equality for LGBTQI people within the law; and the support we provide for LGBTQI victims and witnesses of crime and their families. Get to know your operational delivery and your policies and how LGBTQI inclusion fits into that. And ensure that your LGBTQI networks are linked in with that work (as well as internal consultations and reviews) where necessary.

5. Collaborate – no department can do everything in isolation. Look across the Civil Service, networks or stakeholders in the wider public or private sectors to drive forward activity. We are indebted to the consortium of public sector LGBT organisations, the Civil Service Rainbow Alliance and a:gender (network for trans and intersex staff) in helping us reach wider audiences and get involved in initiatives and events across the country.

6. Nurture your role models – role models, at all levels of the organisation, are fundamental to success. A workplace culture that allows people to be open and authentic results in greater job satisfaction, engagement and performance. We have put great stock in championing difference among our workforce. We encourage people to tell their stories in blogs and seminars and to lead awareness sessions where they reflect on their personal experience or journey. It underpins our ambition to be a values- led organisation, where we work together for a common purpose, encouraging an environment of openness where people treat each other with humanity. 
There is always more to do. Visibility is key to this, especially for minority groups in the LGBTQI spectrum and reaching those staff in dispersed locations across the UK. We need to do more to ensure that people's identity is recognised. And we are working with colleagues across the Civil Service to lobby for recognition of trans and non-binary employees in our HR systems and in our work environment.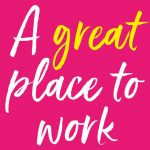 But we have come a long way and we should celebrate our success in the Stonewall list as a milestone in our journey to be one of the UK's most LGBT-inclusive employers.