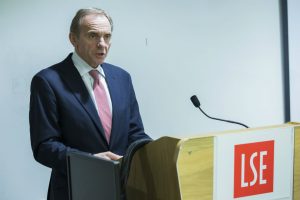 On Wednesday 24 January, I spoke at the London School of Economics (LSE) on the subject of Civil Service transformation.
I began by setting out our ambition to be 'A Brilliant Civil Service', the best in the world.
The transformation that will help us realise this ambition is already under way. We now have the challenge of Brexit to add to the pressures for change coming from financial stringency, advances in technology, and the expectations of an increasingly diverse society. But, as I said at the LSE, we have a moment, an opportunity, to accelerate the pace of change, using preparations for Brexit as a spur, not a distraction.
That acceleration will be fuelled by the deep changes in progress in how we work and who we are - the human face of the Civil Service. Critically, it will involve reshaping the workforce, shifting the balance of experience and skills, and forging new career paths for our people around the core Government Functions. My vision is for us to be as effective in execution of policy, services and procurement, and in project management, as we are in policy making.
None of this will be easy to achieve, but we are on the way. We have a great prize in view, and we all have a role in grasping it.
If you have the time, do please click here to read what I said in more detail and find out what Civil Service transformation means for you