Earlier this month, the Civil Service ran a set of events to mark and promote National Get Online Week.
Research shows that 23% of adults have difficulty managing information. Additionally, 11.1 million people in the UK have low digital capability in using services online.
Although National Get Online Week highlighted a need to help the UK population use digital services, it is important that efforts to help people develop basic digital skills are sustained throughout the year.
What we did
Building on the success of last year, when Government Digital Service (GDS) ran a set of lunchtime sessions to help users get online, the Civil Service ran a host of digital capability workshops around the UK. In Whitehall, in the very room where Churchill made his VE day speech, lunchtime sessions were run with the Department for Digital, Culture Media Sport (DCMS) and HM Revenue and Customs (HMRC). These sessions showcased tools and techniques to tackle digital exclusion, in collaboration with Good Things Foundation (GTF).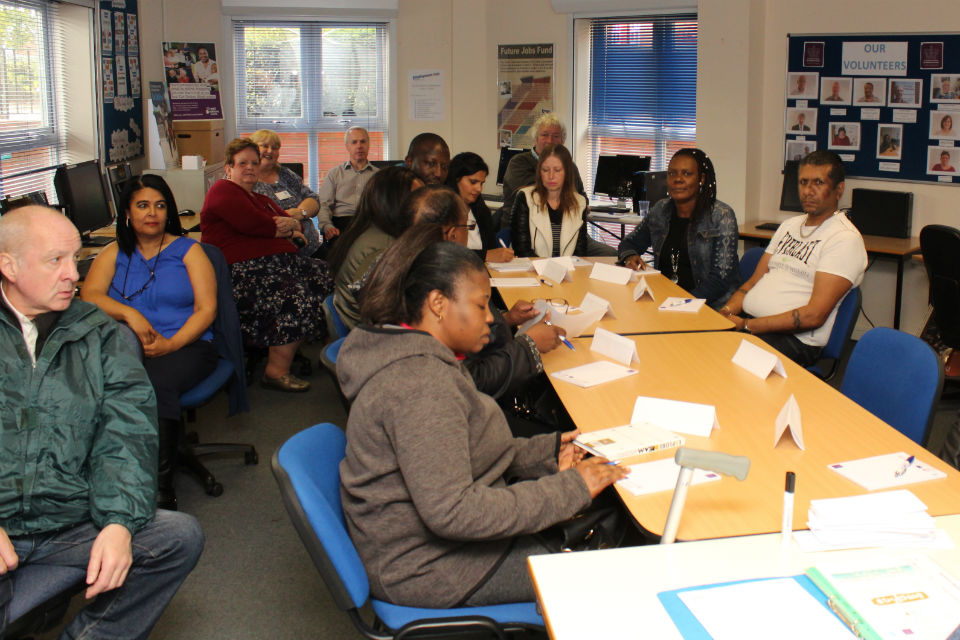 As part of HMRC's participation in Get Online Week, several charities and community organisations around the country organised volunteering opportunities for staff. 
One of the events was a drop-in session organised by Severnside Housing association in their Castlefields Digit@l Den in Shropshire. A participant who was using Universal Jobmatch commented: "Most of the public services I use are online and this is the place I can turn to for help with using them."
Another session was run by Access to Business in Wolverhampton, who provide IT skills sessions focused on getting people into work or entrepreneurship. The organisation recently won the Queen's Award for Voluntary Service.
HMRC, like other government departments want to help people get online and be more comfortable 'doing things digitally' as an ongoing part of their corporate volunteering.
Every civil servant can make a difference
Offering to help people get online, as well as giving something back to the community, is a great opportunity for civil servants to experience, at first hand, the barriers people face and use that knowledge in their work.
These efforts are part of the Government's overarching plans to make training in basic digital skills free for adults who need extra help. According to a report by the House of Commons Science and Technology Committee, the digital skills gap costs the UK economy £63 billion per year. However, the potential to change is huge.
If just one in four civil servants help a colleague, friend, family member or neighbour to get online, that means more than 100,000 people will be empowered – not only to use government services, but to access all the economic, social, health and wellbeing opportunities and benefits of being online. By working together, we can help bridge this digital divide.