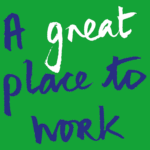 Currently, one in a hundred people in the UK have autism, yet only 15% of adults with autism are in full-time employment.
The Civil Service Autism Exchange Programme, now in its third year, gives 10 young people with autism from across the UK the opportunity to gain employability skills and experience so they are better placed to get a job.
This year the programme - in which the Civil Service joined forces with Ambitious About Autism, the national charity for children and young people with autism - ran from 27 June until 8 July across five government departments: Education, Work and Pensions, Transport, HMRC and the former Business department.

The two-week programme has three core elements – work experience, coaching and awareness sessions. Coaching was provided for the young people participating in the scheme, who all received a tailored development plan. Along with broader confidence-building and career-planning guidance, sessions also focused on strategies for completing online tests, application forms, and attending job-assessment centres.
Employees at each of the participating departments were offered workshop-based sessions, providing an overview of autism and how those on the autism spectrum can be supported in the workplace. These sessions provided basic autism awareness training to managers.
Here are just a few of the comments from line managers when asked what they'd learned about supporting young people with autism in the workplace by taking part in the programme:
The variety of ways that autism can manifest itself, and how un-homogeneous people with autism are.
They're all individuals so don't make any assumptions.
To adapt in the same way as you would to any employee.
Have high expectations!
Have trust in their ability to do the given tasks.
The importance of good training before the placement starts.
Among the young people themselves, seven said their confidence had increased as a result of the placement. Reactions included:
I enjoyed it more than I thought.
How easy it was to fit in.
How much responsibility people gave me with very important and potentially influential work.
The placement was real work, not just made up work to make it easier.
Simply being a member of a team doing important work and being appreciated for the work I do.
Janet Hill, CBE, Programme Director, Civil Service Disability Inclusion Team, said;
I am so pleased that our Autism Exchange Programme, delivered with our partner Ambitious About Autism, continues to grow in strength and that the Civil Service has been able to offer work insight experience to more young people this year.  

It is heartening too that companies from other sectors are also keen to learn from our approach so that more young people might be helped in future.  

In the Civil Service we aspire to be the most inclusive employer in the UK and as such we need to attract the widest range of talent - many talented people with autism have specific skills that the Civil Service needs, and we know through this partnership that we offer an environment in which these young people can really thrive.
Jolanta Lasota, Chief Executive of Ambitious about Autism, said:
Young people with autism have many of the same hopes and aspirations as everyone else. They want to be a part of their community and be supported to achieve their potential. For many young people this means employment. With the right support, planning and opportunities from employers, young people with autism can learn, achieve and thrive.

I'm delighted that our partnership with the Civil Service goes from strength to strength. Our hope is that, in the future, many more young people with autism will be able to access these work placements, not only at government departments, but across the a range of sectors, so they build fulfilling and successful careers for themselves.