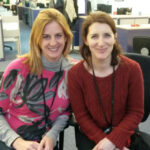 We are about to say goodbye to our joint role as Deputy Directors for Civil Service Diversity & Inclusion. Before we leave we wanted to reflect on what we have learnt from this immensely challenging and rewarding role, and to share our reflections on what diversity and inclusion really means and how we will know when we've achieved it.
The Talent Action Plan published in September 2014 highlighted the importance of everyone in the Civil Service being able to reach their potential, whoever they are. Since then, our focus has been identifying the barriers that stop people succeeding, and then on removing them. Last week, we published the TAP progress update and a new plan for increasing social mobility in the Civil Service. We are proud of these documents and the actions they contain, but we also know that we cannot rely on printed words to deliver lasting change.
"Preach the Gospel at all times and when necessary use words"
This quotation, sometimes attributed to Francis of Assisi, sums up very neatly how we feel about the quest for true inclusion, and why lofty ambitions so often fall short. What it tells us is that it is never enough to just tell people what to do and what to believe – they will always watch and learn from what you are doing, not what you are saying.
True inclusion won't come from strategies or plans or speeches (and believe us – we've written a lot of those), but from individuals making different decisions on a regular basis about: who they hire; who they mentor; who they promote; and who they ask to be on panels and decision-making boards.
In a way, this is refreshing, because it is something we can all do. We can all look at who we recruit to work with us, who we mentor, who we sponsor. When we call meetings we can all think about who is in the room and who isn't. When we are forming interview panels we can ask ourselves whether the panel is well placed to make an inclusive decision or whether we should ask someone else with a different perspective to join. We can ask ourselves when organising events whether the panels are diverse and representative of the audience coming to see them. And if we see that this isn't happening, all of us can ask, "why not?"
Common sense
There are many reasons why getting diversity and inclusion right is important, but, for us as civil servants, we think it is essential because the work we do touches every individual in the country. We must always question if the right people are in the room to design policy or make decisions about service delivery. It is common sense that a team designing policy that impacts on disabled people would benefit from having someone in the team with a disability who can bring insight; or that a team designing an intervention to address radicalisation would benefit from having someone who understands the communities most vulnerable to it. We should always check and ask ourselves if the team we have recruited is the best one to serve the public. We should do this as instinctively as we check that we have people with the right skills.
Sometimes when blogs like this are written, someone will post a question such as: "What about me, I am a 50-year-old white man and no one makes policies to support me?"
We understand why this gets asked. But for us, this is a misunderstanding of what the Civil Service is trying to achieve. That's why we've learnt that it is as important to talk about inclusion as it is about diversity. We're all diverse in our own way. But diversity without inclusion is as useless as inclusion without diversity. Inclusion means that everyone should be enabled to succeed, whoever they are. It focuses on removing barriers for all colleagues – older members of staff, those with disabilities, BAME staff, LGB&Ti staff – anyone who feels that there is something holding them back from succeeding.
Leading the way
Together, we are moving as a job share to the Department for Education, where we will continue to champion inclusion. We are proud to work in an organisation that is leading the way on flexible working, and that has enabled us to take on two stretching roles as a job share.
As for embedding Diversity & Inclusion across the Civil Service, we will have succeeded when we are 'inclusive by instinct'  – when we all look at our own behaviour and ask ourselves if we are being inclusive; when we look at our internal and external policies and check to see if they are inclusive right from their inception. And when we know that, if we forget, we can rely on someone reminding us.