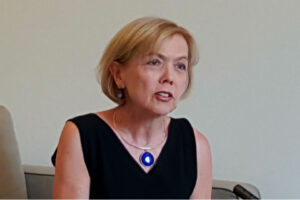 This week the Civil Service is taking part in National Inclusion Week so it is fitting that all departmental Permanent Secretaries are publishing our diversity and inclusion objectives today, outlining our priorities for the year ahead.
The objectives set out the priorities for each department, as well as capturing priorities for those of us who play a cross-Government role on diversity. For example, my own objectives include my priorities for DCMS, as well as for the Civil Service as a whole - reflecting my roles as Civil Service Diversity & Inclusion Champion and Civil Service LGB&T Champion. All of our objectives have clear measures so that we can be held accountable by Sir Jeremy Heywood, Head of the Civil Service, for their delivery.
Embedding our commitment to diversity
Whilst we've had objectives in the past, this is the first time that our commitment to diversity has been so strongly embedded in them and I am really proud of this. We now have a solid programme for delivering the changes required - the Removing Barriers to Success programme - coordinated at the centre by a dedicated Civil Service Diversity & Inclusion Team, underpinned by research, with a robust governance structure. But, ultimately, we really need to change behaviours if we are to succeed in making sure we truly value difference and all our people feel genuinely included.
Jon Thompson wrote earlier this week about his new role as Social Mobility Champion. At the moment we have limited data on the social background of our workforce so are unable to set measurable objectives for this year as we have with other priorities. But understanding and improving the social make-up of our workforce is vital to ensuring the Civil Service reflects the public we serve. So from 2016/17 all Permanent Secretaries will add an objective on social mobility that will be informed by the research currently underway.
Introducing our expert advisers
As well as being more transparent about our objectives,  this week we have also appointed four expert advisers. In appointing Karen Blackett, Helena Morrissey, Lord Holmes and Stephen Frost we are sending a clear signal that we are facing up to the challenge of improving our diversity. We are working towards becoming the most inclusive employer in the country and the expert advisors will help scrutinise some of the long standing issues we have and assist us in meeting our aspirations.
When announcing the expert advisers, the Minister for the Cabinet Office, Matt Hancock, was keen to emphasise the importance of this to running the country effectively too:
Improving levels of diversity and inclusion is not simply important for the role of the Civil Service as an employer, but also in the development of policy and in the delivery of more effective and efficient services.
I completely agree with this, and together with my Permanent Secretary colleagues, will be working to remove any barriers that stop talented people from succeeding. We want a Civil Service that is a truly inclusive organisation, and one that is representative of modern Britain.