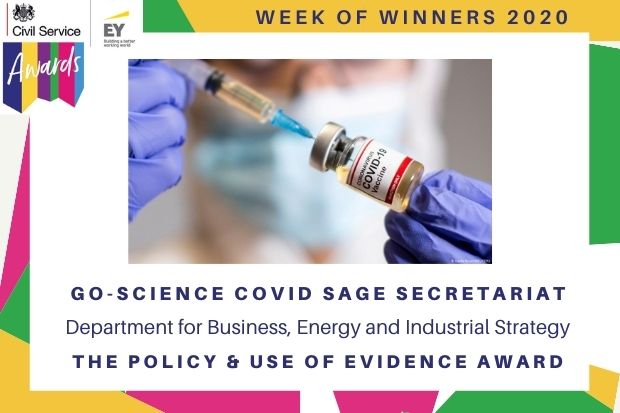 The esteemed Policy & Use of Evidence award for a team which has shown excellence in the field of policy-making was presented by Simon Case, Cabinet Secretary and Head of the Civil Service, accompanied by Rohan Malik, UK&I Government & Infrastructure Managing Partner at EY.
The honour was won by the Government Office for Science (GO-Science) COVID SAGE Secretariat. The team has rarely strayed from the headlines since the outbreak of a certain coronavirus, for their expert advice to decision-makers going right to the top.
It's hard to believe that little more than a year has passed since SAGE first met in January 2020 to discuss an outbreak of COVID-19. 
Independent timely advice
Since then, throughout the crisis, the government's Scientific Advisory Group for Emergencies - SAGE for short, now a household name - has provided honest, independent and timely scientific advice to the Cabinet, to help them drive key decisions during COBRA meetings.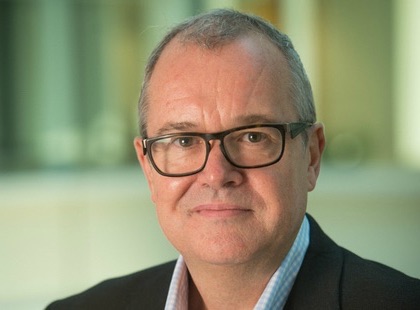 Sir Patrick Vallance, Government Chief Scientific Adviser, said: "Well done to the team on their phenomenal efforts and this well-deserved award. Throughout the pandemic, the Secretariat has helped SAGE deliver over 80 meetings and more than 500 papers, whilst championing independence, proactivity and transparency."
Speaking on behalf of the team, Dr Stuart Wainwright said: "GO-Science has provided the secretariat for the SAGE Committee throughout the pandemic.
"We have drawn together hundreds of academics and experts over the year at pace to provide high-end science advice to the Prime Minister and Ministers, helping them understand what is happening and what will happen in order to aid their decision-making."
Broken new ground
"We have broken new ground in how HMG works with scientific experts, in transparency and public communication," Stuart explains. "We worked across every government department, with the Devolved Administrations, and drawn scientific civil servants into our team from agencies across the UK."
Also speaking on behalf of the team, Andrew Price described their win as an "emotional moment for everyone" and, no doubt, further vindication that all the hard work is worth it.
Personal and professional sacrifices
"This award is a real boost to the SAGE Secretariat team; an acknowledgement of the personal and professional sacrifices of those involved, and a tribute to the collective hard work that so many have dedicated in order to bring robust evidence to support the UK response to COVID," said Mausmi Juthani.
We enjoy doing something that will make a real difference and helping HMG be the best it can be in using science to improve life in the UK.
What does 2021 have in store? "Helping the nation get even more on top of COVID and further using science to help HMG do its job and make people's lives better."