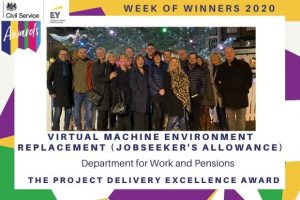 DWP received well-deserved recognition in the Project Delivery Excellence category for the Virtual Machine Environment-Replacement (Jobseeker's Allowance).
This was a project to replace DWP's ageing legacy systems within the UK's National Critical Infrastructure, and was the biggest of its kind in Europe. An exercise requiring precision in planning and execution, the team ensured zero disruption to DWP benefit operations.
The award was announced by Stephen Lovegrove, Permanent Secretary, Ministry of Defence and Richard Lum, Partner, Newton.
The work on the Jobseeker's Allowance service was the largest of the services the team was delivering. The change was implemented over Easter 2020, with the entire team working remotely due to the COVID-19 pandemic, and was achieved ahead of schedule.
Refused to give up
Speaking about their motivation, the team noted that the overhaul "was a project that people thought couldn't be done." The motivation to make it a success came from within the team - their professionalism, hard work and commitment shown each and every day.
Mark Bell, Programme Lead, said "to work with people who refused to give up, and built upon each step as success, was the most enjoyable part of this job."
Mark recalls being given a key piece of advice in his role as Programme Lead. He was told that for a programme of this size and scale, their success would ultimately be measured through the experience of their operational users and limiting any disruption to daily service.
Critical
This gave the team a specific focus on quality of implementation, and meant it was critical that they worked collaboratively with other teams in the department to ensure that seamless impact on frontline operational service was fully included and achieved in their delivery plans and implementation outcomes.  
The team said that winning was "absolutely amazing," as this has been a long project, replacing 11 critical benefit systems in total. "The success reflects the exceptional collaboration with the Service Planning & Delivery Change Delivery team, our operational colleagues, and of course colleagues across wider Digital Group."
Pride
Reflecting on the project, Mark said: "I have been a civil servant for almost 29 years now. But over the past 12 months, like many others, my sense of pride has grown and grown as I have seen the collective effort colleagues within my own department and others have made, in responding to the pandemic.
"I am immensely proud that our own work on the VME-R programme made a contribution to this as we re-platformed the JSAPS service at a critical time, supporting operations to respond magnificently to the increased jobseekers claims experienced during COVID."
The team has fully completed the programme scope, completing 11 services in total, including the PSCS system that pays over £100 billion per year in state pension. As a result, this award comes at a wonderful time "as we close the programme and celebrate not just JSAPS success but the other 10 also."