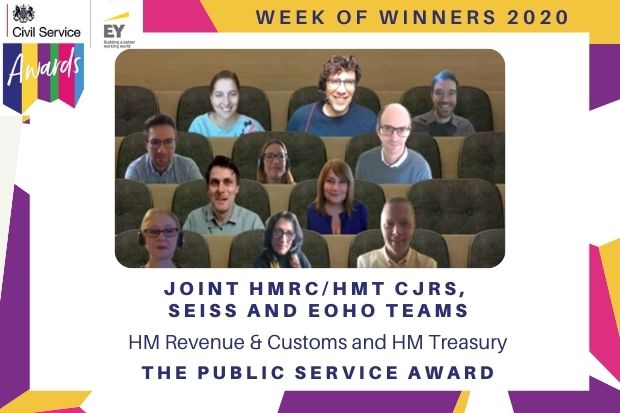 When the coronavirus pandemic emerged in early 2020, the natural reaction for millions of Brits was to worry how they would pay their bills and keep a roof over their heads. 
Fortunately, the joint HM Revenue & Customs and HM Treasury teams combined extraordinary ingenuity with decades of expertise to design the government's flagship economic interventions to COVID-19: the Coronavirus Job Retention Scheme (CJRS, or furlough), Self-Employment Income Support Scheme (SEISS), and Eat Out to Help Out (EOHO).
Their furlough scheme not only paid the wages for millions across the UK, but also took the pressure off businesses and helped protect millions of jobs.
Eat Out to Help Out was an incentive scheme to support businesses in the hospitality sector throughout August 2020, by providing consumers with a discount on their meals. Over 52,000 businesses registered for the scheme, and over its whole period, £849 million was claimed for over 160 million meals.
Exceeded expectations
Whilst it's a given that any team taking top prize for exceptional service delivery must be first-class, the ongoing impact of this cross-government collaboration has surely exceeded expectations. Presenting the coveted award, an impressed Peter Schofield, Permanent Secretary for the Department for Work & Pensions, declared their achievement had simply been "fantastic."
Paying 9 million people
The furlough scheme has since helped employers pay the wages of more than nine million people across the UK, whilst more than 2.7 million people have been supported by SEISS. Hundreds of thousands of businesses have been supported, including through Eat Out to Help Out, and this work has been carried out successfully at a lightning pace.
Receiving the accolade at the ceremony, Yvonne Clydesdale, Assistant Director at HMRC, said that she felt "personally honoured to represent such a driven, dynamic and hardworking team who have consistently gone that extra mile to deliver from kitchen tables and home offices."
"I've never felt so proud to be part of such a large-scale effort. And whilst we'd never have wished this on our country, the way that different departments mobilised to make it better for our citizens and customers is to be admired."
It's clear that the cross-government team has achieved huge success and influence even in the most unexpected ways. Internet searches for 'furlough' and 'eat out to help out' skyrocketed as citizens looked up the government's guidance and COVID-19 took hold.
Meanwhile, Yvonne remains proud of her colleagues' monumental dedication and says that leading the process design teams has been a rewarding experience. 
Yvonne said: "I have a sense of pride from being part of a team that delivers new services or processes to improve customer experience. Seeing people using our services in huge numbers and giving us great feedback is wonderful and really motivating."
Humbling
"It has been especially humbling to do so during a pandemic with so many people needing the support these schemes have provided. I enjoy seeing all their different skills and experience coming together to produce customer-centric and usable processes and services."
Yvonne also paid tribute to her colleagues, saying: "A special shout out to our frontline staff who handled queries and provided the help our customers need despite being challenged by the impacts of the pandemic themselves. Well done everyone!"
As for the best piece of advice she has been given, Yvonne says simply: "Don't sweat the small stuff and concentrate on what really matters."