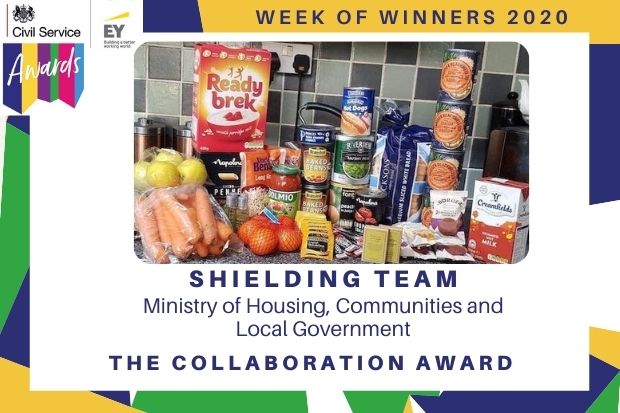 The Collaboration Award was taken home by the Shielding team from the Ministry of Housing, Communities and Local Government. Their Shielding programme was a mammoth operation across multiple departments and agencies, set up in March 2020 to provide advice and support to those most vulnerable to COVID-19 in order to keep them safe.
Delivering 4.7m food boxes
In collaboration with a huge number of departments and agencies, involving local government and local delivery partners, in just four months, 2.2 million people were contacted by the programme and 1.2 million signed up to the website. Furthermore, the team helped deliver 4.7 million food boxes to over half a million people at highest risk from COVID-19.
The award was presented by Mike Driver, Interim Permanent Secretary at the Ministry of Justice, and Rhona Parry, Chief Executive of Indesser. Reflecting on how it felt to hear them announce the Shielding team as the winner, Ben Llewellyn, Director of the programme, said it was, "amazing" and "such a team effort."
Accepting the award, Ben said:
It may be a bit of a cliché talking about something being a team effort, especially as this is the collaboration award, but it really was exactly that - people across departments working together to protect those most vulnerable to the virus - saving, I'm certain, many lives as a result. Thanks to all those that literally worked night and day to set up the shielding service in a matter of days and building it up to what it is now - this award is for all of you.
Helping save lives
The team remains motivated by hearing positive feedback from the people they have helped. "Hearing from those shielding about how we've supported them gives us a real sense of purpose. We all feel strongly that we're helping to save lives."
They also have some key advice for anyone else working in crisis response, at a fast pace and in a pressurised environment: "In the context of responding to crisis situations - don't let the best be the enemy of the good. Establish something good enough and improve from there."
Ben describes his Civil Service career as interesting and fulfilling, sharing that he particularly enjoys the collaboration that is required on a daily basis, saying: "We all had our small parts to play but it adds up to something incredible."
Looking ahead to the rest of 2021, Ben notes that "One way or another, we'll all have roles to play helping get the country back on its feet. I'm sure the can-do spirit fostered during the crisis will help us do an amazing job."