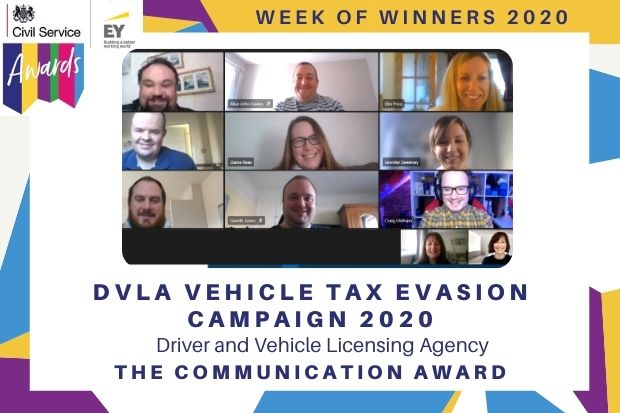 The DVLA was honoured in the Communication Award category for its eye-catching 2020 Vehicle Tax Evasion campaign, targeting the UK's biggest tax evasion hotspots. The award recognises exceptional performance by a communications team to deliver a highly effective national or international comms campaign.
Presenting the award was Alex Aiken, Executive Director of Government Communications, who warmly congratulated DVLA. The team, made up of David Jenkins, Alun Davies, Elin Price, Andrew Gibbons, Elaine Rees, Jennifer Sweeney, Gary Rhys Richards, Gareth Joes, Craig Oldham, Joy McCarley and Liz Rees, emerged as winners against stiff competition from DHSC's Communications and Marketing Team, and the National Resilience Hub's COVID-19 Communications Response in the Cabinet Office.
Prevention measures
The DVLA has a long-term strategy to keep vehicle tax evasion low, and uses a wide range of prevention and enforcement measures to remind motorists of their legal duties to pay vehicle tax on time.
Their winning entry caught the eye of the judges for using an evidence-based approach to tackling vehicle tax evasion at the start of 2020, when DVLA planned, coordinated and delivered a fully rounded behavioural change campaign, using communications to target the UK's highest evasion hotspots.
The DVLA's Liz Rees was "totally surprised" that their campaign had been recognised, which aimed to reduce vehicle tax evasion across the UK.
Amazing to win
"We were delighted even to be shortlisted but it was amazing to win," said Liz of their innovative campaign.
It's fantastic to be recognised by the judges as the best in the Civil Service. So much work goes into planning and running this type of campaign so it is great for everyone involved to win - huge congratulations to Team DVLA.
Liz joined the Civil Service five years ago, and her packed role spans marketing, press and content.
Be the best
"I feel lucky to have a role in my professional field at DVLA," said Liz. "No two days are the same - and that in itself keeps me motivated. Our team motto is 'Be the best you can be' - I'm always learning to do things a bit better or differently to improve the end result."
Talking about her appreciation for her colleagues, Liz said: "I enjoy working with an amazing team every day. I'm really proud to work in the Civil Service and it's opened up so many opportunities for me. I love working at DVLA."
What's next? Liz is already busy planning future campaigns, with a clear theme on helping customer awareness of DVLA services, and is hoping to continue with the vehicle tax evasion campaign and the behaviour change journey.
But hopefully it won't be a case of all work and no play. "I'm looking ahead to when COVID restrictions ease - and a summer holiday maybe," said Liz. "I'm keeping my fingers crossed."