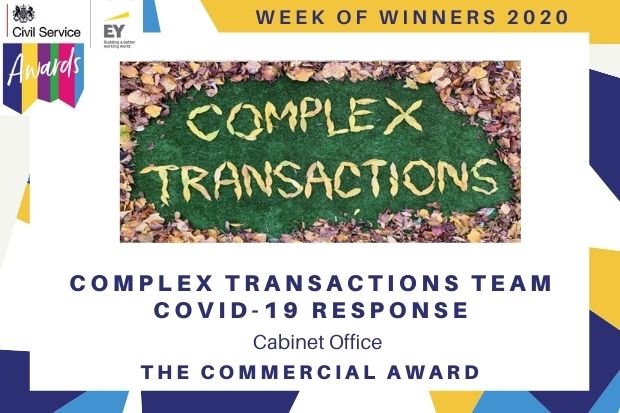 Not many award winners can genuinely claim to have helped save thousands of lives. But then, you probably haven't met the Complex Transactions Team in the Cabinet Office, who topped the Commercial Award category.
Jim Harra, First Permanent Secretary and Chief Executive, HM Revenue and Customs, and Edward Winterschladen, Executive Vice President Europe, Proxima, announced the winner. 
Enjoyed the drama
"Winning felt brilliant!" said Max Cairnduff, Director. "I was really pleased. I enjoyed the little bit of drama too as Jim Harra reached into his envelope."
Judges were impressed by the Complex Transaction Team's canny commercial skills and business nous in response to the COVID crisis - not to mention the delivery of more than 15,000 ventilators designed and built in just a few months.
Max describes the team's leadership role in delivering the commercial arrangements to secure supplies and services to all areas of the government's COVID response, working at rapid pace throughout, under highly pressurised conditions.
Keen to share the credit, Max said: "It wasn't just us though, we worked closely with colleagues from right across the Government Commercial Function. It was a great example of what Commercial can do."
It's clear that the team were highly motivated by their challenge, and even thrived under pressure. Max explains how the Complex Transactions Team provides an internal senior commercial consultancy service within government. 
Always interesting
"That means we help departments with some of their most challenging programmes and commercial problems. It's always interesting and a real privilege to be able to work with so many great colleagues in so many different teams."
As well as support to Nightingale Hospitals and the Civil Contingencies Secretariat, their work helped strengthen operational testing from a daily capacity of 3,000 to 100,000 in six weeks, and ultimately deliver 32 billion items of PPE.
And should you ever need any career advice, Max says:
None of us have all the answers, and you'll always achieve far more working as a team than you could ever do on your own. Make sure you look out for your own resilience. You need breaks, lunch, downtime, evenings and weekends. Family comes first, and nobody wins if you burn yourself out.
Worth it
For now, the hard work has been worth it and having a prestigious Civil Service Award under your belt can only be a plus.
Being a civil servant means "making a difference," says Max. "Most of the team joined the Civil Service because they wanted their job to have a positive impact on society. I think this is true for a lot of us across government. Being a civil servant means doing really important work that makes a tangible difference to the lives of citizens. It's really rewarding."
With 2021 off to a busy start, there has been no chance to celebrate, though there are firm plans to fix this; they are hoping for "a team get-together soon - involving both cocktails and mocktails!"