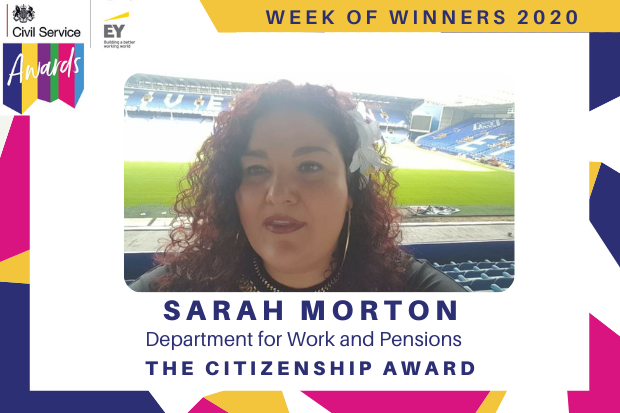 The recipient of the Citizenship Award was Sarah Morton from the Department for Work and Pensions. Working with her local community in Liverpool, Sarah supports homeless people and strives to eliminate period poverty.
At work, Sarah encourages colleagues to recognise the hardships faced by vulnerable locals. She exemplifies humanity, organising charity drives, and inspires her colleagues to help and take pride in their communities. 
Sarah has worked alongside local councillors, gaining valuable insight into the economic pressures they face, particularly during the pandemic. This insight allows her to focus her efforts where need is greatest. 
It was down to Sue Gray, Permanent Secretary at the Department of Finance in the Northern Ireland Executive, to announce that Sarah had scooped top prize.
"It was brilliant, and although my name is on the award, it really is a team award," said Sarah on being announced as the category winner. "My colleagues are incredibly generous and donate items needed for the Hope Project. It really wouldn't be possible to provide this support in our communities without their help and kindness."
The Hope Project is a volunteer outreach team, which Sarah is part of, devoted to supporting homeless people and rough sleepers in Liverpool City Centre.
They provide food, hot and cold drinks, sleeping bags, and essentials such as underwear, socks, hats, gloves and toiletries. Or as Sarah puts it: "Any items that can help meet their immediate needs."
At work, Sarah acknowledges that her role in the delivery of disability benefits is challenging. But when trying to help disadvantaged people overcome adversity, she knows there is no room for error saying: "We have to get it absolutely right."
Driven by the challenge to make a difference, Sarah works tirelessly and is naturally a committed, glass-half-full person. She shares the best advice she has received: "If you fight, you won't always win. But if you don't fight you will always lose."
Reflecting on her Civil Service career, Sarah cherishes the importance of working to serve her community. "It's incredibly important to me," she said. "The Civil Service is the backbone of our country, and I am proud to be a part of it."
What does 2021 have in store for Sarah? "Hopefully the COVID restrictions will be lifted when everyone has been vaccinated. Then we can spend time with friends and family again and I can continue with my community projects."