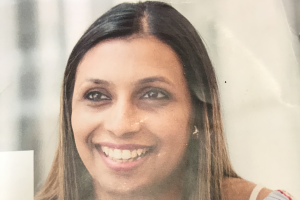 Bushra, who works in HMRC is sharing her story on how she has learned to work effectively with what has been a difficult journey through sight loss. Bushra's story is an important one for us to remember. Whilst many of us are working at home as part of the current lockdown restrictions, we should continue to ensure workplace adjustments are in place for those who need them. We should also be alert in ensuring that we consider our colleagues' needs when we meet online just as much as we would seek to do in person.
Bushra's story:
I started to notice a deterioration in my eyesight in my 20's whilst driving and was diagnosed with a permanent and progressive eye condition called Retinitis Pigmentosa (RP) and was registered severely sight impaired 8 years ago. I am unable to see at night, in poor lighting conditions and I experience difficulties in bright daylight too. I have limited central vision such that I am unable to recognise people, see detail, read print and differentiate colours.
I had a specialist assessment, which resulted in a number of workplace adjustments being put in place, including some flexible working, specialist equipment and IT software.
Adjustment revolutionised my life
One of my workplace adjustments moved into truly groundbreaking territory when my manager and I attended a demonstration of 'OrCam' MyEye glasses, a device that uses a small camera attached to glasses to read text and recognise faces. I identified a colleague in HMRC who used these glasses and I realised that they could be a useful addition to my adjustments at work.
The OrCam glasses have revolutionised my working life. Whilst working in the office, pre-Covid 19, I no longer need to be escorted around the building; I can 'see' the office signs and room numbers; and they meant that I could travel on public transport to attend meetings in other buildings and locations. Obviously all of those things are now on hold, but the glasses will, when the restrictions are lifted, mean that I have independence back.
My other adjustments
My role involves mainly working on the computer and my workplace adjustments including a desktop PC in the office which has a magnification software called ZoomText and screen reader software called JAWS, speech software which talks back to me from my computer into my headset, both assist me to do my work effectively. For remote working I have a Surface Pro tablet which has the same software and enables me to work from home and other locations.
All of my adjustments are recorded in my Workplace Adjustment Passport. This has really helped when I start a new role or start working with a new manager. We review the passport regularly, as things can change and the passport helps me to have an open discussion without going back to the start again.
Life during Covid restrictions
Like everyone else, the lockdown restrictions have presented me with some real challenges as well as opportunities to find new ways of achieving my goals.
One thing I've never had to do, up to now is online shopping because I enjoy going out to the shops. Since my sight began deteriorating I've started to get help, from shop assistants, finding items, reading labels, ingredients and prices which worked really well as I could maintain my independence.
The lockdown pressured me into online shopping for the first time. I was reluctant to try online grocery shopping in the past because I never had to use it.
I tried a few grocery shopping websites and found them hard to use at first. I was really disappointed but didn't give up. In the end I tried one of the supermarket's helpline and finally got through to the right person who was able to help with my query. The adviser was very helpful and patient as she talked me through how to register online which I completed successfully and thank goodness for 'VoiceOver' (a screen reader for Apple products) which worked and helped me achieve this.
New ways of working
My OrCam glasses have been invaluable during the lockdown restrictions. As part of working from home it has taken me a little while to have all of my IT systems up and running. Regular 'error' messages appearing when I try to log in would not be visible to me without my glasses!
My line manager has provided me with excellent support with weekly check-ins. Our departmental sight network has also been fantastic. The network has ensured that they take a lead role in making sure that colleagues with sight loss are well supported and have, for example, provided us with a 'weekly coffee and chat' to raise any issues or just have a friendly chat.
I am proud to be playing my part in the sight loss network, helping to share information and provide training to visually impaired colleagues on using Office 365 tools like Microsoft Teams and iPhones being rolled out.
I have learnt new skills (like online shopping) and used new apps (like BeMyEyes) during Covid 19 restrictions. I have also undertaken some of my regular hobbies like my fitness classes differently, by Zoom for example. It has been a challenge at times, but it has also shown me how resilient I am, and how, when we all pull together and support each other, we don't have to leave anyone behind.
Bushra's story demonstrates the real value of inclusion in the workplace. Where there are challenges, we all have a part to play in helping to overcome them, and managers have a crucial role in making sure they truly listen to what their teams need to be able to succeed.
The Civil Service Visual Network offers support to civil servants who either has, or cares for someone who has, a visual impairment, and anyone interested in understanding more about visual impairment.
The RNIB also offers support and advice on sight loss.