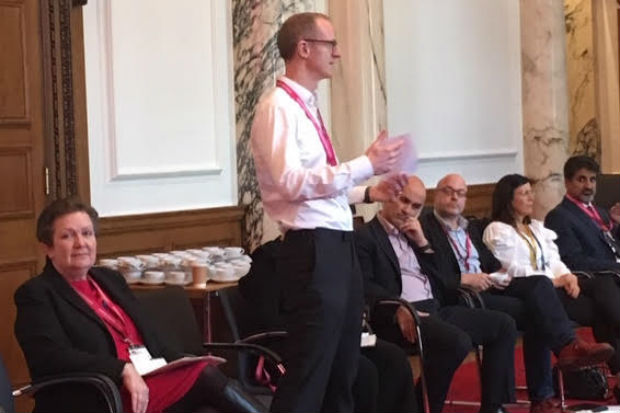 At Civil Service Live in July 2018, a group of us were on a table of directors, discussing how we cultivate a learning culture, and we all identified that we needed a safe, open place where we could:
share and harness our collective experience, curiosity and commitment

build networks beyond departmental silos

create space for purposeful reflection
Over the last year, we've teamed up with colleagues in the Civil Service Group at Cabinet Office and One Team Gov to turn this chat into action, and jointly organise a series of events for Civil Service Directors from all government departments.  
 We didn't set out with any specific agenda and the focus of these events has developed as we've progressed and taken feedback from the director colleagues who have joined us. The first event focused on leading through change and uncertainty, drawing on perspectives from senior leaders in different contexts.  The second took a more personal perspective, as we worked through a simulation exercise to explore how we lead authentically and thrive in uncertain and high- pressure times
And on 2 October, we held a third event, looking at how we lead across boundaries.  We've all worked on those 'wicked' problems that can't be solved within our own organisations, and know how frustrating it can be to come up against structural barriers when citizens and service users rightly expect that we take a more holistic view. We were also conscious of the emerging thinking in the Cabinet Office on a new strategic framework, so thought this was a good opportunity to get a bunch of directors together to share our collective insights and experience.
 Once again, our excellent facilitators Nour Sidawi and Jason Brewster from One Team Gov designed the event, and over 30 directors from a wide variety of departments joined us, along with two Permanent Secretaries – Tamara Finkelstein and Matthew Rycroft. It was great to welcome new colleagues, and to see some returners from the first events – hopefully, a sign the network is adding value.
 We had a really good few hours sharing learning as a collective, and then applying a specific tool for exploring system dynamics in small groups. It was heartening to see so many colleagues sharing their insights, and we were struck by the openness of the coaching conversations, given most people hadn't met before.
What we learned
We're learning that these events don't necessarily lead to a neat set of 'top 10' insights that can be stuck on a laminated card, but we've become increasingly comfortable that that's OK. (If it was that easy, we'd just need to find the right blog.)
 Here's what we learned:
Now is a unique opportunity to drive change

– Tamara Finkelstein led a discussion of the strategic framework being developed by the Cabinet Office, and of the interest from Civil Service leaders and ministers in seeing this develop at pace to tackle challenges such as NetZero, social care, adult literacy and reoffending. We had a sense of the stars aligning to create a window where we can lead transformative change – it's now up to us to make the most of this opportunity.
The change starts with us

– we reflected on situations where colleagues were waiting for those above them to solve the problem, contrasting with the power and relative autonomy we have as directors to get on and solve things ourselves. Many colleagues said they find it hard to make time for networking and personal development, so have more work to do to overcome the perceived need for permission.

It's all about behaviours

– Tamara and Matthew discussed how talk of system leadership in government defaults to critiques of the Accounting Officer model, conflicting objectives and misaligned incentives. But we reflected that it is our behaviours that matter most – where we direct our energies, the relationships we build with our partners, and the values and culture we create for our teams.
There is power in being open and vulnerable

– Debbie Hollings-Tennant from the NHS leadership academy brought to life a tool for exploring the feelings of various actors in a system. This led to some insightful reframing of people's problems and new approaches to solving them. We also reflected on the power of our coaching conversations when we're open to feedback, and a number of us committed to making more of external perspectives in our day-to-day work.
Big thanks to the Cabinet Office team, One Team Gov and all the Directors for making the event a success.
We've now held three events in London, and the next two will be in Birmingham on 13 December, and Leeds on 16 December. We're then working on a possible joint event with the Scottish Government in Edinburgh or Glasgow in early 2020.
The support we need comes through networks that allow us to be vulnerable and ask for help. We've a number of ideas for future events, but always welcome more input and volunteers to organise them. If you are a director and would like to join the network, email: csdirectors@cabinetoffice.gov.uk.