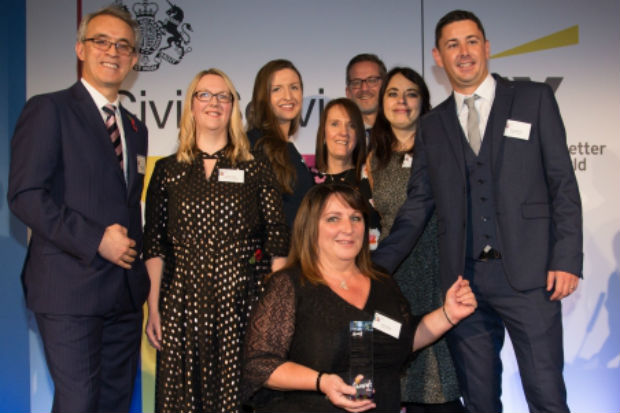 If the answer to the question in the headline above is 'yes', then please read on…
The Going Forward into Employment (GFIE) programme pilot was launched in the North West in 2017 as a collaboration between the Cabinet Office, the Civil Service Commission, Civil Service Local and the Ministry of Justice. The main aim was to help ex-offenders overcome the barriers to finding employment that having a criminal record can raise, by gaining meaningful employment in the Civil Service.
The project successfully recruited its first ex-offender in January 2018. With continued senior support from Sue Gray, initially as Director General, Propriety and Ethics, in Cabinet Office and now as Permanent Secretary of the Department of Finance in the Northern Ireland Civil Service, and Ian Watmore, First Civil Service Commissioner, the initiative has helped remove employment barriers. This is in line with both the Civil Service Commission's strategic priorities and the Civil Service ambition to be the UK's most inclusive employer by 2020.
Breaking new ground in recruitment, supporting improved life chances for citizens into employment, and gaining accolades for its achievements, the project won the Civil Service Award for Innovation in 2018. 
Working initially across local networks, we established close relationships with prison governors and staff at three prisons in the North West and in a range of departments to secure vacancies for ex-offenders. The project provides up to two-year Fixed Term appointments, under exception 2 of the Civil Service Commission's Recruitment Principles 2018.
It is estimated that the annual cost of reoffending is around £15 billion. Bounce Back, a charity and social enterprise focused on the training and employment of ex offenders, identified that the average cost of keeping an individual in prison is around £40,000+ per year, and that "one of the main contributors to re-offending is the lack of paid employment". The project is, at present, a first step to help mitigate the extent of these costs, and empower ex-offenders to prove what they can bring to the workplace through employment in the Civil Service.
With 25 individuals currently in employment across seven government departments, we now want to broaden GFIE's reach across the UK and extend our support to other groups of citizens who face particular barriers (for example, military veterans or those leaving care) to create a Civil Service that is more diverse and reflective of the society it serves.
We need your support

As the programme moves into its next phase it requires more resources.
As of September 2019, as Director, I will lead GFIE, in parallel with my current role as Chief Executive of the Civil Service Commission.
I am very excited to be taking on this role as the project seeks to accelerate and scale up. Providing life-chance opportunities to a range of people through employment as civil servants is something I am passionate about. I am hoping other civil servants will be as keen as me to be part of making a real difference to the lives of people through Going Forward into Employment.
In order to grow, we are looking for ambitious civil servants to join the team to work alongside departments, prison governors, veterans charities and external partners to find candidates that can be appointed to real roles across the Civil Service.
We have immediate secondment opportunities available in the team nationally, which just require prior approval from line managers, stating that they will commit to release you for the agreed period and that they will fully fund and sponsor your work throughout this period with the Going Forward into Employment team.
Working as part of a virtual project team, these are great opportunities to build your capability as a civil servant, engage, learn & work across all departments while supporting one of the government's key priorities.  Ideally, secondments would last for at least 6 to 12 months, to provide maximum development and impact, but alternative patterns can probably be accommodated and you can be based anywhere.
If you would like to get involved and support this unique and exciting programme, or want to know more about the work being done, please contact us at: GFIE@cabinetoffice.gov.uk.

We will be sharing more stories around our work in the coming months, which you could be part of.

Let's make change happen!