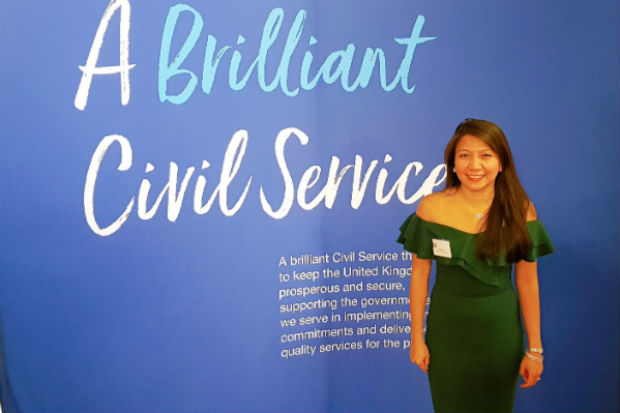 In 2017, Gail Peck, from HM Revenue & Customs, applied for the Civil Service Local East South East and London (ESEL) Junior Leaders Academy. The academy is a year-long development programme to support the vision of A Brilliant Civil Service. Through this programme, Team Chaffinch – comprising civil servants from a number of government departments, and led by Gail – was born. To help make wellbeing fun, easy and accessible for civil servants and to help make the Civil Service a great place to work, the team created the A-Z to Better Wellbeing toolkit.
Now, 2 years on, the toolkit has won multiple awards – including a Civil Service Award – and generated huge amounts of attention, supporting the promotion of wellbeing across the Civil Service.
Here, Gail reflects on the top 6 most important things she learnt on this journey with the Junior Leaders Academy and Team Chaffinch.
1. Begin with an end in mind

This is one of the '7 Habits of Highly Effective People' in the Stephen Covey bestseller. It's about starting things with a clear idea of your destination, so that the steps you take are always in the right direction.

I joined the academy to develop my leadership skills and gained more than that – from public speaking and project management experience, to honing my time management skills (as I did this role on top of my day job), teamwork, and blogging.

Being a good leader is learning continuously to become a better version of yourself. It's a slow and determined process of setting goals, achieving them, and challenging the process.

2. Collaborate

This is one of the top keys to Team Chaffinch's success. We worked with different individuals, groups, government departments and organisations, including on other projects in CS Local Academies, the Civil Service Sports Council, The Charity for Civil Servants, Engage for Success and One Team Gov. Our collaboration happened organically and the benefits are enormous.

3. Seek advice

It is invaluable to find a mentor whose journey is complementary to yours, who is personally invested in your success and who will support you towards a growth mind-set. My mentors are open and honest so I can truly learn from them.

No matter where you are in your career, the right mentor can energise, encourage and propel you – as well as providing counsel.

4. Feedback

Giving and receiving feedback can be tough and I've learned the hard way. Everyone likes praise, nobody enjoys criticism, but constructive feedback will help us become better leaders. Our role is voluntary, and we were commissioned to do an hour a month, but everyone has contributed more, for which I am grateful.

5. Diversity, inclusion and wellbeing

This experience has been an eye-opener of the importance of diversity and inclusion and its impact on wellbeing. Everyone deserves to work in an inclusive environment, where they can bring their whole selves to work. I cannot stress enough the importance of wellbeing and spending time looking after yourself. It is not selfish. It is impossible to care for others with pure generosity, seeking nothing in return, if you have not first met the needs of your own body, mind and soul.

6. Let them shine

The ultimate goal of leadership is to make yourself obsolete. I am stepping down as leader of Team Chaffinch. I cannot thank the team enough for their work in making our project successful. Teamwork definitely makes a dream work. We wanted to be a catalyst for change, and have achieved that, and more!

I have had the best deputy – communication and engagement are Louella (Ibekwe)'s forte. Koysar and Ian led all our events around the country – they are like celebrities. And Iona has taken responsibility for our planned relaunch in July. So watch this space.

A heartfelt thank you to everyone who supported and followed the Team Chaffinch journey.

I hope you continue championing Team Chaffinch and our A-Z to Better Wellbeing toolkit, created by civil servants for civil servants.